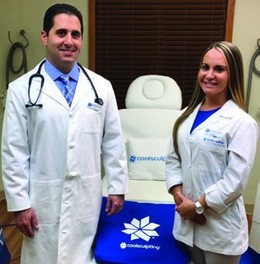 Revealing a New You
Re-awaken your skin and body with the latest in non-invasive cosmetic treatments at Cavallaro Family Practice.
Winter can take a toll on our bodies. The cold, dry air sucks the moisture out of our skin, making it feel tight and flaky. Then there are the holiday celebrations, coupled with less daylight, making it easier to skip regular workouts and indulge in our fair share of comfort food. By the time spring arrives, everyone could use a little self-care to refresh and bounce back to their normal selves. Well, the professionals at Cavallaro Family Practice have a few treatments that can get you there quicker than you think.
Cavallaro Family Practice is a full-service family medicine office, where they are seeing patients for routine checkups, sick visits and non-invasive cosmetic treatments. Dr. Joseph Cavallaro says he wanted to offer as many options as possible for his patients to look and feel their best, which is what motivated him to branch out into CoolSculpting. "Patients would regularly ask about alternative ways to lose fat, so when I started to research CoolSculpting, it seemed like a great option and opportunity for our patients who were candidates," Dr. Cavallaro says.
CoolSculpting is very well-known worldwide, with over 4 million treatments performed. "CoolSculpting is a medical procedure used to spot treat areas of fat by reducing the number of fat cells without surgical intervention," says Dr. Cavallaro. "It's a unique breakthrough because before this treatment, the only way to reduce the number of fat cells was to physically go in and remove them, which then requires lengthy recovery downtime, not to mention increased surgical risk."
Dr. Cavallaro says a person's number of fat cells stabilizes during adolescence, at that point those cells will only increase and decrease in size. "During the CoolSculpting procedure, the desired area of fat is treated by a suction-based applicator that uses controlled cooling to freeze the fat cells. After a fat cell becomes frozen, the biological activity of the cell is disrupted, making it a damaged cell. This then prompts a process known as apoptosis, or programmed cell death, which will cause the cell to self-destruct. The body then uses its own abilities to break down and get rid of those dead cells," Dr. Cavallaro says.
Kate Meyers, CMA is a trained and certified CoolSculpting specialist, who has been treating patients at Cavallaro Family Practice with CoolSculpting for over four years. "CoolSculpting works on various areas of the body, the most popular being the abdomen and flank/hip areas," says Meyers.
Patients aren't required to do much in preparation for a CoolSculpting treatment. The treatment itself is rather easy, not to mention brief—lasting only 35 minutes to an hour depending on the area and applicator. Patients will start to notice changes in about three to four weeks, and their maximum results take about 90 days. Following treatment, patients should still be mindful of their lifestyle. "We encourage a healthy diet and exercise for all of our patients to obtain the best results,"says Dr. Cavallaro.
At Cavallaro Family Practice, Meyers also performs the HydraFacial, a cosmetic treatment to improve the health and appearance of your skin. "This facial uses a vortex infusion-type technology, providing deep exfoliation, getting rid of dead skin and opening the pores," says Meyers. "It also flushes the pores of any dirt, oil, and congestion—finishing by saturating the face with full hydration, leaving your skin looking refreshed with a deep clean feeling."
Hydrafacials can be tailored to each patient's individual needs and skin type. Meyers reviews a person's medical history, including medications and any history of skin conditions. She then discusses any common skin concerns and each patient's desired outcome. With this information, she can also recommend additional treatments for anti-aging, correcting complexion and damaged skin.
"The Hydrafacial is also great for acne treatment," Meyers says. "We have a specific clarifying facial for treating acne, which not only cleans out congestion from pores, but the blue LED light therapy helps to kill bacteria."
"Patients notice immediate results," Meyers says. "They love the feeling of truly clean skin, with smoothness and glow. There is a significant visual difference after just one treatment."
Meyers recommends an initial consultation, which is necessary to determine a patient's individual course of treatment. "People sometimes tend to shy away or feel intimidated by consultations, but we are really here to answer your questions or any concerns you may have," Meyers says. "This also allows the patient to actually see the machine and equipment used, leaving them feeling much more comfortable in starting their treatment process."
Cavallaro Family Practice
432 Ganttown Road, Suite 202 | Sewell
(856) 344-7916
CavallaroFamilyPractice.com