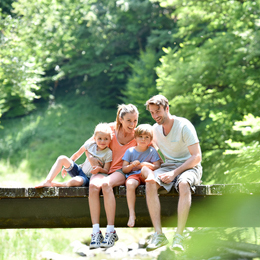 Family Bulletin
Bringing you South Jersey news, achievements and events.
Edited by Erica Pisano
Star Student
MICHAEL McENTEE, WASHINGTON TOWNSHIP
McEntee, a junior at Washington Township High School, was accepted into the Columbia University summer co urse, "Mind and Markets: Finance, Economics, and Psychology." McEntee submitted letters of recommendation, transcripts, a written essay an d test scores to earn this acceptance. A member of the school's DECA Club, Future Business Leaders of America and an AP psychology student, McEntee will be taking the graduate-level course from June 25 through July 13.
Star Students
JUSTIN BISCHOFF, AUSTIN LUDWIG AND MATT MILLER, TABERNACLE
Seneca High School students Bischoff (trumpet), Ludwig (trumpet) and Miller (alto saxophone) made the All-South Jersey Jazz Band. Ludwig made the All-South Jersey junior high school band, while Bischoff and Miller made the senior high school band. Miller was also the first Seneca student to make the All-State Symphonic Band as the first chair.
Star Students
DEVON BORKOWSKI, KAT CHROMECK & KELLY SHEA, TABERNACLE
Three art students from Seneca High School won Awards of Excellence for their artwork at the Burlington County Teen Arts Festival at Rowan College at Burlington County last month. Borkowski, Chromeck and Shea will compete at the Regional Teen Arts Festival in Smithville this month. This was Shea's second time receiving the recognition.
School Dates
May 18, Moorestown Teacher In-Service/Early Dismissal
May 24, Washington Township Early Dismissal/Senior Prom
May 25, Washington Township Memorial Day Break, School Closed
May 25, Haddonfield Early Dismissal
May 28, Memorial Day, All Schools Closed
May 29, Evesham Township Teacher In-Service, Two-Hour Delayed Opening
COMMUNITY CONNECTION
News from around South Jersey
Count y libraries are now acco mmodating children with auditory sensitivities by providing noise-canceling headphones. The Camden County Library System's Voorhees and Winslow Township children's libraries have added 50 pairs of headphones thanks to Mount Laurel graduate student Emily Whitley and her GoFundMe page that raised $1,000.
The Food Bank of South Jersey received a 51,800-pound donation of food from Goya Foods last month. This donation was part of the first installment for the Goya Gives 'Can Do' campaign, where they provided 1.5 million pounds of food for Feeding America.
Next Medford Town Council Meeting:
May 1, 7 p.m. at the Pub lic Safety Building
Next Cherry Hill Planning Board Meeting: M ay 7, 7:30 p.m. at the N. John Amato Council Chambers, Room 208
Next Mount Laurel Township Council Meeting: May 7, 7 p.m. at Fleetwood Elementary Sc hool
Next Voorhees Township Planning Meeting: May 23, 7:30 p.m. at the Voorhees Township Courtroom
Police Blotter
A Maple Shade man was arrested and charged with burglary, theft and criminal mischief on March 26 after stealing about $1,000 worth of cop per piping and causing $2,500 worth of damage to an abandoned property in Moorestown.
Eight people were arrested due to their involvement in an illegal drug operation on March 22. The Burlington County Prosecutor's Office and Beverly Police Department issued a search war rant that led to arrests for possession , in ten t to distrib ute, ob struction, resisting arrest by flight and other charges.
A former chief of the Maple Shad e First Aid Squad confessed to stealing more than $118,000 from the rescue agency's bank account. As part of a guilty p lea for the crime that spanned almost seven y ears, he must pay back the money and will serve five years in state prison.
Star Athlete
DOUG ERGOOD, MOUNT LAUREL
Ergood got his senior season on the Lenape High School golf team off to a sensational start by winning the prestigious Garden State Cup for the second year in a row. He shot a 4-under- par 68 at Blue Heron Pines Golf Club, including an ea gle an d five birdies. Ergood, who will continue his career at the University of North Carolina, is the first repeat winner in the 15-yea r history of the tournament.—by Matt Cosentino
Star Athlete
JACK HERMAN, VOORHEES
Herman, a star outfielder on the Eastern High School baseball team, recently collected the 100th hit of his s tandout career. A senior who has been a varsity starter since his freshman year, Herman reached the milestone on a single in a 9-0 win ove r St. Francis DeSales (Ohio) at Champion Stadium, located at Disney's ESPN Wide World of Sports Complex in Orlando. Herman is committed to the University of Maryland.—by Matt Cosentino
RosterBeat
Ashley Vernon, a junior goalie on the Shawnee girls lacrosse team, recorded her 200th career save in a victory over Mainland. She turned away seven shots overall in the game as the Renegades prevailed, 20-8.
Senior Elaina Hansen, who already owned the C learview softball record for career home runs, became the program's all-time hits leader in a loss to Hammonton. Hansen went 3-for-4 wit h two singles and a home run, giving her 118 hits in her fourth varsity season.
The Cherokee, Lenape and Washington Township football t eams all r ecently hired new head coaches, and all three schools went with familiar faces in the program. Brian Glatz, a 1986 Cherokee gra duate who has been an assistant coach for the Chiefs since 1996, takes over for longtime coach P.J. Mehigan. Lenape promoted defensive co ordinator Joe Wojceichowski to replace Vince McAneney. Wojceichowski has been on the staff for five years and helped the Indians win the ir first-ever sectional championship in December. Mike Schatzman, a 2008 graduate of Washington Township, will lead the Minutemen afte r serving several roles in the program since 2011. He succeeds Lamont Robinson, who stepped down after one season.
Published (and copyrighted) in Suburban Family Magazine, Volume 9, Issue 2 (April 2018).
For more info on Suburban Family Magazine, click here.
For information about advertising in Suburban Family Magazine, click here.
To find out where to pick up your copy of Suburban Family Magazine, click here.