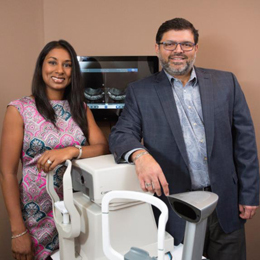 Coming Into Focus
Briggs Eye Specialists
photography by ALISON DUNLAP
If you live in South Jersey and have an important health issue in need of addressing, you're going to seek out the region's most seasoned medical professionals, at facilities equipped with the up-to-date technology available. In order to obtain such high-quality care, however, you might have to head to one of the large health systems in South Jersey or even across the bridge into Philadelphia. But if your health issue is related to the eye, you don't have very far to travel: Dr. Sanjay Kamat (NJ 25MB08531100), one of the area's foremost ophthalmologists, is located right in your backyard.
Dr. Kamat is the owner of Briggs Eye Specialists, a Mount Laurel-based practice he took over at the end of 2015. There, he and his team treat various disorders and diseases of the eye. Throughout his career, he has treated just about every condition imaginable: cataracts, glaucoma and macular degeneration; dry eye; ptosis (drooping of the upper eyelid, which can compromise vision); blepharitis (chronic inflammation of the eyelids); and diabetic retinopathy (damage to retinal blood vessels caused by diabetes).
"If it relates to the eye," he says, "I've seen it and treated it."
Another area of expertise: dry eye. It's a significant problem, Dr. Kamat says, citing research suggesting the condition affects as many as 40 million people in the United States based on what he's seen, however, he believes the actual number could be far higher. Patients with dry eye present a wide array of symptoms— tearing, eye fatigue or the feeling that something is in the eye, for example—and can be caused by a lack of tear production or a lack of tear quality, among other issues.
The condition can be frustrating for multiple reasons, and it may hinder some patients from improving their vision. For example, dry eye may prevent people from wearing contact lenses, because the eye cannot tolerate contacts; likewise, the condition may prohibit patients from becoming candidates for refractive corneal surgery.
Dr. Kamat has long been a regional pioneer in treating the condition with advanced technology. Approximately six years ago, at Briggs Eye Specialists' sister practice in Yardley, Pa., Dr. Kamat became the first ophthalmologist in the tri-state area to treat dry eye with Intense Pulsed Light (IPL). The technology, which emits brief yet powerful bursts of light at specific wavelengths, has since become widely adopted in eye care practices throughout the world. Dr. Kamat also offers Lipiflow, a "sister therapy" of IPL that essentially massages the eyelids.
In addition, Dr. Kamat's practice has become certified to perform clinical testing for dry eye. That means he can perform a comprehensive analysis of patients' tears using two different methods: one to measure the salt content of the tear film; and another to determine the presence of any ocular inflammation. The results of these analyses will help the practice determine the best course of treatment. Options may include artificial tear supplementation, omega-3 supplements, prescription eye drops or punctal plugs—biocompatible devices typically no bigger than a grain of rice that can be inserted into the openings of tear ducts to prevent drainage—as well as IPL and/or Lipiflow.
Lastly, the practice offers a complimentary service known as Meibomian gland testing. Using this service, a specialized camera takes a photograph of the inside of the eyelids to illustrate the anatomy of the Meibomian glands, which produce meibum, an oily substance that helps to lubricate the eye. Dr. Kamat says a condition known as Meibomian gland dysfunction, or MGD, is now being implicated in more than 80 percent of patients who suffer from dry eye.
Extended Reach
Besides treating dry eye, Dr. Kamat regularly performs surgery to correct refractive error, which includes myopia (nearsightedness), hyperopia (farsightedness), astigmatism and presbyopia (the aging eye's inability to see things up close). In his practice, the refractive surgery treatment options include highly accurate lasers such as PRK, LASIK, LASEK and epi-LASIK, among others. For PRK and LASIK, which are used for "typical" vision correction, Dr. Kamat uses four basic parameters— the patient's age, refractive error, corneal thickness/topography and pupil size— to determine the best treatment option.
Dr. Kamat has also seen a significant increase in what he calls "combined procedures"—removing cataracts but also treating a patient's glaucoma in one trip to the OR, for example, or removing cataracts and then adding implantable contact lenses.
"We've seen some dramatic improvements in the world of cataract surgery," he says. "Lenses with astigmatism correction, multifocal and accommodative options have greatly improved patients' outcomes and their expectations for how the surgery will go. Not long ago, it was considered OK to remove the cataract and then correct the vision with bifocals afterwards. But it's a different world now. Today patients can have 20/20 or even better, without having to wear corrective lenses after the surgery, and that's what they're demanding."
No matter the need, Dr. Kamat and Dr. Cindy Chhedi (NJ 27OA00599600, Certification: 27OM00035500)—his associate at Briggs Eye Specialists who has more than 10 years of industry experience—strive to make each patient feel comfortable, cared for and well informed about their options.
Patients will find Drs. Kamat and Cheddi to be not only uniquely skilled but also highly educated. Dr. Kamat attended medical school at Kansas City University of Medicine and Biosciences in Kansas City, Mo., and completed his internship and residency at Philadelphia College of Osteopathic Medicine, where he served as chief resident. He also honed his skills in complicated cataract surgery and oculoplastic trauma at Albert Einstein Medical Center in Philadelphia. Dr. Chhedi, who is a lifelong resident of New Jersey, graduated with honors from Rutgers, where she earned a bachelor's degree in biological sciences. She then received her Doctor of Optometry degree from Pennsylvania College of Optometry at Salus University, as well as a bachelor's degree in visual science.
"We've been steadily increasing and upgrading the level of services we offer here," Dr. Kamat. "We offer evening appointments one night a week and Saturdays by appointment; everything we do here is rooted in providing a personal, more patient-centered experience. We even have a full optical lab here, so we can make patients' glasses on the spot."
Dr. Kamat is taking the same approach to growing Briggs Eye Specialists as he has with his Pennsylvania office, Bucks Eye Specialists, since acquiring it in 2009. With his second full year of operating Briggs Eye Specialists now under his belt, he forecasts continued growth on both sides of the river in the years ahead.
After all, patients know a good thing when they see it.
Briggs Eye Specialists
2026 B Briggs Road | Mount Laurel
(856) 235-1211
BriggsEyeSpecialists.com