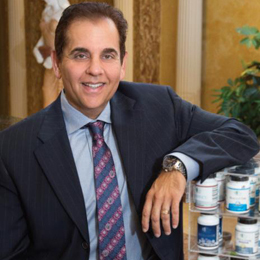 Thinking Outside the Box
Advanced Cardiology of South Jersey
photography by Alison Dunlap
Today, heart disease is responsible for thousands of admissions in U.S. hospitals every year, according to Vic Bahal, DO, FACC, FASE, RPVI. Yet, whether it's a case of blocked arteries, weak or stiff heart muscles, valve and cardiac muscle disease, stroke or hypertension, Advanced Cardiology of South Jersey can help prevent or reverse these conditions thanks to Dr. Bahal's personalized and holistic approach, coupled with conventional cardiology.
"What people need to realize [is] what causes all of these cardiovascular problems is a phenomenon called Inflammation," explains Dr. Bahal. "Due to stress, unhealthy diet, obesity and the aging process, the body gets inflamed and releases toxins in your body—what we call cytokines—and because of this, the body gets inflamed and brings on diseases like atherosclerosis—the deposition of plaque in arteries, high blood pressure, anxiety, depression and diabetes, to name a few. What we need to do to prevent heart disease is to control inflammation."
Advanced Cardiology sets itself apart from "cookbook medicine" protocols by venturing into a more integral practice. Dr. Bahal's bag of tricks for prevention includes a mix of conventional medicine, along with nutraceuticals, changes in diet and lifestyle, stress relief through yoga, meditation, Pranayama and exercise, supplements, hormone balancing, decompression strategies, rest and relaxation.
Dr. Bahal first emphasizes a healthy exercise routine, to keep body mass index in check and as a stress relief tactic. "I would say exercise five-to-six times a week [to] maintain ideal body weight, but it also dissipates stress," says Dr. Bahal. Exercise can be anything that works the cardiovascular system, from running, swimming and, if possible, high-intensity interval and resistance training.
"For those who can't exercise, [they] could do nutraceuticals, such as berberine, high-potency fish oils, things like alpha lipoic acid, [supplements like] CoQ10, or prescription drugs including statins [like] Lipitor and Zocor," he adds.
Dr. Bahal also prescribes a diet that implements the usage of natural spices—from cinnamon, curcumin, garlic, onions to cayenne and black pepper—which some patients may not know have anti-inflammatory benefits. "The food you eat can help fight, prevent and reverse heart disease," says Dr. Bahal.
In terms of when to start applying these "tricks," Dr. Bahal suggests the earlier, the better. "As you're older you're at more risk, but you certainly need to start early because when you get older … you may have missed the opportunity to hit it head on." Yet, as long as an individual has a good sense of keeping their ideal body weight, practices a regular exercise routine and stress management techniques, starting at any age is an added benefit.
In the event of reversing heart disease—genetic or not—Dr. Bahal says that following the aforementioned prevention techniques can also have an effect in reversing a heart-related condition. "No. 1, you have to take the right medications, which have been tried-and-true and shown in conventional medicine to prevent a heart attack, such as aspirin and statins," he explains. "It all goes back to controlling inflammation again.
"We cannot change the course of genetics, it's the unmodifiable risk factor," he adds. "We're not far enough to alter the course of genetic transmission; however, you can plug up the holes in the event that you do have expression of atherosclerosis gene. It may not be that detrimental because you already put a lot of the door stops in place.
"Let's say [a patient has] bad genes in the family, we customize a plan they can live with that will prevent atherosclerosis from starting," Dr. Bahal adds. "It will prevent inflammation from causing plaque buildup, which translates into a negative outcome. If you have established heart disease, the spinoff is a little bit different. We'll use different nutraceuticals and have different parameters on that patient, so everything is very patient-specific."
Additionally, Advanced Cardiology also employs a Candida cleanse—Dr. Bahal's very own nitric oxide supplement—in addition to a non-invasive and pain-free Endothelial Function Test to help patients in preventing and reversing heart disease. "I use the testing to prevent heart disease in a high-risk subject by identifying them early on and treating them with nitric oxide," he explains. "Those with established heart disease, I will check them periodically to make sure that we are treating them as optimally by adjusting or adding medications or supplements in a concerted fashion.
"We are not doing a good job with conventional strategy alone in preventing and reversing heart disease, you have to think outside the box and integrate what's there in the world," Dr. Bahal explains. "The world is not just full of medicine: it's full of foods, activities, breathing techniques and yoga. It's full of music, which relaxes people. [This is] a multi-step, integrative approach; there's no way you can ever get rid of heart and vascular disease by doing what we're doing now."
Advanced Cardiology of South Jersey
4 Burton Lane, Suite 100 | Mullica Hill
(856) 241-3838
AdvancedCardiologySJ.com
Published (and copyrighted) in Suburban Family Magazine, Volume 8, Issue 10 (December, 2017).
For more info on Suburban Family Magazine, click here.
For information about advertising in Suburban Family Magazine, click here.
To find out where to pick up your copy of Suburban Family Magazine, click here.