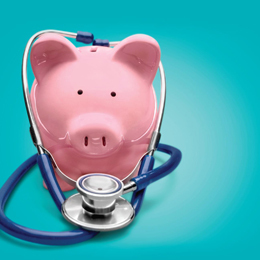 A Financial Checkup
December 2017
As we greet January, most of us do a lot of self-evaluating while simultaneously creating new goals to accomplish in the upcoming calendar year. For some, that might mean becomingmore active, practicing healthy eating habits or being more organized. For others, it could be focusing on one area in particular—finances. With the new year upon us, this is an imperative time to evaluate your financial situation in the present while also keeping an eye toward the future.
Suburban Family spoke with local experts and asked them for some guidance when it comes to managing finances. Whether you think your financial house is tidy and dust-free or a mess that only a cleaning service can fix, these financial experts can lead you in the direction of prosperity.
Where to Begin
To ensure your financial house is in proper order, you should start with meeting with a financial advisor. If you are starting fresh with focusing on your finances in the new year, it is good to meet with your advisor at the start of the year—as long as you continue to do that in the years to come.
"We try to meet with clients at least every three to four months—if not personally, certainly on the phone just to go over things," explains Stan Molotsky, president and CEO of SHM Financial. "That is very important because things change and there are circumstances that change. The client's circumstances change, the economy is changing—it's a constant state of change. All of this has to be factored in what they are trying to do and what they are trying to accomplish."
Molotsky compares the industry to the weather. "Things will not always be sunshine; the weather will not always be as warm as it is today. It's going to get cold and you are going to need a coat—sometimes even a hat and scarf," he explains. "It's the same thing in the financial planning world. You really have to be prepared for the inevitable things that will probably happen and try to anticipate it and don't try to figure out what to do after it happens. You want to try and figure it out beforehand."
Albert A. Fox, senior vice president and executive director at Fox, Penberthy & Dehn, Morgan Stanley, says it's his job to make sure you are not taking too much risk and are reviewing your portfolio according to what the game plan was that you had lain out to follow and that you are on target for those goals.
"It's been a good year in the financial markets," says Fox. "But that doesn't mean that it will continue indefinitely."
Smart Saving
Another big part of managing your financial situation—outside of talking with your advisor— is to create rules when it comes to spending and saving your money.
Catherine Allen-Carlozo, certified financial planner at M Financial Planning Services, says you should spend what you don't save— not vice versa. Paying yourself first does not mean buying yourself something.
"The beginning of the year is a good time to develop a plan to pay off credit card debt. With interest rates as high as 18 to 22 percent, you're better off focusing your 'savings' goal on paying down debt versus putting money in a savings account, which earns very little," explains Allen-Carlozo. "Some people tackle both goals by putting a larger portion of money toward the credit card debt and a smaller portion to a savings account to build up an emergency fund. This way, there's less of a temptation to put an emergency purchase on their credit card and get back into debt again."
But to truly be set up for success, Allen- Carlozo recommends automating savings as much as possible. She guides her clients to set up separate accounts like fixed expenses, variable expenses and savings. That way, a portion of their pay can be direct deposited into those accounts accordingly every pay period.
Allen-Carlozo recommends applications for your smartphone such as Mint, Level Money or Qapital, to keep track of your spending and to follow your financial progress.
Facing Consequences
If you fail to pay attention to your finances, there will be serious consequences that will hurt you in the long run.
As a certified financial planner for over 34 years, Stan Cooper, 1st V.P. Investments at Capital Wealth Advisors, says one of the biggest mistakes he sees people make regarding their finances is lack of budgeting that leads to overspending.
"Asset accumulation and saving is vital toward financial success," says Cooper. "Many people choose to focus on investment selection and diversifying their portfolio. While this is very important, it is only a part of the entire financial picture."
Cooper says a person's retirement could be affected, investment performance could be at risk and debt/loan management could also become an issue leading to your finances suffering overall.
Cooper says by serving as your financial quarterback, advisors can guide you through the different stages of life and help you avoid common financial mistakes. He continues, "You only get one shot in life to provide education for your children, retire with dignity and maintain your lifestyle. It is important to get it right the first time."
Published (and copyrighted) in Suburban Family Magazine, Volume 8, Issue 10 (December, 2017).
For more info on Suburban Family Magazine, click here.
For information about advertising in Suburban Family Magazine, click here.
To find out where to pick up your copy of Suburban Family Magazine, click here.