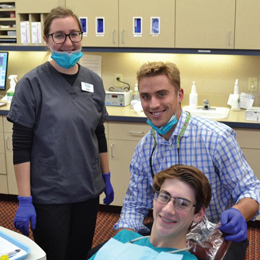 Making Memorable Smiles
Morrone & Kaye Orthodontics
DRS. MARY BETH MORRONE AND RICHARD KAYE have served the Moorestown and Mount Holly area with state-of-the-art and friendly orthodontic treatment since 1993. Suburban Family recently spoke with the doctors about how new technology has influenced the field, the importance of early consultations and what sets Morrone & Kaye apart from the competition.
With 24 of years of experience, this husband-and-wife team has always embraced technological advancements. "My philosophy has always been if you're not moving forward you're moving backward," says Dr. Kaye. "So, we constantly try to make things better and do more and more for our patients."
One example of technology in their practice is the use of Invisalign to move teeth. In contrast to traditional metal and wire braces, Invisalign clear aligners are custommade using digital scans for each patient. Each aligner shifts teeth slightly, using the right amount of force in the right place at the right time. The practice jumped on board very early with this method of treatment and is now in the top one percent of all orthodontic providers in North America.
"We've got a lot of experience with Invisalign, and when it comes to moving teeth around, the more experience you have in a technique, the better the results are going to be," Dr. Morrone explains.
"Because it's clear and easy to work with, it doesn't affect the quality of a patient's lifestyle as much as braces," she says. "It's really been a wonderful addition to our practice both in terms of what we can achieve and the ease of going through treatment. We also find we have more control over tooth movement with Invisalign rather than conventional braces, so treatment seems to move along faster."
Invisalign is also a viable option for children. Though Dr. Kaye says the key to treating children, whether with braces or Invisalign, is to be seen early for evaluation. Morrone & Kaye offers free consultations for patients of any age.
"When we see patients for the first time, we spend plenty of time with them and give them a wealth of information about their teeth," Dr. Kaye explains. However, that doesn't mean that early treatment is always recommended. "Certain problems are best addressed early on. In cases requiring early intervention, waiting on treatment can become more costly and/or invasive. Young patients not taking advantage of indicated early intervention may be at a higher risk to need teeth removed or even require surgery to correct a significant jaw disorder. We recommend all children be evaluated by age 7."
Drs. Morrone and Kaye always aim to make the experience as comfortable as possible for all their patients. That's where another new technology, dental scanning, comes into play. Dr. Morrone explains, "It's an intraoral scanner that takes miniature pictures of your teeth then joins them together in such a way that you end up with a 3D model of the patient's teeth on the computer. The model can then be used to make customized Invisalign trays or dental appliances such as retainers. Not only is it easier because there are no more goopy impressions, the quality of the scan is so much better than the quality of any impression."
All of these things are geared toward making the orthodontic experience a pleasant one for patients, which is paramount at the Morrone & Kaye practice. "We're a word-ofmouth practice, as most orthodontic offices are. … We strive to make the experience an exceptional one for all our patients," Dr. Kaye concludes.
Morrone & Kaye Orthodontics
Moorestown | (856) 234-4044
Mount Holly | (609) 267-1221 | MorroneAndKaye.com
Published (and copyrighted) in Suburban Family Magazine, Volume 8, Issue 9 (November, 2017).
For more info on Suburban Family Magazine, click here.
For information about advertising in Suburban Family Magazine, click here.
To find out where to pick up your copy of Suburban Family Magazine, click here.