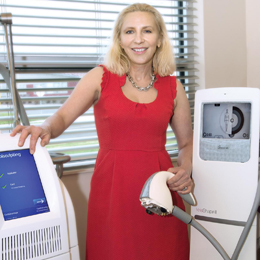 Enhancing Your Beauty
The Warmuth Institute of Dermatology
photography by GARY MATTIE
WITH THE GOAL OF PROVIDING THE HIGHEST QUALITY DERMATOLOGIC CARE FOR THE PEOPLE IN OUR COMMUNITY, the Warmuth Insititute of Dermatology has done that and more. With offices in Elmer, Salem and Swedesboro, Dr. Ingrid P. Warmuth, board-certified dermatologist, continues to offer a full range of medical, surgical and cosmetic skin care services to her clientele traveling across New Jersey, Pennsylvania and Delaware. And who wouldn't make the trip to see Dr. Warmuth? With minimal downtime and non-invasive procedures, the Warmuth Institute continues to be a favorite of patients.
Suburban Family spoke with Dr. Warmuth about her practice, the addition of CoolSculpting at the Swedesboro location and why her variety of treatments is ideal in today's world.
A Variety of Services
While the Warmuth Institute is first and foremost a dermatologic practice, it offers so much more than just checking your moles and sun spots.
The staff at the Warmuth Institute specializes in all areas of dermatology. Their skin care centers in Elmer, Salem and Swedesboro are able to provide a wide variety of treatments, such as medical dermatology, pediatric dermatology, Mohs micrographic surgery, cosmetic dermatology, accent laser treatment, laser skin resurfacing, anti-acne and anti-aging light treatments, nail disorders, psoriasis management, skin cancer treatment, hair disorders, Botox, Xeomin, Dysport, Juvéderm, Radiesse, Belotero, microdermabrasion, medical grade chemical peels and liposuction.
"We even have a full aesthetic department and pretty much offer everything," says Dr. Warmuth.
The Warmuth Institute offers laser hair removal, laser skin resurfacing to treat wrinkles, lines and stretch marks, intense pulse light to treat brown or red spots on the skin, laser tattoo removal, microdermabrasion, microneedling, hydrafacial, omnilux anti-aging light treatments and blue acne treatments, Isolaz chemical-free acne light treatments, chemical peels, Jane Iredale Makeup, Botox, Dysport, Voluma, Restylane, Sculptra, Kybella, Bellafill and Radiesse.
While they have a considerably sized arsenal of services, it's important to make sure they understand what each patient is looking for and why.
"We can address all concerns and set up a 'treat to transformation' plan," says Dr. Warmuth. "We understand every patient is unique and has his/her own concerns, so we make certain we are looking at the patient as an individual. Our goal is to make the patient the best version of themselves, not someone else."
Dr. Warmuth explains that there is no better feeling than the satisfaction of watching their patients glow (inside and out) post-treatment and seeing how their results boost confidence.
What is CoolSculpting?
Due to popular demand, the Warmuth Institute now offers the next generation of CoolSculpting technology, CoolSculpting Advantage, at its Swedesboro location to better provide for its growing clientele.
"CoolSculpting Advantage, the latest advancement in the CoolSculpting technology, uses a patented cryolysis approach in controlled freezing of the subcutaneous fat in targeted areas, while preserving the overlying skin and appendages," explains Dr. Warmuth. "Patients experience a cooling sensation in addition to gentle suction. The somewhat unpleasant sensation of previous generations of CoolSculpting applicators is mostly gone due to the CoolSculpting Advantage technology. A specially designed gel sheet protects the skin from freezing and at the same time provides improved adherence to the applicator. CoolSculpting is FDA-approved for a fat reduction of up to 25 percent."
Dr. Warmuth says that this fat reduction treatment is the only FDA-approved procedure to use controlled cooling to safely target and reduce dietand exercise-resistant fat. How does it work? It comes down to science.
"Fat cells freeze at higher temperatures than surrounding tissues," says Dr. Warmuth. "CoolSculpting results are proven, noticeable and lasting, so you'll look and feel great from every angle."
Before beginning CoolSculpting, Dr. Warmuth comes up with a customized treatment plan just like with any dermatologic service. Focusing on your problem areas, additional sessions with the CoolSculpting Advantage may further enhance the results as your customized treatment plan is tailored to your body, goals and budget.
If you are worried about missing work or failing to perform your normal day-to-day activities, Dr. Warmuth urges patients not to worry. She says, "The CoolSculpting fat freezing procedure is completely non-surgical, so you can typically return to work and normal activities immediately."
A Non-Invasive Approach
Patients keep coming back to Dr. Warmuth because of the minimal downtime of her procedures due to the non-invasive treatment options she offers.
"Non-invasive treatments are treatments that require no surgery or downtime," says Dr. Warmuth. "The results take place over a few weeks or a couple of months so they are discreet. No one knows you had anything done, they just see that you look and feel better."
The Warmuth Institute has a variety of FDAapproved, non-invasive treatments for everything from permanent fat destruction all over the body, skin tightening, cellulite and lifting/tightening the skin on the face. They even have modalities to lift and firm the butt. The technologies harness the power of ultrasound, radio frequency, infra-red and vacuum, depending on which treatment is chosen.
Currently, the practice offers CoolSculpting, Ultherapy, UltraShape and VelaShape III.
"We find in our practice patients prefer non-invasive because of the zero downtime and no scars from surgery," says Dr. Warmuth. "People just don't have the time to take off from work and family and if they do, they want to spend it on vacation with their family not recuperating from surgery."
Warmuth Institute for Dermatology
Locations in Elmer, Swedesboro and Salem
(856) 358-1500
DrWarmuthSkinCareCenter.com