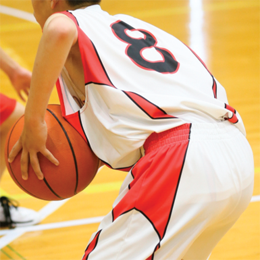 Cold Front
Winter Sports Preview
Most sports fans associate March with the madness of college basketball, but that month is also a thrill - ing time for the high school winter athletes of South Jersey.
From basketball teams scrapping for every loose ball in front of rabid fans to swimmers and wrestlers giving everything they have in the pursuit of individual championships, it is truly special to see our local athletes striving for greatness, even if they don't always get to the top.
The road to glory in March starts now, as the winter season officially kicks off this month. Who will emerge to the forefront as championship contenders? Read on to find out some of the teams and players to watch this winter.
BOYS BASKETBALL
Shawnee has had plenty of memorable teams under legendary coach Joe Kessler, and this year's squad figures to add to the tradition. The Renegades return all five starters and two key reserves from last season, when they won a triple-overtime classic over Toms River North to claim the sectional championship.
Shawnee will look to get back to the Group IV state final behind senior forward Dylan Deveney, who averaged a team-high 16.6 points, and senior point guard Dean Noll,who is receiving Division I recruiting interest. St. Augustine also reached the state final last year, falling just short of its second straight title in Non-Public A. Despite graduating South Jersey Player of the Year Justyn Mutts, the Hermits have high expectations as always, and will be led by Division I recruit Marlon Hargis.
Haddonfield's historic gym is undergoing renovations this year, forcing the Bulldawgs to play their home games at Cherry Hill East. Even so, expect another big season from Paul Wiedeman's team—Haddonfield brings back four starters from last year's sectional finalist, including the terrific backcourt of junior Mike DePersia and senior Will Bond.
Rivals Camden Catholic and Bishop Eustace look like contenders in the Olympic Conference National Division once again. The defending champion Fighting Irish are paced by senior guard Dominic Dunn and junior center Baba Ajike. The Crusaders, who reached the sectional final, return sharp-shooting guard Peyton Vostenak and welcome in a 6-foot-6 transfer from Italy, Mattia Morini.
Also in the Olympic National, Paul VI graduated two all-conference players but is excited to build around junior Hartnel Haye, a 6-foot-6 forward.
Lenape and Cherokee shared the title in the Olympic American last year and hope to be in the mix again. Andrew Sims, a 6-foot-6 senior with a Division I offer, is the key returner for Lenape, while junior point guard Anthony DiCaro sparks Cherokee. Eastern will also challenge for the top spot in the division, as the Vikings have four returning starters and senior transfer Matt Cotton,who recently committed to Yale.
In the Tri-County Conference, Kingsway saw leading scorer Hakim Hart transfer to Roman Catholic in Philadelphia but is happy to have senior forward Jamir Patterson back. Gloucester Catholic has important players returning in Cam Irizarry and Conor Regan and also has a transfer from Italy, senior Nico Ferrari.
Moorestown has a talented junior class led by shooting guard Jagger Zrada, and the Quakers are a team to watch in the Burlington County Scholastic League.
GIRLS BASKETBALL
Sister schools Lenape and Cherokee have staged some epic battles over the last several seasons, and this year should be no different as the rivals both expect to compete for the Olympic Conference American Division title.
Senior Kendall Keyes, a four-year varsity contributor for Lenape, is one of the top guards in the area. Cherokee graduated South Jersey Player of the Year Izzy Therien— who willed the Chiefs to the second sectional championship in program history last season—but the Chiefs bring back her sister Ava, along with Katie Cummiskey and Kennedy Wilburn.
Washington Township will also have a say in the Olympic American. The Minutemaids went 14-12 with a playoff victory last year despite having a young squad, and they will be led by senior forward Kiley Gelston and sophomore center Emily Johns.
Senior center Kiara Bell, who led Cherry Hill East in scoring as a junior, is another player to keep an eye on in the Olympic American, and Eastern hopes to post its second winning record in a row behind Gabriella Payne.
Bishop Eustace is looking forward to having Katie McShea for a full season. One of the top players in South Jersey, McShea averaged 20.5 points in four games for the Crusaders last year after transferring from Rancocas Valley.
McShea's presence makes a terrific Olympic Conference National Division even better. Defending champion Paul VI—which also reached the sectional final in a 23-6 season—graduated all-time leading scorer Aliyah Stephens, but brings back six other players who saw important minutes, including Maniya Custis, Naomi Shorts and Carly Stroemel.
Camden Catholic is another contender in the division with senior guard/forward Kate Deutsch leading the way.
Elsewhere in the Olympic Conference, Shawnee has a talented core that includes leading scorer Lauren Lodge.
Gloucester Catholic should remain one of the premier squads in the Tri-County Conference despite suffering heavy losses to graduation. Junior Azana Baines can influence games at both ends of the floor for the Rams.
Also in the Tri-County, Kingsway will look to defend its Royal Division title behind point guard Morgan Robinson, and new coach Casey Heitman takes over a strong Clearview team powered by senior Elaina Hansen.
New Hampshire recruit Fait Bonett returns for Moorestown along with Grace Hill. Moorestown Friends also has a veteran squad led by 6-foot senior Charlotte Stern, who averaged 18.7 points last year.
Haddonfield hopes to contend in the Colonial Conference and South Jersey Group II thanks to the return of senior Mary Kelly, who will continue her career at Catholic University.
WRESTLING
Quinn Kinner reached the pinnacle of high school wrestling last year when he captured the state championship at 132 pounds, but he is not finished yet. The Kingsway senior will be in contention again before moving on to Ohio State, one of the top college programs in the country.
Seneca senior Joe Manchio knows the feeling of winning a state crown as well, as he accomplished the feat as a sophomore. Manchio tore his ACL at states last year, and hopes to return to cap his remarkable career with the Golden Eagles before becoming a Division I wrestler at Columbia.
Two of the top teams in the area are St. Augustine and Camden Catholic, which met in the sectional final last year. The Hermits claimed the crown for the fourth year in a row and will be dangerous again this year. Senior Sean Lenzsch, who took sixth in the state at 195 pounds, leads the charge.
Camden Catholic is also loaded with talent, including junior Lucas Revano, who has placed at states each of his first two seasons.
Haddonfield has a strong nucleus led by two-time state qualifier Chris Bolletino and fellow returning district champions Will Murray and Gabe Klaus.
Cherokee has a top senior in Collin Wickramaratna— who placed seventh in the state at 113 pounds—as well as a promising freshman in Cooper Pontelandolfo.
Cherry Hill West returns 10 starters, including state qualifier Jayson Peralta, and Cherry Hill East is led by senior Blake Impagliazzo and sophomore Jesse Keesal, who each won 20 matches last year.
Washington Township's program is in good hands with new head coach Eric Ring, who won two region titles and three district crowns during his days as a wrestler for the Minutemen.
Other wrestlers sure to make noise this season include Shawnee senior Matt Higgins, a two-time state qualifier; Moorestown's Chris Tenenbaum, a defending district champ; and district runners-up John Donegan of Paul VI, TJ Franden of Eastern and Carmen Giumarello of Clearview.
BOYS SWIMMING
After a perfect season last year capped by an upset win over Bridgewater-Raritan in the Public A state final, Cherry Hill East is once again primed for great things. The Cougars return five state qualifiers, including junior Jack Watson, who placed 13th in the backstroke and 15th in the individual medley at the Meet of Champions (MOC) and was part of the Cougars' medley relay, which took fourth.
St. Augustine is also a defending champion, in Non-Public A. The Hermits graduated a stellar senior class but bring back three state qualifiers.
Haddonfield extended its streak of sectional championships to three last year and reached the state final. The Bulldawgs will be a threat again behind senior Conor Skelly, who placed ninth in the butterfly and 11th in the 50 free at the MOC.
Moorestown has three standouts back in the lineup: senior Tommy Schurer, who took fifth in the backstroke and eighth in the IM at the MOC; junior Josh Fong, who posted a time of 50.17 seconds to take third in the state in the butterfly; and senior Reid Greer, who swam the 200 and 500 free at the MOC.
Shawnee is another traditionally strong program and returns senior Brenden Meagher, who has been to states every season of his career and is outstanding in the breaststroke and IM. Gloucester Catholic has a top swimmer in senior Jack Ruggieri, who placed 10th in the state in the butterfly.
Cherry Hill West diver Dillon Hall placed third in the state last year, setting a school record with 502.6 points. Other competitors to watch are Clearview's two senior sprinters, Owen McNamara and B.J. Fuller; Washington Township junior Alex Chiu, who finished 14th in the butterfly at the MOC; Lenape state qualifiers Jacob Haines and Brian Nasielski; and two sophomores looking to build on promising freshman campaigns, Kingsway's Richie Jaramillo and Cherokee's Enrique Obregon.
GIRLS SWIMMING
Grace Yoon set the bar as high as possible in her phenomenal freshman season and it will be exciting to see how she follows it up. The Cherry Hill East sophomore was the state champion in the breaststroke and took third in the state in the IM, and also helped lead the Cougars to a sectional championship.
Haddonfield also claimed a sectional crown—its third straight—and fell just short of a state title in an exciting Group C final against Mountain Lakes. The Bulldawgs suffered key losses to graduation but have a top swimmer in sophomore Ava Berzanski, who qualified for states in two events.
Bishop Eustace went undefeated against South Jersey competition and reached the Non-Public A state final. The Crusaders are stacked with talent again; Penn State signee Mackenzie O'Connor placed fourth in the state in the backstroke and 20th in the IM, while Delaware recruit Ally Gozdan took 12th in the state in the 200 free and 24th in the butterfly.
Gloucester Catholic has a dynamic duo of its own. Senior Camryn McHugh, who has committed to Monmouth, placed seventh in the backstroke and 13th in the butterfly at the MOC, and junior Emily Jones posted a time of 5:01.51 to take third in the state in the 500 free.
Moorestown brings back four state qualifiers from a team that reached the sectional final for the third year in a row. That includes junior Holly Robinson, who finished 10th in the 200 free and 15th in the butterfly at the MOC.
Another competitor to keep an eye on is Cherry Hill West senior Anna Mecca, who is coming off a strong junior season in which she placed 12th in the state in the breaststroke.
Published (and copyrighted) in Suburban Family Magazine, Volume 8, Issue 9 (November, 2017).
For more info on Suburban Family Magazine, click here.
For information about advertising in Suburban Family Magazine, click here.
To find out where to pick up your copy of Suburban Family Magazine, click here.