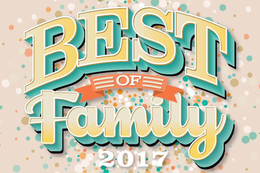 Best of Family
November 2017
ANOTHER YEAR HAS COME AND PASSED bringing us to our annual Best of Family issue yet again. It's no secret that we are happiest when we are surrounded by our family, but here at Suburban Family that extends far past our immediate family—no, we aren't talking about aunts and uncles. We are talking about the people that make our lives a bit easier, take care of us when we need a helping hand or just make us feel good. In the list that follows, you will find the professionals and businesses from animal care and beauty to health and dining and beyond that we see as a part of our family. They are just a few of the reasons why we love South Jersey and are happy to grow our family a bit larger year after year. Join us as we celebrate this year's Best of Family winners.
Animal Care
DOG DAY CARE
Champ's Dog House
For the owner who is worried Fido isn't getting enough attention, Champ's Dog House will give him affection all day long as if he was their own.
163 Route 70, Medford, (609) 654- 4170, ChampsDogHouse.com
DOG GROOMING
Camp Bow Wow
With their own grooming location, Camp Bow Wow keeps your dog feeling their best and looking great while doing it.
480 E. Evesham Road, Cherry Hill, (856) 375-2712, (856) 651-9665, CampBowWow.com/Cherry-Hill
DOG WASTE REMOVAL
All Dogs Poop
Dogs are great, except when it comes to picking up after them. All Dogs Poop takes your least favorite chore off your hands so you can spend more time with your pup.
Serving South Jersey, (856) 665-6769, AllDogsPoop.com
EMERGENCY CARE
Red Bank Veterinary Hospital
Sometimes things happen unexpectedly to our pets and we need care fast. Red Bank offers 24-hour emergency and critical care 365 days a year so we never have to worry where we are going to take our pets in case of emergency.
2051 Briggs Road, Mount Laurel, (856) 429-4394, RBVH.net
PET SALON
Millie's Jiggles & Wiggles Pet Grooming
Dubbing themselves as a "full-service pet boutique," your furry friends will feel like they are being pampered as Millie's Jiggles & Wiggles offers so much more than just grooming.
200 Haddonfield Berlin Road, Voorhees, (856) 428-3340, JigglesWiggles.com
VETERINARIAN CARE
Cherry Hill Animal Hospital
With an excellent staff of nurses and doctors, Cherry Hill Animal Hospital provides pets with quick and comprehensive care to keep them feeling their best.
1425 Route 70 E., Cherry Hill, (856) 325-2100, CherryHillAnimalHospital.com
Beauty and Fitness
ATHLETIC FOOTWEAR
New Balance Mount Laurel
Whether it's running a marathon or keeping up with your now on-themove toddler, New Balance Mount Laurel has all of the athletic footwear you need to keep you moving.
Cherry Hill, (856) 874-0666, Mount Laurel, (856) 840-0905, NewBalance.com
BLOWOUT
Cherry Blow Dry Bar
There's nothing quite like a fresh blowout to make us feel like a million bucks. Cherry Blow Dry Bar understands this sentiment and offers package options for us to enjoy gorgeous hair all year long.
1588 Kings Hwy. N., Cherry Hill, (856) 520-8220, CherryBlowDryBar.com
BUDGET-FRIENDLY GYM
Giant Fitness
Finding a gym that isn't expensive is hard to come by. Lucky for us, Giant Fitness offers home and commercial workout equipment at a low monthly cost, making it possible for everyone to be active.
South Jersey locations, GiantFitnessClubs.com
CHILDREN'S HAIR SERVICES
Kids Kuts of Voorhees
Your first haircut can be scary, and so can the ones that follow if you are a child. Kids Kuts of Voorhees has licensed cosmetologists to make sure your children have a positive haircut experience. They even offer their services throughout the teen years.
300 White Horse Road, Voorhees, (856) 770-9292, KidsKutsVoorhees.net
PERSONAL TRAINING
Adrenaline Sports Performance
Training South Jersey residents for over 10 years, Adrenaline Sports Performance understands their clients aren't all the same. That's why they create tailored training regimens to cater to your personal fitness goals.
1951 Old Cuthbert Road, Suite 102, Cherry Hill, (856) 383-1452, AdrenalineSPT.com
Education and Childcare
ACTING LESSONS
Renee's Studio
Owner and acting coach Renee Weisband offers a range of lessons for actors of every level. From children's theater to Broadway, there is something for everyone to learn at Renee's Studio.
875 Cox Road, Moorestown, (609) 220-7537, Renees-Studio.com
CATHOLIC CO-ED COLLEGE
Georgian Court University
Offering liberal arts degree programs on campus and online, Georgian Court University provides their students with an excellent education with a Roman Catholic background.
900 Lakewood Ave., Lakewood, (732) 987-2700, Georgian.edu
CHRISTIAN PRESCHOOL
First Presbyterian Church Preschool
Impressionable at a young age, children at First Presbyterian Church Preschool will learn and grow their faith simultaneously in a nurturing environment.
20 Kings Hwy. E., Haddonfield, (856) 429-0609, HaddonfieldPres.org
COMMUNITY COLLEGE
Camden County College
Offering a wide variety of classes with an affordable tuition, Camden County College has campuses in Blackwood, Camden and Cherry Hill, making the college commute easier than ever.
200 College Drive, Blackwood, (856) 227-7200, CamdenCC.edu
INNOVATIVE STEAM CURRICULUM
The Sari Isdaner Early Childhood Center
An award-winning and leading provider in early childhood education, The Sari Isdaner Early Childhood Center at the Katz JCC encourages creative learning and problem solving by promoting teamwork and academic challenges in the fields of STEAM.
1301 Springdale Road, Cherry Hill, (856) 424-4444, KatzJCC.org/EarlyChildoodCenter
DANCE CLASS SELECTION
Edge Dance Center
Ranging from recreational, intensive and professional, Edge Dance Center teaches all levels of students a strong education coupled with a performance program while encouraging character development and leadership.
1603 Route 38, Lumberton, (609) 702-8122 | 1422 Route 130 N., Cinnaminson, (856) 829-0206, EdgeDanceCenter.com
DANCE EDUCATION
The Bowman School of Dance
Whether you are a preschooler or a professional, The Bowman School of Dance provides an excellent education with limited class sizes, airconditioned studios and highly trained teachers.
74 Kings Hwy. N., Cherry Hill, (856) 667-0447, TheBowmanSchoolOfDance.com
DIAGNOSTIC TUTORING
Tutoring Club of Cherry Hill/Voorhees
With an individualized approach to target where students' skills are lacking, Tutoring Club of Cherry Hill/Voorhees works to improve these points while setting higher learning goals.
484 E. Evesham Road, Cherry Hill, (856) 616-8808, TutoringClub.com/Cherry-Hill-NJ
K-12 PRIVATE SCHOOL
Moorestown Friends School
A co-educational Quaker school, Moorestown Friends School teaches students from age 3 through 12th grade while fostering a learning environment that is both diverse and inclusive.
110 E. Main St., Moorestown, (856) 235-2900, MFriends.org
OVERNIGHT CAMP
The YMCA Camps Ockanickon/Matollionequay
Providing summer camps for both boys (Ockanickon) and girls (Matollionequay), The YMCA's overnight camps are places where your young children can build character, confidence and friendships.
1303 Stokes Road, Medford, (609) 654-8225, YCamp.org
PRESCHOOL
Little Ambassadors Preschool
With early education programs beginning at 18 months, Little Ambassadors Preschool strives to provide a Christ-centered education in a safe, loving and nurturing environment.
535 Mullica Hill Road, Glassboro, (856) 881-3669 ext. 104, AmbassadorsChristianAcademy. com
PUBLIC LIBERAL ARTS COLLEGE
Ramapo College of New Jersey
Serving as the state's premier public liberal arts college, Ramapo College of New Jersey provides its students with academic excellence and international and cultural understanding while promoting diversity, inclusiveness, sustainability, student engagement and community service.
505 Ramapo Valley Road, Mahwah, (201) 684-7500, Ramapo.edu
SUMMER CAMP
JCC Camps at Medford and Early Childhood Camps at the Katz JCC
With camps for both your little and bigger children, Katz JCC allows your children to explore and grow all summer long in a safe and secure environment.
400 Tuckerton Road, Medford, (856) 751-1666; 1301 Springdale Road, Cherry Hill, (856) 424- 4444, KatzJCC.org/ECCCamps, JCCCampsAtMedford.org
SWIMMING LESSONS
Bear Paddle Swim School
Water may be scary to young swimmers but at Bear Paddle Swim School, children will learn to become safe and confident swimmers in a controlled environment.
515 Route 73 S., Unit 170 B, Marlton, (856) 267-3131, BearPaddle.com
TUTORING & TEST PREP
Huntington Learning Center
Helping any student with any subject, Huntington Learning Center works with their students to really understand the material they are learning to set them up for success. They even get students prepared for ACT and SAT testing and more.
Cherry Hill, (856) 795-1933, Turnersville, (856) 227-2033, HuntingtonHelps.com
Family Fun
CHILDREN'S THEATER
Mainstage Center for the Arts
Dedicated to providing youth with arts experience, the programs at Mainstage Center for the Arts now serve over 1,000 children through classes and workshops with an annual audience of over 50,000 people.
27 S. Black Horse Pike, Blackwood, (855) 936-2467, Mainstage.org
DANCE APPAREL
Attitudes
It's one thing to want to be a good dancer, but you also have to look the part. Attitudes provides dancers with the name-brand dance apparel in the industry to make them stand out.
446 Route 70 W., Marlton, (856) 985-7270, AttitudesNJ.com
FAMILY CAMPGROUND
Hospitality Creek Campground & Swim Club
With a 30-acre lake for swimming and fishing, pools to boot and events all season long, Hospitality Creek Campground & Swim Club is a summer destination every family wants to experience.
117 Coles Mill Road, Williamstown, (856) 629-5140, Hospitality- Creek.com
FAMILY-FRIENDLY THEATER PRODUCTION
Moorestown Theater Company
A nonprofit theater company, the Moorestown Theater Company is a place for the whole family to test out their acting and singing skills by performing together as a family.
19 W. Main St., Moorestown, (856) 778-8357, MoorestownTheaterCompany.org
FARM MARKET
Springdale Farms
Serving as Cherry Hill's only working farm, Springdale Farms has been providing the community with the freshest produce, baked goods and family events for over 60 years.
1638 S. Springdale Road, Cherry Hill, (856) 424-8674, SpringdaleFarms.com
ICE SKATING RINK
The Igloo at Mount Laurel
Try your talent at ice skating at The Igloo at Mount Laurel. The state-ofthe- art ice skating facility has a public skating schedule so the whole family can hit the ice.
3033 Fostertown Road, Mount Laurel, (856) 638-0801, SkateIgloo.com
Food & Drink
AUTHENTIC BISTRO
Rey Bagel Bistro
When you are looking for a tasty lunch spot, look no further than Rey Bagel Bistro. Grab a homemade salad, quesadilla, lunch bagel or even a sandwich off their classic grill and excite your taste buds.
101 Route 73, Marlton, (856) 334-8108, ReyBagelBistro.com
BAKERY
Sweetsboro Pastry Shoppe
We love to indulge our sweet tooth and lucky for us, Sweetsboro Pastry Shoppe offers cookies, pastries and specialty cakes daily for us to enjoy.
1302 Kings Hwy., Swedesboro, (856) 241-7722, SweetsboroBakery.com
BREWERY
Eight & Sand Beer Co.
Craft beer lovers rejoice at this railroad- inspired brewery. If you are a hop lover like us, try their IPA No. 2 made with Citra, Cascade and Mosaic hops that give this full-bodied IPA a fruity finish.
1003 N. Evergreen Ave., Woodbury, (856) 537-1339, EightAndSandBeer.com
DISTINCTIVE ITALIAN DISHES
Anthony's Creative Italian Cuisine
After one visit, you will be hooked on Anthony's Creative Italian Cuisine. Whether it's a beautifully crafted salad or Barolo Braised Short Rib Ragu, hungry patrons are never disappointed in a visit at Anthony's.
512 Station Ave., Haddon Heights, (856) 310-7766, AnthonysCuisine.com
TEX-MEX MENU
The Mexican Food Factory
Blending American and Mexican food items, The Mexican Food Factory is bursting with nachos, tacos, quesadillas and burritos that will make you say ¡muy bien!
601 W. Route 70, Marlton, (856) 983-9222, TheMexicanFoodFactoryNJ.com
Health and Wellness
ADULT ORTHODONTICS
Morrone & Kaye Orthodontics
Adult braces can be embarrassing but at Morrone & Kaye Orthodontics, the doctors work with you to provide a treatment plan that works with your personal preference and your budget.
99 W. Main St., Moorestown, (856) 234-4044, 120 Madison Ave., Suite F, Mount Holly, (609) 267-1221 MorroneAndKaye.com
BRAIN INJURY REHABILITATION CENTER
Bancroft
Providing brain injury rehabilitation, Bancroft offers a range of services and programs for people recovering from traumatic brain injuries and neurological conditions.
1255 Caldwell Road, Cherry Hill, (856) 348-1137, Bancroft.org
BREAST CANCER SURGEON
Kahyun "Kay" Yoon- Flannery, DO, MPH
Serving as the medical director of the Kennedy Comprehensive Breast Center, Dr. Kahyun Yoon-Flannery oversees Kennedy's breast care program, diagnoses and surgically treats various conditions of the breast.
Kennedy Comprehensive Breast Center, 333 Laurel Oak Road, Voorhees, (844) 542-2273, KennedyHealthAlliance.org
CARDIOLOGY
Advanced Cardiology of South Jersey
Dr. Vic Bahal delivers state-of-the-art comprehensive cardiovascular care while focusing on preventative methods and minimally invasive approaches when dealing with heart and vascular disease prevention.
4 Burton Lane, Mullica Hill, (856) 241-3838, AdvancedCardiologySJ.com
COOLSCULPTING
Warmuth Institute of Dermatology
With multiple locations, Dr. Ingrid P. Warmuth and her staff have become the go-to professionals for CoolSculpting and other dermatological services. Locations in Elmer, Salem and
Swedesboro, (856) 358-1500, WarmuthInstitute.com
DAY SPA
Spavia Moorestown
When you are looking to have a day off, spend it at Spavia Moorestown. A retreat away from your busy life, Spavia's day spa offers massages, body treatments, skin care options and even men's treatments.
1670 Nixon Drive, Moorestown, (856) 457-6444, SpaviaDaySpa.com/ Moorestown-NJ
FAMILY EYE CARE
Village Eyecare
Dr. Sally Halim takes the time to get to know her patients and provide them with the correct eyeglasses and contact lens prescriptions while improving their eye health for the long run.
120 Center Square Road, Woolwich Township, (856) 832-4950, SJVillageEyecare.com
FAMILY HOSPITAL
Our Lady of Lourdes Medical Center
When someone gets sick, it's nice to see a familiar face. At Our Lady of Lourdes Medical Center, the whole family can get treated right at the same convenient location.
1600 Haddon Ave., Camden, (856) 757-3500, LourdesNet.org
INFERTILITY TREATMENT CENTER
Delaware Valley Institute of Fertility & Genetics
Dr. George Taliadouros and the staff at DVIF&G pride themselves on maintaining a personal connection to their patients while providing lifechanging fertility treatments.
6000 Sagemore Drive, Suite 6102, Marlton, (856) 988-0072, StartFertility.com
PHYSICAL THERAPY
Strive Physical Therapy & Sports Rehabilitation
Whether you are looking to rehabilitate from an auto accident, work injury, neck/back pain, sports injury or a neurological condition, Strive Physical Therapy & Sports Rehabilitation works to provide the highest level of care to their patients.
Serving South Jersey, (856) 667-4000 StrivePhysicalTherapy.com
QUICK & COMPREHENSIVE URGENT CARE SERVICES
Patient First Urgent Care-Voorhees
When you are looking for fast care, Patient First Urgent Care-Voorhees gets you in fast, treated with precision and on your way to a speedy recovery.
PatientFirst.com
RADIOLOGY
South Jersey Radiology Associates
An award-winning diagnostic imaging center, South Jersey Radiology Associates provides quality patient care with state-of-the-art technology and a high level of professional expertise.
Serving South Jersey, (888) 909-SJRA, SJRA.com
Home Improvement
AFFORDABLE CARPET & FLOORING SERVICES
SMART Carpet and Flooring
With a mobile showroom housing over 4,000 styles and colors, homeowners can easily choose from between carpet, hardwood, laminate, vinyl and tiles at an affordable price.
Serving all of New Jersey, (800) 526-7847, SMARTCarpet.com
CARPET CLEANING SERVICES
COIT Cleaning and Restoration of South Jersey
If you are looking to rectify kid spills, pet accidents or even have a preholiday cleaning, COIT is the name you can count on to restore your carpets to look and feel as fresh as the day they were installed.
609 Grace St., Somerdale, (856) 566-0700, COIT.com
CUSTOM HEARTH DESIGN SERVICES
Rettinger Fireplace Systems
Whether it's a traditional or contemporary design, Rettinger Fireplace Systems offers designs to homeowners that will not only make their homes beautiful, but relaxing atmospheres to retreat to.
476 Centennial Blvd., Voorhees, (855) GET-RETT, RettingerFireplace.com
CUSTOM TRIMWORK
Home Trimwork
If your home needs a little extra "something," look no further than Home Trimwork for crown molding, chair molding, wainscoting, wall panels, pillars, mantels and more to bring your spaces to the finish line.
Serving South Jersey, (609) 206- 8621, HomeTrimwork.com
HEATING & AIR CONDITIONING
TJ Eckardt
Being comfortable in our homes is our No. 1 priority throughout the year, and the same goes for TJ Eckardt. For all of our HVAC needs, TJ Eckardt provides quality customer service while getting the job done.
230 Williamstown Road, Berlin, (856) 767-4111, TJEckardt.com
HOME ORGANIZATION
California Closets
Finding clothes to wear in the morning can be difficult with a cluttered closet. California Closets makes your morning a bit easier by providing organization and closet makeovers throughout your home.
1211 Route 73, Mount Laurel, (856) 638-5396, CaliforniaClosets.com
KITCHEN & BATH REMODELING
Brindisi Builders
Making sure you love where you live, Brindisi Builders will transform your kitchen and bathrooms into modern-day spaces straight out of a home magazine.
59 S. Maple Ave., Marlton, (856) 985-6219, BrindisiBuilders.com
LANDSCAPE DESIGN
Gill's Landscaping
There's nothing quite like a stunning landscape to increase curb appeal, and at Gill's Landscaping, Brian Gill and his team come up with fresh concepts to make your home stick out—for all the right reasons.
240 Commissioners Road, Mullica Hill, (856) 223-9770, GillsLandscaping.com
LAWN MAINTENANCE
SLS Landscaping
Committed to providing quality and professional services since 1992, SLS Landscaping is the name we trust when we need a manicured lawn free of weeds.
641 Eayrestown Road, Lumberton, (609) 518-5263, SLSLandscape.com
PAINT & DESIGN CENTER
Burlington Design Center
A full-service Benjamin Moore paint home improvement center, Burlington Design Center helps design, implement and make selections to fit your taste and needs.
3019 Marne Hwy., Mount Laurel, (856) 778-7772, BurlingtonDesignCenter.net
POWERWASHING
C. Yates Powerwashing
When your home just isn't as clean as it used to be, the team at C. Yates Powerwashing will make your patio, deck, house and other surfaces look brand new.
Serving all of New Jersey, (609) 792-8417, CYatesPowerwashing.com
SELECTION OF FLOORING OPTIONS
Burlington Carpet One
Providing more than just carpet, Burlington Carpet One offers homeowners and business owners a wide variety of carpet, hardwood, laminate, vinyl and tile flooring.
931 Route 73 S., Marlton, (856) 310-9292, BurlingtonCarpet. com
STONE WORK
KOL Marble and Granite
A full-service marble and granite fabricator, KOL Marble and Granite's knowledgeable staff gives homeowners the countertops of their dreams.
1970 Old Cuthbert Road, Cherry Hill, (856) 857-1430, KOLGranite.com
TREE SERVICES
Haddon Tree Company
Whether it is pruning, trimming or removing your trees and shrubs, Haddon Tree Company is here to keep your yard looking the best on the block.
Haddon Heights, (856) 795-3333, HaddonTreeCo.com
Legal and Professional Services
ADOPTION SPECIALIST
Adoptions From The Heart-New Jersey
Adoption is a serious decision and no one understands that better than Adoptions From The Heart-New Jersey. They continue to create miracles one child and family at a time.
451 Woodland Ave., Cherry Hill, (856) 665-5655, AFTH.org
COMPUTER SERVICES
Experimac Cherry Hill
When our technology fails us, we need a trusted name to pick up the pieces and get things working again. Experimac Cherry Hill is who we turn to for diagnostic solutions at a price that won't break the bank.
2076 Route 70 E., Cherry Hill, (856) 375-2703, Experimac.com/Cherry-Hill-NJ
FINANCIAL SERVICES
M Financial Planning Services
With each individual in mind, Theodore Massaro and M Financial Planning Services provide a tailored service to their clients with impartial advice and high-quality service.
57 S. Maple Ave., Marlton, (856) 810-7701, MFinancialPlanningServices.com
JEWELRY APPRAISALS
The Owl's Tale
When it comes to our valuable jewelry, we want someone we can trust to handle it as if it is their own. The Owl's Tale is the only name we trust to appraise our jewelry of all shapes and sizes.
138 Kings Hwy. E., Haddonfield, (856) 795-8110
PROGRAMS FOR AT-RISK YOUTH
Crossroads Programs
Empowering youth that are homeless, abused, abandoned or at-risk, Crossroads Programs are designed to give these individuals the tools and support to lead healthy and productive lives.
610 Beverly-Rancocas Road, Willingboro, (609) 880-0210, CrossroadsPrograms.org
REALTOR
Anne E. Koons
Having been on the receiving end of Berkshire Hathaway HomeServices Fox & Roach, Realtors' Circle of Excellence Platinum Award multiple times, Anne E. Koons continues to be a top realtor in our area finding and selling us the homes of our dreams.
1401 Route 70, Cherry Hill, (856) 428-8000 ext. 142, AnneKoonsRealEstate.com
RETIREMENT SERVICES
The SHM Financial Group
Stan and Lee Molotsky continue to provide their clients with the best financial strategies available to prepare them for retirement. They even wrote a book dedicated to the topic.
Locations in Collingswood and Voorhees, (800) MONEY-SHM, SHMFinancial.com
Published (and copyrighted) in Suburban Family Magazine, Volume 8, Issue 9 (November, 2017).
For more info on Suburban Family Magazine, click here.
For information about advertising in Suburban Family Magazine, click here.
To find out where to pick up your copy of Suburban Family Magazine, click here.