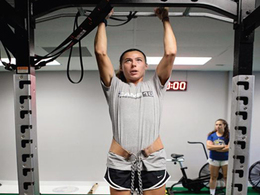 Bringing Out Their Best
Profile
ON THE SURFACE, a 300-pound football player preparing for his first professional training camp and a 14-year-old female soccer player hoping to crack the varsity lineup as a freshman might not seem to have a lot in common.
But for both, pushing their bodies to the limit in the off-season—and not just training hard, but training the right way—can make all the difference when it comes time to perform in their respective sports.
Helping athletes of all ages and skill levels reach their full potential has become a passion for Andrew Csik, a certified physical trainer who founded Game On Sports in 2014. He has trained a large number of high school and collegiate athletes as well as professionals like Jon Dorenbos of the Philadelphia Eagles.
"We work with a wide range of clients," Csik says. "I generally don't take kids younger than 12, and even at that age you have to be careful. My oldest client right now is 58 years old, and we have about 80 athletes—21 from Division I—in our off-season summer program.
"I've also trained several professional football players and my wife is a professional equestrian rider who I work with. It's a lot different working with a football player and an equestrian rider, but it just goes to show you that all athletes need to prepare during the off-season."
Csik was a three-sport athlete himself at Burlington Township High School before moving on to East Stroudsburg University and then Holy Family University, where he received a degree in education. He expected to have a long and fruitful career as a teacher, but instead of making a difference in the classroom, he is doing so in the gym.
His strength and conditioning career started at 7Deuce Sports, a Medford facility owned by former Eagles offensive lineman Tra Thomas. Csik worked his way up from intern to head trainer in two years and developed a love for the field.
Before going out on his own at Game On Sports, Csik traveled to some of the most successful training facilities in the country to learn the best techniques and methods available. One trainer in particular who had a profound impact on him was Mike Boyle, who owns and operates a facility in Boston.
"In my mind, he's the best trainer we have in the United States," Csik says. "What I really like about Mike is that he never stops learning and is always implementing better training methods. That's probably rare to find in a lot of industries, but even more so in strength and conditioning, where a lot of people think their way is the only way."
Csik has taken a similar approach to constantly educating himself and has adopted a holistic training philosophy. He believes in placing his clients at a proper training level based on the functional movement test, and aims to keep exercises safe and simple.
He also stresses strengthening of the core over specialization of muscle groups.
"We work the upper and lower body every day and we focus on strengthening the core in all different ways," he says. "I think a lot of our strength starts and ends there."
While all kinds of athletes are welcome at Game On Sports, a significant portion of the clientele are female soccer players. They have been especially important to the growth of the business, and Csik has established a strong relationship with Shawnee High School girls soccer coach Drew Wagner.
"It's sometimes rare to find a coach who's willing to send his players outside of the program," Csik says. "But Drew has allowed me to tackle the strength and conditioning aspect. I don't pretend to be a soccer coach; that's his specialty, and this is mine. It's been a great partnership."
Furthering the Shawnee connection, Csik recently hired former Renegades and Rutgers University star player Erin Smith to offer soccer-specific training. Smith was drafted by the Houston Dash of the Women's Professional Soccer League in January.
"It's exciting to have someone like that who's very accomplished at the next level, and the girls have been very excited to work with her," Csik says.
Strength training is done in small groups or in a one-on-one format, and can often foster friendly competition among the athletes. As for the adult clients, Csik takes the approach of training smarter, not harder, and focuses on activities they do every day. "It's very functional training," he says. "We try to take the risks down and promote more of an overall healthy lifestyle."
This past March, Game On Sports partnered with Powerhouse Fitness & Yoga—"the best yoga center in Medford"—and now operates out of a facility below Powerhouse on 417 Stokes Road. The past year has seen tremendous growth, with the client base more than doubling.
"I want to increase the level of each athlete in all of the communities surrounding Medford," Csik says. "I got into this field because I like lifting and I like sports, and I was pretty naïve at the time. But it led me to this passion, and now I see that it's a lot like teaching. You use a lot of the same tools from teaching in training."
Published (and copyrighted) in Suburban Family Magazine, Volume 8, Issue 5 (July, 2017).
For more info on Suburban Family Magazine, click here.
For information about advertising in Suburban Family Magazine, click here.
To find out where to pick up your copy of Suburban Family Magazine, click here.