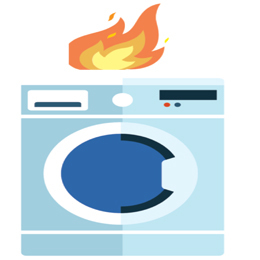 Hidden Dangers in the Home
Most homeowners are aware of where the dust and dirt lie in their homes and are diligent about regularly cleaning. However, there are areas that tend to be forgotten about when it comes to care. Air ducts, dryer vents and fireplace chimneys that do not get regular care can put families at a great risk for danger. Coit Cleaning Services brings over 65 years of experience to homeowners.



Dryer Vents
15,000 home fires every year in the U.S.
are a result of clothes dryers

Last year, Coit cleaned
over 10,000 dryer vents

From a typical home,
about a half pound of lint is
removed from the dryer
vent after cleaning is
complete
WARNING
If clothes are taking too long to dry, lint is falling out of the dryer when removing clothes or the exterior flap barely opens when the dryer is running, your dryer is clogged. New dryers will prompt you to clean out the vent before running a dry cycle.
Air Ducts
Air ducts are the main culprit
in our homes for the cause of
allergens
Don't forget about expensive
drapes that may be hanging
near air ducts, they collect a
surprisingly large amount of
dust
Change your HVAC filters
monthly to prevent build-up
Did You Know?
The same dirt found inside your vacuum bags and canisters is the same dirt found in your air ducts.
Remember:
Clean elevated places regularly. Places like ceiling fans and above doorways collect as much dust as any other surface.
FIREPLACE CHIMNEYS
Clean chimneys have no
risk of catching fire

By using seasoned
woods, smaller structures, hotter fires and
not burning things like
cardboard, paper, trash
or the leftover Christmas
tree, fires can be prevented
FIRE EVIDENCE
A fire may have occurred in your chimney if you see puffy or honeycombed creosote, creosote flakes or pieces on the roof or ground, cracked or collapsesflue tiles or tile with large chunks missing, discolored or distorted rain cap or cracks in the exterior masonry.
Professional Cleaning Schedule
DRYER VENTS:
every 12 months

CHIMNEY SWEEP:
every 12 months

AIR DUCTS:
every 24 months
Coit Cleaning Services
For help on finding these hidden dangers in your home contact
(856) 566-0700 | Coit.com| Serving South Jersey

Published (and copyrighted) in Suburban Family Magazine, Volume 8, Issue 4 (June, 2017).
For more info on Suburban Family Magazine, click here.
For information about advertising in Suburban Family Magazine, click here.
To find out where to pick up your copy of Suburban Family Magazine, click here.