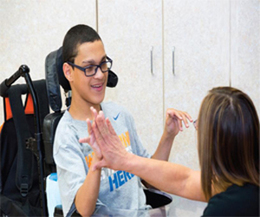 Community Support
All parents wish they could protect their children as they go off to school, whether it's their first day of kindergarten or senior year. For parents of special needs students, that vulnerability is even more palpable. Finding a school to provide a high-quality education in a comfortable environment can be an exhausting search. However, walking into Crescent Hill Academy, those worries melt away.
Just ask Paula Richards, whose 10-year-old son, Stephon, has been attending Crescent Hill since he was about 5 years old. "When I walked into Crescent Hill Academy, the first thing I noticed was that everyone on staff—the teachers, therapists and principal—made me feel like family," Richards says. "It's one thing to be a parent of a child with no special needs, but for parents of a special needs child, when your child is at Crescent Hill, there is no reason to worry. It's a very loving, caring school."

Crescent Hill Academy is the culmination of a lifelong vision for the Minicozzi family, whose patriarch Alfred (Fred) Minicozzi, was a key figure in its development nearly 40 years ago. When his own daughter, Rose Ellen, was diagnosed with cerebral palsy shortly after birth in 1965, Fred and his wife Theresa sought care for her at Pennsauken's Cerebral Palsy Treatment Center. With a background in education, Fred became a board member for the center and was instrumental in expanding it to include a school. In 2005, the center was renamed Crescent Hill Academy and incorporates various levels of care for medically challenged children, teens and young adults between the ages of 3 and 21.

Today, Crescent Hill Academy is run by Fred's son, Al Minicozzi, who is the executive director. Having grown up with his sister and seeing his father's commitment to children in the special needs community, Minicozzi pursued a career in education at Rowan University and obtained two degrees in special and elementary education, and has since received a master's in school administration from Rutgers University.

Minicozzi says his father's vision for a school has become so much more. Crescent Hill Academy is fully accredited by the New Jersey Department of Special Education, offering a range of programs and services, from education—which includes general subjects as well as life skills—to speech, language and physical therapy. The school boasts an almost-unheard-of 3:1 student to teacher ratio.

"We believe in the small class size, which provides the students with the attention they need and top-notch care," says Minicozzi. "We have a full-time nurse on staff and we also allow medically needy students to attend with their own nurses. We're one of the only schools in the area to allow that." The school will soon be adding an applied behavior analysis (ABA) certified teacher who will work with students on the autism spectrum.

As students get older, Crescent Hill Academy has programs in place to teach them life skills and prepare them for independence. For daily living skills, the school has set up a bedroom where students can learn and practice making a bed, brushing their teeth and going about a daily routine, and another room is set up like an office for a job setting. Through partnerships with Goodwill and ShopRite in Cinnaminson, students can take part in a vocational program and work there a few days a week.

"We want our students to get involved and the environment we create here is equal for everyone," says Minicozzi. And that extends beyond just the education and therapeutic aspects of the school. Crescent Hill Academy also believes in the value of letting kids be kids.

"Today's world is all about tests. How about just being a kid?" he says. Throughout the year students participate in field trips to the zoo, aquarium, local farms for pumpkin or vegetable picking, bowling, Christmas shopping and much more. Crescent Hill Academy also offers an extended school year, from July 5 through Aug. 15.

In everything they do the people at Crescent Hill Academy focus on the nurturing environment. "We all want to be nurtured, even as adults and we aim to bring that back to these kids in a way that is not about dollars and cents," says Minicozzi. "My family has dedicated their lives to doing something good for others and we make the best for the children we have in our care."

For Richards and her son Stephon, they can't imagine a better place. "If we didn't have a school like this I don't know how far my son would be able to go in life," she says. "I know with Crescent Hill Academy, when he becomes an adult, he will be able to fit in with society."
Published (and copyrighted) in Suburban Family Magazine, Volume 8, Issue 4 (June, 2017).
For more info on Suburban Family Magazine, click here.
For information about advertising in Suburban Family Magazine, click here.
To find out where to pick up your copy of Suburban Family Magazine, click here.