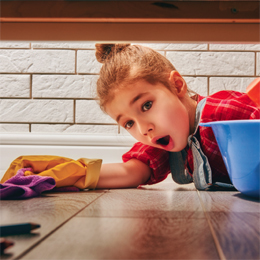 A Healthy Slumber
Feeling healthy in our own homes during allergy season can be difficult. Dust and allergens are present in every room, which may not only be preventing us from feeling good all day, but also from getting a good night's sleep. We do our best to vacuum the carpeting or dust the hardwood floors on a regular basis where we think much of the dust lies. We dust furniture and the ceiling fans and all the high places such as above doorways and archways, however is that enough? Are we getting it all? Where else is the dust?
Dust builds in closets; especially bedroom closets. "Think about it, how often do you remove all the shoes from your bedroom closets and dust or vacuum the closet floor?" aks Lori Topiel, owner of Coit Cleaning Services in Somerdale. Most of us might do that once a year, we just don't think about it. "If a bedroom has wood floors they are more likely than carpet to cause dust to circulate in the room. Carpet traps the dust. However, with wood flooring there is nothing to hold the dust down," continues Topiel.
We also don't think about the air ducts which should be professionally cleaned every two to four years, according to Topiel. They are simply not on the top of the list of things to clean in our homes. Dirty air ducts can be a major cause of poor air quality in all the rooms in our homes. Dust, dirt, pollen, animal dander and other airborne contaminants can get trapped in the HVAC systems of our homes. Poor air quality could affect our sleep. We could be breathing in all this in our very own bedrooms.
"If air ducts are not cleaned regularly, over time ductwork becomes a breeding ground for mold, bacteria, fungus mildew and other microbes, all of which re-circulate throughout the home. Additionally, if curtains are hanging in front of vents, the curtains themselves can become filled with dust," says Topiel.
Coit's Checklist
• Carpets (including closets) professionally cleaned every 6-9 months
• Upholstery professionally cleaned every 6-12 months
• Draperies professionally cleaned every 2-5 years
• Dust ceiling fans and top of trim over doors
• Have air ducts cleaned regularly
Coit Cleaning Services
(856) 566-0700
Coit.com
Published (and copyrighted) in Suburban Family Magazine, Volume 8, Issue 3 (May, 2017).
For more info on Suburban Family Magazine, click here.
For information about advertising in Suburban Family Magazine, click here.
To find out where to pick up your copy of Suburban Family Magazine, click here.