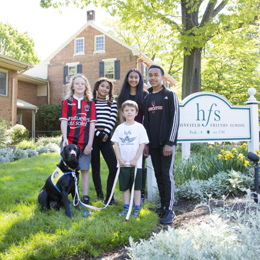 Right at Home
As a parent, getting the best education for your child is at the top of your priority list along with getting them the best doctor when they are sick. Where you choose to send your child to school, and the type of education they are getting, ultimately sets them up for the rest of their life. With Haddonfield Friends School (HFS), the decision just got a whole lot easier.
"We inspire joyful young minds to reach their fullest potential, to embrace diversity and to go out into the world with self-awareness, confidence and compassion," says Head of School Matthew Sharp. "It is our hope that HFS students graduate as innovative problem solvers, curious, independent learners and ultimately, as socially, emotionally and spiritually developed global citizens who respond thoughtfully and compassionately to one another and the world."
In addition to their mission, the pre-K through eighth grade school has six core values, the Quaker Testimonies known as the SPICES: Simplicity, Peace, Integrity, Community, Equality and Stewardship.
Implementing a curriculum that is progressive, timely and relevant to today's world, Sharp says students take this curriculum further than the classroom via service, environmental studies, presentations and expos, hands-on projects and travel.
Because their curriculum prioritizes experiential and independent learning, HFS's class sizes are an ideal environment to achieve these goals. "We are proud that we have two certified teachers in every classroom of our early childhood center, kindergarten and first grade," says Sharp. "No classroom at HFS has more than 18 students."
The smaller class sizes allow every student the opportunity to refine and demonstrate thought leadership, be a part of meaningful and experiential instruction, learn in engaging settings, have personalized and customized instruction and be a part of a close-knit community where students in different grades can work together to solve problems and complete projects.
"Our teachers realize that future leaders and citizens will need more than facts and good test scores to succeed," says Sharp. "Our teachers engage students via query and investigation. Students are exposed to rich literary selections and hands-on mathematics and science. Teachers model social skills, Quaker testimonies and allow each child to find their voice."
While the educational lessons students are learning at HFS are instrumental to their success in the future, they also learn life skills from four-legged students.
Since 2012, HFS has been raising Canine Companion service dogs. At eight weeks old, the puppy leaves its breeder in California to fly to New Jersey. Upon arrival, the puppy is met by the kindergarten teacher and one lucky student with a big smile and lots of love. The puppy is then introduced to the entire student body and the students quickly learn that when the puppy is wearing its working vest, it is not to be petted.
While the puppies are learning a lot of lessons in the kindergarten class, the students are learning them as well.
"First, they get an understanding of service. The puppy that they take care of and love is not theirs. They have to try to make this puppy wonderful, in fact life-changing for someone else," says Sharp. "Even at age 5, they are taking responsibility for making sure the dog has water. They have to respect boundaries and know when they can and cannot play with the pup."
HFS has successfully raised four dogs and is currently anticipating its fifth that arrives Memorial Day weekend—a golden retriever that will be with the school for a year and a half.
Parents Eric Mills and Kristin Carberry have two sons at HFS, one in second grade and one in fourth, and couldn't be happier with their decision to enroll them since kindergarten.
"We were looking for a school with a strong value system and [were] impressed with the school's real sense of community from the moment we first visited," the parents say. "HFS has an incredibly diverse population compared to the rest of the region and that was also vitally important to us. Its academic reputation for a rigorous and engaging curriculum was a major factor in our decision."
Both Mills and Carberry agreed that they knew HFS was the right fit for their children when they met with teachers at one of HFS' open houses, saying "Their pure enthusiasm and passion for teaching [shined] through in our initial meetings with them."
They note there is a special level of engagement from each family attending HFS inspired by the love for the school and further strengthened by the fact that they, as parents, have consciously chosen to raise their children in this "unique and wonderful extension" of their lives.
"At Haddonfield Friends School every child participates and everyone is included—every day," says Sharp. "We invite you to come join us and find your voice!"
Haddonfield Friends School
47 N. Haddon Ave. | Haddonfield
(856) 429-6786
HFSfriends.org
MSharp@HFSFriends.org
Published (and copyrighted) in Suburban Family Magazine, Volume 8, Issue 3 (May, 2017).
For more info on Suburban Family Magazine, click here.
For information about advertising in Suburban Family Magazine, click here.
To find out where to pick up your copy of Suburban Family Magazine, click here.