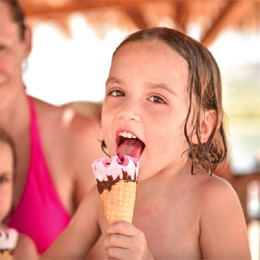 A Shore Thing
There's nothing quite like being down the Shore and enjoying the sun while eating some of your favorite snacks. Whether you're just there for the weekend, or the family has decided to spend a week's vacation in your favorite beach town, you know it's a must to get your favorite treats. We know it's hard to choose between the famous pizzerias, ice cream parlors and breakfast spots, so we made it easier. Here's our list of some of our favorites to help you narrow down your choices of good eats. Who knows? You might find a new Shore favorite.
Special Pizza
Franconi's Pizzeria & Ristorante, Wildwood
For 22 years, Franconi's Pizzeria has been serving up some of the best pizza on the Wildwood Boardwalk at the corner of Oak Avenue. Decked out with pepperoni, sausage, mushrooms, onions and green peppers, their "Special" Pizza is every pizza lover's dream. With so many flavors and toppings packed into one pie, it's no wonder why one slice is more than satisfying.
Memphis Dry Rub Wings
Avalon Barbecue Co., Avalon
If wings are your thing then a trip to Avalon Barbecue Co. is a must for you. Their Memphis Dry Rub Wings are made with various seasonings and spices like brown sugar, cayenne pepper and chili powder, and then are slow smoked and fried until crispy. While the Memphis Dry Rub may be our favorite sauce, you can also get them in Buffalo Barbecue, Asian Fusion, Chipotle or Avalon Barbecue Competition varieties.
Mac n' Cheese Grilled Cheese
Steve's Grilled Cheese and Quesadilla Company, Ocean City
Do you know what's better than grilled cheese? Mac n' Cheese grilled cheese from Steve's. The cheesy delight is made with American and yellow cheddar cheese like the Steve's Grilled Cheese, but then it's transformed with fried mac n' cheese balls smashed in the middle of the Texas toast. Like with all grilled cheeses served at Steve's Grilled Cheese, you can enjoy your sandwich with tomato soup or fries. Sign us up.
Ice Cream
Springer's Homemade Ice Cream, Stone Harbor
There's no better way to end a trip at the Shore than enjoying ice cream and that's why Springer's made it their mission to deliver the best ice cream you'd ever experience. With over 50 different flavors of ice cream, there's something for everyone to choose from. Try an old favorite, like Mint Chip, or be daring and try a new flavor like their Prohibition Tradition, Orange Pineapple or Cease & Desist—either way, Springer's won't disappoint your sweet tooth.
Breakfast
Chill: Smoothies & Crepes, Cape May
Do you ever find yourself craving a fresh fruit smoothie and a homemade crepe for breakfast? So do we. Lucky for us, Chill makes it possible for you to satisfy both your cravings with smoothies made from fresh ingredients and crepes made on a hot plate right in front of you. Try the Nutella crepe, it's a fan favorite and will unleash the little kid in you that always wants chocolate at breakfast. The treats are made special for you to enjoy on the go.
Veggie Burger
Margate Dairy Bar & Burger, Margate
We're thankful that Margate Dairy Bar & Burger kept in mind its vegetarian patrons and has the Veggie Burger on their menu. A signature quinoa burger is topped with white cheddar, lettuce, tomato, pickles and its very own Margate Dairy Bar special sauce that helps gives the burger a unique twist. We promise you haven't had a veggie burger so good that you forget it's not a traditional burger until you've tasted this!
Cinnamon Buns
Mrs. Brizzle's Buns, Sea Isle City
It's normal to crave something sweet for breakfast when visiting the Shore—or at any time during the day. One of the best guilty pleasures to indulge in for a sweet snack is fresh, homemade cinnamon buns with icing oozing over every inch from Mrs. Brizzle's Buns. You can buy just one or take some for the road with a six pack, the choice is yours—but either way, it's going to be sticky.
The Goumba
Mario's Italian Market, Surf City
For over 30 years, Mario's Italian Market has been bringing the best of Italian food to the Jersey Shore through catering and their special sandwiches. The Goumba sandwich comes packed with fresh ingredients like prosciutto, soppressata (Italian dry salami) and imported provolone on a long roll, then topped with sun-dried tomatoes and artichoke hearts. Our mouths are already watering.
Published (and copyrighted) in Suburban Family Magazine, Volume 8, Issue 3 (May, 2017).
For more info on Suburban Family Magazine, click here.
For information about advertising in Suburban Family Magazine, click here.
To find out where to pick up your copy of Suburban Family Magazine, click here.