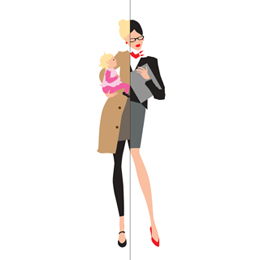 Leading Ladies
"No one can make you feel inferior without your consent," former First Lady Eleanor Roosevelt said. And there's no doubt that women have an undeniable strength about them that allows them to overcome even the greatest of obstacles, no matter who is telling them they can't. Here at Suburban Family, we are lucky to feature women of all ages and backgrounds within our pages—and this month is no different.
Our 2017 Women of the Year are nine strong and influential women who have shined brightly in the face of adversity, stepped up to challenges and seemingly made their communities a better place by impacting those around them. We are lucky to share the same South Jersey roots as the following women:
Diane Allen
A Burlington County resident and Republican senator who represents the 7th district in Trenton, Allen will retire later this year after two decades in office. As just the ninth woman to ever be sworn into Senate in the state's history, Allen is very proactive about getting women involved and in office across the country.
Allen won't be leaving office without doing her all for the pay equity issue in our state. Saying she has witnessed this issue firsthand, a new bill that places more stringent penalties on those who discriminate based on sex, recently failed to get enough votes to override Gov. Christie's veto. Allen says her final efforts in office are going to be focused on this.
Dena Blizzard
The married mother of three—and former Miss New Jersey—is a comedian known more famously as "One Funny Mother." Spending nine months last year touring One Funny Mother off-Broadway and wrapping in January, Blizzard says it was a dream come true to do what she loves and to share stories about her little family from South Jersey.
Blizzard recently headlined Salute, Laugh, Give, a benefit show with three other comedians for Operation Yellow Ribbon at the Ritz Theatre Company in Haddon Township. Having a grandfather who served in the army in WWII, her father who served in the Navy during Vietnam and her husband who was in the Air Force just after the Sept. 11 attacks, Blizzard was more than happy to donate her time to bring a smile to the faces of veterans and their families.
KAHRA BUSS
Once a stay-at-home mom to her three children, Buss has nurtured her children to have imaginative and determined minds. With the motto "people helping people helping people," Buss' three children created the organization Live Civilly in 2009 (officially incorporated in 2011), that went from a family project to a nonprofit movement. Buss serves as president and CEO of the youth service organization that focuses on engaging and empowering young people to become conscientious decision makers. The organization has provided more that 100,000 meals through the LCMMFP and the youth service initiative that supplies it.
In January, Buss was named Moorestown's Citizen of the Year for 2017 for her hard work and dedication to her community. When finding out about the recognition, Buss says it was humbling and flattering. A volunteer with the Moorestown Home and School Association, an active member within her children's schools and at St. Matthew Lutheran Church, a volunteer sports coach through the Department of Recreation and more, it's easy to see that Buss is well-deserving of the recognition.
KELLY DEUCHAR
After being diagnosed with myotonic muscular dystrophy, a progressive disease that keeps you in chronic pain and prevents you from developing muscle mass, ultimately leading to a life in a wheelchair, Deuchar's determination only grew stronger. Living with her disease for the past 11 years, Deuchar did what many might think is unthinkable: She competed in an indoor triathlon this past January.
Consisting of 10 minutes of swimming, 30 minutes of cycling and 20 minutes of running, Deuchar began training for the event even after some told her she wouldn't be able to do it. For her, she says, it was never about competing against the other triathletes, it was about competing against herself and her disease. Deuchar successfully completed the triathlon and even broke her personal best in all three rounds showing us that your own personal strength and determination can get you further than anyone may think.
JACQUELYN "JACKIE" DIXON
When her son, A.J., died in Operation Iraqi Freedom in 2004, Dixon was rightfully upset. Instead of letting her grief take over her life, she focused her emotions into opening a center in his honor. The A.J. Dixon Resource Center was opened in Berlin in 2005 providing activities, classes and tutoring sessions to anyone in the community who needed it.
Closing that center in April 2016 due to lack of funds, Dixon reopened in February 2017 as the A.J. Dixon Vets and Friends Center. After considering the high rate of suicide among veterans and how they are all in need of something, Dixon wanted to accommodate the veterans and their families in her community. She knew that if her son had ever returned home, he would have needed help and services, which is where her heart was when opening the center. Right now, the center is open every Wednesday from 11 a.m. to 3 p.m.
ANGEL FOX
In November 2016, Fox learned her husband, Bert, needed a kidney. As a previous liver transplant patient, this isn't unusual due to anti-rejection medicine that wreaks havoc on the kidneys. Fox says there was a lot of testing that Bert went through and after they started discussing getting on the waitlist for a kidney, which takes a very long time, Fox told her husband that she was giving him one of her kidneys before even knowing if she was a match.
A Virtua nurse, Fox isn't shy about helping people. She decided to become a nurse after meeting her husband years ago and finding out he had health issues. Lucky for the both of them, Fox was a match and the two underwent surgery last month. Both are recovering well and have many happy years ahead of them.
JULIE LAROCHELLE
A mother of two, LaRochelle found out her youngest son had sensory processing disorder (SPD), a neurological disorder that makes it difficult for him to receive and perceive sensory input through sights, sounds, touch, tastes, smells, movement and balance, body position and muscle control. After her research led her to a Facebook group for support of those with SPD individuals in their life, LaRochelle learned about the We Rock the Spectrum franchise and instantly knew Mount Laurel needed its own.
Opening We Rock the Spectrum—Mount Laurel in November 2016, LaRochelle says that all children can benefit from the kids gym. Their equipment has an underlying therapeutic purpose so that special needs and sensory input-craving children benefit from the specialized equipment. But while the equipment just seems fun, it also improves growth motor skills in all children.
ROBIN MACINTOSH
With the help of her husband and another mother, MacIntosh created a hockey league for special needs children. Three of MacIntosh's six children are on the autism spectrum, and her eldest son had always played hockey which led the others to want to have the same opportunity. MacIntosh soon learned that there were special needs hockey teams all around the northern part of the state, but none in South Jersey.
Officially starting in 2015, the hockey team, Flyers Youth Special Hockey, based in Voorhees at the Flyers Skate Zone, is open to children of all ages. Currently, MacIntosh says they have those as young as 4 and as old as 16 learning how to skate. But MacIntosh doesn't think they would cap the age off if someone older wanted to join the team. Any developmental disability out there, MacIntosh says, is welcome to join the team and play against the other special needs teams throughout the state.
NANCY PONTES
With a BSN from Pensacola Christian College, a MSN as a nursing family practitioner from the University of Florida and a PhD in nursing from Columbia University, you could say that Pontes is more than qualified as a nurse. An assistant professor at the Rutgers University School of Nursing–Camden, Pontes was recently inducted as a Fellow of the National Academies Practice.
An expert on matters relating to family health, delivery of care and the social determinants of health and well being in youth and in families, Pontes résumé will only grow from here. As a fellow, she will be working with the organization that is recognized as an interprofessional, national organization that advises governmental bodies on health care delivery in the United States.
Published (and copyrighted) in Suburban Family Magazine, Volume 8, Issue 3 (May, 2017).
For more info on Suburban Family Magazine, click here.
For information about advertising in Suburban Family Magazine, click here.
To find out where to pick up your copy of Suburban Family Magazine, click here.