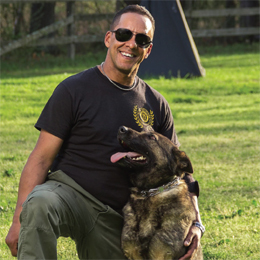 At the Top of his Game
It was with a love and passion for dogs that Harry Ramos launched his career as a K9 instructor in 1991. Since then, he has worked with a variety of groups and individuals including the United States military, law enforcement, as well as everyday dog owners. As the owner and operator of South Jersey K9 Solutions, located on Ramos' 10-acre property in Hammonton, he has helped hundreds of dogs—and their owners—who have come through his doors. While most people assume the process is primarily about training the dog, in reality, Ramos says that it's working with the dog's handler that is the biggest key to success. That's where he puts a lot of his focus and is why he has risen to the top of his field.
Ramos says that he can teach a dog any skill or command, but at the end of the day, if that dog is not performing the same way for the owner, then there's a problem.
"I get the dog to a certain level and then pass the baton over to the owner," Ramos explains. "But at that point, I must really focus on teaching the owner how to handle the dog. I can get the dog to listen to my commands, but what good does that do you? It's not the training that is so important, but the handling. The true key is that he or she listens to the owner."
Handling is such an important aspect of the overall success of obedience training that Ramos says it has become his main focus. It may only take him a handful of sessions to have your dog obedience trained but he says the other 80 percent of the job is working with the owner. That's a big difference between him and other trainers in the dog world—who only focus on the dog.
Ramos has been doing this since before he was barely making money doing it. It was all for the love of it, and it was his passion that was driving him. Today that passion is still alive and well.
"I want to help people with their dogs not just because it's my job, or because I have to do it," he says. "I do it because I love it."
It's also this love for training and handling that has helped drive Ramos' career to the top. And it's the reason why he has gotten involved in helping mentor future dog trainers. Instead of viewing them as competition, Ramos is committed to "cleaning up" the dog training industry as a whole. He says there are a lot of people out there who give the industry a bad rap and he's hoping to change that.
"I'm really passionate about this career that I chose," says Ramos. "If there are other people out there—like me—who want to do this for a living, and show the commitment and the drive, then I want to help them."
Ramos himself was helped early in his career by his mentor, Andre Aportela, a DEA K9 instructor and the owner of Pro Canine Center Training Academy in Frenchtown. Aportela recognized both the passion and the skill that Ramos possessed in the field and helped him get his start. Now Ramos continues to pay that forward as he helps train others.
But his main focus continues to be the owners who come to him for help.
"I work so closely with my clients that they become friends to me," Ramos says. "I've gotten calls in the middle of the night and hopped out of my bed to go help a client with an issue. My commitment to a client begins on day one of training and doesn't end just because their dog is done with training. If they need me, I'm there."
Now that it's springtime and people are spending more time outside with their dogs, having them obedience trained is very important. Ramos says that dog owners should know that if properly trained, dogs will only do what their handlers allow them to do. That means that if you're walking down the street and your dog wants to take off after a squirrel or jump on a passerby, that with a simple command, you can neutralize the behavior.
"There are some dogs that are somewhat trained but the owners cannot handle them properly because they were not taught to," Ramos says. "But at the end of the day, what's most important is that the handler can handle any situation and know how to deal with it properly. When you're done working with me, your dog will be phenomenally trained and you'll be an expert handler."
South Jersey K9 Solutions
Hammonton
(856) 745-3180
SJK9Solutions.com
Harry.Ramos@SJK9Solutions.com
Published (and copyrighted) in Suburban Family Magazine, Volume 8, Issue 2 (April, 2017).
For more info on Suburban Family Magazine, click here.
For information about advertising in Suburban Family Magazine, click here.
To find out where to pick up your copy of Suburban Family Magazine, click here.