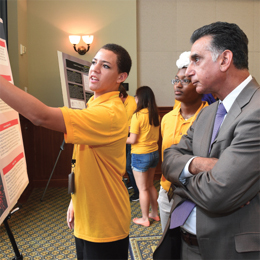 Full STEAM Ahead
Anyone who has graduated from college will probably admit that the first semester of freshman year is one of the most challenging parts of the journey, a hectic time filled with surprises and valuable lessons learned the hard way.
Becoming more independent, meeting new people, adapting to the tougher workload and even finding the lecture hall for that 8 a.m. class can all be difficult tasks to master for an 18-year-old fresh out of high school.
But what if there was a way for students to be more prepared for the first semester away from home? Since 2015, Rowan University's STEAM Academy—combining STEM concepts (science, technology, engineering and mathematics) with the arts—has offered high school students a chance to not only earn college credits, but receive a preview of college life through a unique summer program.
"The idea is to give the students their first freshman semester before they're freshmen," says Danielle Fischer, coordinator of the STEAM Academy. "Their first semester will be easier because they've already lived away from home for a little bit and they've already been responsible independently for their academics.
"That first semester is so hard, no matter how smart you are, no matter how prepared you are and no matter how successful you were in high school. It's a lot of responsibility and a lot of pressure, and I think a lot of kids feel if they're not doing things perfectly, they're doing it all wrong. The STEAM Academy decreases the time toward a degree, but it's really about growth."
Conceived by Rowan President Dr. Ali Houshmand, the STEAM Academy developed from other college-credit programs at the university as South Jersey's answer to the Governor's School of New Jersey. It is open to students entering grades nine through 12 and blends fully credited college courses with fun, educational activities and field trips.
This year, the list of courses includes programming, astronomy, acting, music through technology and human movement. They are all three-credit courses taught by Rowan faculty.
"The students choose which one to take, and they leave with a college transcript with that class and credit on it," Fischer says. "That transcript goes anywhere, whether they go to Rowan College at Gloucester County, Rowan University or Harvard. They can finish a whole semester if they come here every year of high school."
The STEAM Academy runs from July 9-28 and consists of three separate programs, all with different tuition prices and limited scholarships available:
Voyagers is a day program for late middle school and early high school students that runs from 8 a.m. to 3 p.m., with this year's academic portion centered on forensics.
Navigation is a residential program for sophomores, juniors and seniors and helps participants actively plan for the future with leadership workshops, career counseling and SAT prep.
Pathways is also a residential program geared toward high-achieving students in grades 10-12. It includes a research internship specifically focused on STEAM content.
"A student can come their freshman year and do the Voyagers, then maybe do two years of Navigation and then the last year they can do Pathways," Fischer says. "So this way there's something new and different and fresh for everybody. We want this to be the kind of thing that kids want to come back to."
Those in the Navigation and Pathways programs live in suite-style dormitories on Rowan Boulevard that include their own bedrooms as well as a shared sitting area, kitchenette and bathroom. Professional counselors from Rowan's College of Education act as resident advisors and stay with the students.
"Even though we're encouraging independence, the kids are never truly by themselves," Fischer says. "The counselors will make sure they get to their classes and if they choose to go out to lunch instead of eating in the cafeteria, a counselor will go with them."
Field trips include the Edelman Fossil Park in Mantua or Rowan's planetarium. On the weekends, students are allowed to go home, but if they stick around, longer trips to places like the Franklin Institute, Hershey Park and the National Air and Space Museum in Washington, D.C., have been known to take place.
Students are encouraged to apply for the program at Rowan.edu/STEAM. Enrollment increased from 30 to 70 in the second year, and Fischer says they expect about 100 this summer.
"You can receive college credit before you're in college, and that experiential learning is so important for transitioning," she says. "A lot of people remember how it felt during their first semester when they were in college, and they don't want their kids to go through it the same way. If there's a way to get prepared better, why not do it?"
Rowan University STEAM Academy
Glassboro
(856) 256-5241
Rowan.edu/STEAM
Published (and copyrighted) in Suburban Family Magazine, Volume 8, Issue 2 (April, 2017).
For more info on Suburban Family Magazine, click here.
For information about advertising in Suburban Family Magazine, click here.
To find out where to pick up your copy of Suburban Family Magazine, click here.