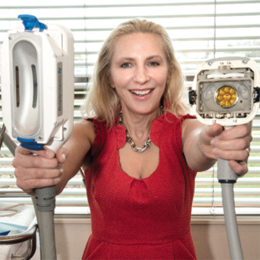 Fire & Ice
At the Warmuth Institute of Dermatology patients receive the highest quality of dermatological care, whether it's for the treatment of skin conditions, cosmetic services or surgical needs. Dr. Ingrid P. Warmuth is a board certified dermatologist and is regularly rated among the top dermatologists in our area. Along with her staff—Alyssa, Sam, Carly and Rosemary—she provides a pleasant and relaxing experience for all patients, attending to their every need.
Dr. Warmuth has always been on the cutting edge, and she recently launched a new treatment plan for patients interested in non-invasive cosmetic procedures to reduce stubborn fat. She has combined two successful treatments—Velashape III and Coolsculpting—to create what she is calling "Fire and Ice" to achieve better results more quickly. Suburban Family recently spoke with Dr. Warmuth about the treatment and what makes it so special.
Q. Tell us about the two individual treatments, Velashape III and Coolsculpting, and the results they offer individually. Do these have a lot of downtime?
A. Both treatments are non-invasive, non-surgical body contouring options with minimal to no downtime. Each treatment uses different technologies to achieve the body contouring goals. To our knowledge, this is the first time both treatment modalities are used in a Fire and Ice approach.
Q. Explain why you are calling this 'Fire and Ice'?
A. Our Fire approach is the Velashape III treatment. The new and reconfigured Velashape III is used for slimming the abdomen, hips and thighs by using a combination of different technologies: infrared light, bi-polar radio-frequency and pulsed vacuum. Velashape III is deep heating of the fat tissue gently, as well as the surrounding connective tissue and collagen. Patients experience a circumferential reduction and noticeable re-shaping with improvement of skin texture and laxity. Velashape III is FDA cleared for circumferential volume reduction on the abdomen and cellulite improvement on the thighs. This technology is used on other areas as well.
Coolsculpting Advantage is our Ice approach. Coolsculpting Advantage, the latest advancement in the Coolsculpting technology, uses a patented cryolysis approach in controlled freezing of the subcutaneous fat in targeted areas, while preserving the overlying skin and appendages. Again, patients experience a cooling sensation in addition to gentle suction. The somewhat unpleasant sensation of previous generations of Coolsculpting applicators is mostly gone due to the Coolsculpting Advantage technology. A specially designed gel sheet protects the skin from freezing and at the same time provides improved adherence to the applicator. Coolsculpting is FDA approved for a fat reduction of up to 25 percent.
Q. Why have you decided to combine them?
A. Both of these treatments use thermal energy to achieve the body contouring results. As a consequence, we believe the synergy offered by the combination of these two exciting treatments will yield enhanced results. Our Fire and Ice treatment combination has been safe and effective in our hands and leads to superior satisfaction rates among our patients, and can be done on the same day. Our patients noticed in addition to the visible fat reduction there was also improvement of the skin texture and skin laxity. While these visible results may vary from patient to patient, our patients were very happy with this effective combination treatment.
Q. What are the most common areas of the body that these treatments are used on?
A. We are commonly using the Fire and Ice treatment for the abdomen. In this area there is often a thicker layer of subcutaneous fat noted, especially in certain deposits. Most often, these fatty deposits are localized in the lower abdomen. Hormones and genetic makeup play a big role in unsightly fat deposits as well. Usually these "rolls" are resistant to exercise and diet.
Q. What results have your clients seen?
A. Our clients noticed already a few weeks into the healing process a marked reduction of the fat deposits and improvement of the skin laxity. Again, patients may respond differently to healing, but our clientele was very happy with the achieved results. They appreciated the less frequent visits and a more focused Fire and Ice combination approach, especially given our fast-paced, youthoriented lifestyles.
Q. How do you help clients decide if they are the right candidate for this treatment?
A. As with all cosmetic, elective procedures, even if they are non-invasive, an initial consultation is the key. It is important to have realistic expectations, since these non-invasive body contouring treatments are not designed to be used as a method for weight loss. They are indicated for patients who desire improvement in certain unsightly bulges, circumferential volume decrease and improvement of skin laxity.
Published (and copyrighted) in Suburban Family Magazine, Volume 8, Issue 4 (June, 2017).
For more info on Suburban Family Magazine, click here.
For information about advertising in Suburban Family Magazine, click here.
To find out where to pick up your copy of Suburban Family Magazine, click here.