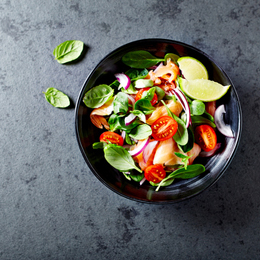 Toss Up
Let's face it, eating "healthy" isn't always an easy task in a world full of burgers, pizza and tacos. But maybe it's more about our idea of "healthy foods" that really makes eating "right" a trial. When you've had a bowl of mixed greens with balsamic vinaigrette for the sixth time this week, we understand why you want to splurge for takeout. Lucky for us, South Jersey is full of establishments that know how to build a salad right: with color, fresh ingredients and flavor worth remembering.
Roasted Butternut
b.good, Mount Laurel
There's something about butternut squash that we can't get enough of that b.good must have picked up on. Their Roasted Butternut salad is complete with a bed of baby spinach, butternut squash, sharp cheddar, apples, tamari almonds and pomegranates drizzled with maple-mustard vinaigrette dressing to give you the sweet and tangy taste you didn't know you were missing.
Walnut St. Noodle
honeygrow, Cherry Hill
The 2012 Philadelphia start-up has never strayed from their mission to give their customers quality, wholesome, simple foods, which is why we find ourselves continually going back to honeygrow for their Walnut St. Noodle salad. Freshly made whole wheat noodles are tossed with organic arugula, mushrooms, raw cauliflower, roasted walnuts and parmesan crisps for added crunch, then finished with a walnut lemon dressing.
Zaffron Signature Salad
Zaffron Mediterranean Cuisine, Haddonfield
Mediterranean flavors infused with Greek, Turkish and Middle Eastern spices and zests is what Zaffron continues to offer its diners, with no exception when it comes to their salads. If you are looking for that extra bit of flavor to wow your palate, try their signature salad: a spring mix complete with tomatoes, red onions, avocado, kalamata and green olives then topped with slices of feta cheese and oranges all tossed in their house dressing.
Turkey, Bacon, Club Salad
Angelo's Pizza, Berlin
When you are missing those mid-day calorie- packed sandwiches you used to get frivolously, substitute it for the Turkey, Bacon, Club Salad at Angelo's. Adding to their already existing Garden Salad of cucumbers, cherry tomatoes, carrots and croutons on a bed of greens, Angelo's throws on turkey, bacon, hard-boiled egg and Monterey jack cheddar cheese for a salad that is sure to fill you up on your lunch break.
Super Grain
Harvest Seasonal Grill, Moorestown
If you are looking for a salad that really packs a punch to your daily vitamin goals, the Super Grain salad from Harvest Seasonal Grill will end your search. Quinoa, faro, freekeh, Tuscan kale, Moroccan carrots, pomegranate seeds, toasted almonds, feta, toasted pumpernickel breadcrumbs and tangerine mint yogurt are all tossed in a ginger carrot hummus vinaigrette to leave you satisfied and fueled for the rest of your day.
Greek Salad
Zoe's Kitchen, Marlton
If you are like us and appreciate an expertly crafted Greek salad, look no further than Zoe's Kitchen. A "Zoe's Favorite" on their menu, tomatoes, cucumbers, peppers, olives, onions, feta cheese, pita bread and greens are all served over potato salad. Looking for more protein? Add in grilled chicken for an additional charge. You won't be disappointed.
Tahini Caesar
Amino Juice & Burrito Bar, Haddonfield
Are you surprised that this health-conscious establishment serves more than just juices and burritos? So were we, until we got a chance to dig into their salads. Our favorite, the Tahini Caesar, welcomes vegetarians to dive into a bowl of shredded kale, roasted chickpea "croutons," pumpkin seeds and their house-made lemon tahini dressing. Want to make it more filling? Pay extra and add in organic quinoa, roasted veggies, hummus or organic pinto beans.
Antipasto Americano Salad
Naples, Mullica Hill
Bringing you the best of both worlds, Naples created their Italian/American Antipasto Americano Salad that we can't seem to stop ordering. Mixed greens are topped with ham, salami, capicola, provolone, pepperoni, roasted peppers, tomatoes, onions, cucumbers and croutons with your choice of one of their nine dressings.
Tropical Avocado Salad
Healthy Garden Café, Voorhees
When we want a salad that is on the sweeter side, Healthy Garden Café's Tropical Avocado Salad is always our go-to. Avocado, grapefruit, orange, sunflower seeds, balsamic vinegar and extra virgin olive oil are laid atop a bed of greens with a chance to wake up your taste buds. It doesn't hurt that we envision ourselves on an island while eating this, right?
Smoked Salmon Salad
The Pop Shop, Medford
If you thought the Pop Shop's menu stopped at grilled cheese, think again. They have more than just a few "big salads" on their menu, and the Smoked Salmon Salad is worth the trip. Smoked salmon, goat cheese, caramelized onions, pears, tomatoes and garlicky croutons are tossed with mixed greens for a salad that's sure to stay on your radar for months to come.
Published (and copyrighted) in Suburban Family Magazine, Volume 8, Issue 2 (April, 2017).
For more info on Suburban Family Magazine, click here.
For information about advertising in Suburban Family Magazine, click here.
To find out where to pick up your copy of Suburban Family Magazine, click here.