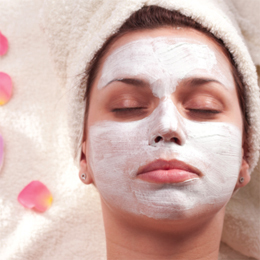 Beauty Benefits
In today's world —full of photoshopped celebrities and quick-fix diets— looking your best has come to the forefront with constant reminders to focus on your appearance. Did you catch that? Society has pressured us to constantly think about how we look, but what about how we feel? This is how med spas emerged, as a way to not only look your best, but to feel it, too.
We all have our own insecurities about our appearances, so Suburban Family asked area professionals about the treatments they are serving up, their goals for their clients and how they are focusing on more than just your appearance.
At Aluria Medical Spa in Medford, nurse practitioner Sarah Sidiqi says they pride themselves on being a medical spa for the senses. "We achieve this by catering to your five senses," says Sidiqi. "We make sure you see a clean and relaxing environment. We play relaxing clips on our flat screens instead of marketing clips. We offer chocolate, tea or coffee and nuts. Often you can smell relaxing essential oils of lavender."
Offering their clients everything from traditional spa-like services like facials, chemical peels, massages, microdermabrasion and dermaplaning, Aluria also offers laser hair removal services and cosmetic filler injections. Their location is paired with Dr. David High of Accent Dermatology who brings over 30 years of experience to the spa.
"We like to help our clients feel renewed from the inside out," says Sidiqi. "Our atmosphere alone will leave you feeling relaxed and rejuvenated—but increasing our patients' confidence benefits their mind and spirit, too."
You may think that the South Jersey Skin Care & Laser Center in Mount Laurel only offers what is in the moniker, but their services span from microdermabrasion, a variety of chemical peels, dermaplaning, microneedling and waxing, while also offering things you may not expect at a traditional spa.
"Because we are a medical practice, we offer services that traditional spas cannot such as HydraFacial MD with a 30 percent glycolic treatment, Ultherapy for lifting and tightening of the face and chest, miraDry which is a permanent solution for underarm sweat and odor, truSculpt for fat reduction and we carry skin care products only offered through a doctor's office," says Dr. Robin Levin.
The center also offers cosmetic treatments such as injectable wrinkle treatments, laser hair removal, intense pulsed light treatments for brown spots, vascular laser treatments for spider veins and telangiectasias, laser treatments for rosacea and non-ablative skin rejuvenation treatments as well as minimal ablative procedures to rejuvenate the facial skin.
"The body, mind and spirit, are obviously connected and many times if you can help a patient achieve improvements in one area, the rest follows," says Levin. "I realize people may think a Botox treatment is trivial but to listen to a patient who has experienced so much hardship in her lifetime claim how I gave her 10 years of her life back, that is just beyond treating the body."
Aaron and Danielle Katzoff, owners of Spavia Day Spa Moorestown, say Spavia means "pathway to wellness" and that is exactly the foundation they have built their spa around with a goal to become one of the greenest spas on earth.
"Our services, as well as our products, are geared toward giving natural, environmentally friendly solutions to improving our guests' health," they say. "We strive to use only natural ingredients in our skin and body care products, provide healthy air for staff and guests (no noxious fumes from common hair or nail processes) and our makeup is 100 percent pure mineral without fillers and synthetics."
Spavia offers luxury, customized, affordable spa services for their members and guests in a relaxing atmosphere. They try to alleviate stress and tension through massages, facials and body treatments, and act to serve as a peaceful refuge in a complicated and noisy world.
"At Spavia, you receive a spa experience with result-driven services form the utmost professional specialists at an affordable price in a beautiful, peaceful, resort-like day spa setting," the Katzoffs tell us. "After joining us at Spavia, you will feel nurtured and inspired; knowing that not only was it beneficial for you but for the environment as well."
Founder and Medical Director of The Warmuth Institute of Dermatology, Ingrid P. Warmuth, MD, says her spa is not your typical med spa. "It is integrated into a very active dermatological practice. Design is emphasized in functionality and ease of use, while soothing earth colors and calming music help our patients to relax and escape from everyday concerns," says Warmuth. "Our experienced, certified aesthetic skin specialists are friendly and focused on improving our patients' wellbeing."
The institute's spa service spectrum spans from anti-aging to rejuvenation. Their signature Hydrafacial is their most popular facial treatment that can be modified to emphasize the client's needs for brightening dull skin and other worries. They also provide a variety of medical-grade facial peels from Skin Medica and Jean Marini in three different depth levels ranging from superficial to medium to deep.
Warmuth even offers medical grade skin lines, as well as providing makeup counseling and advice to her clients.
And when it comes to medical treatments, Warmuth is big on non-invasive options. The institute offers non-invasive, non-surgical body contouring procedures that are growing in popularity among her clients.
"[Our customers] know we care about our clients, and we want them to experience an oasis of relaxation; an escape from everyday concerns," says Warmuth. "When they leave here, they are ready to brave the world refreshed, unburdened, youthful and confident in body, mind and spirit."
Published (and copyrighted) in Suburban Family Magazine, Volume 8, Issue 2 (April, 2017).
For more info on Suburban Family Magazine, click here.
For information about advertising in Suburban Family Magazine, click here.
To find out where to pick up your copy of Suburban Family Magazine, click here.