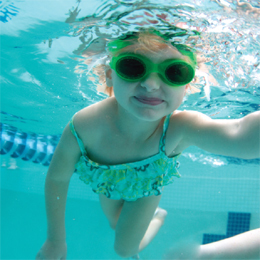 Keep Swimming
Swimming for the first time can be a nerve-wracking experience for children—and their parents, too. Without swim instructors who are patient and caring with young children who are about to tread water for the first time, accidents could happen or a fear of water could be instilled in children at an early age. With the team and facility at Bear Paddle Swim School, opening in June in Marlton, their first priority is safety for their students while building their confidence in the water.
"Our team is very excited to bring the Bear Paddle program to the Marlton area and start long- term relationships with families, local schools and community businesses," says Robin Everson, director of operations. "Not only do we focus on teaching water safety and swimming techniques within the walls of the Bear Paddle facility, but we also offer free water safety presentations to the community on a first-come, first-served basis."
A custom experience
While there are many swim schools out there, Bear Paddle offers its students a custom curriculum developed specifically for water safety and stroke technique building for children of all ages and abilities. Their progressions guide beginners into safe, technically sound swimmers for life. Their hands-on lessons allow the instructors to correct and assist the swimmers as quickly as possible during lessons.
Bear Paddle even has online scheduling and year-round enrollment to make things quick and easy for parents to sign their children up when it is convenient for their family. They are also a swim school with no registration, enrollment or annual fees, just swimming year round.
And if your little swimmer doesn't want to stay away in the summertime, Bear Paddle offers sum- mer swim camps in two week increments. The Summer Swim Camp is comprised of eight lessons broken up into two weeks.
"This offers a swimmer the ability to have two months of weekly swim lessons compressed into a two-week span," says Everson. "It is a great way to kick-start your child's summer of swimming by refining strokes, skills and water confidence all summer long."
Safety first
At the heart of every swimming lesson with Bear Paddle is water safety.
"Promoting comfortable, confident swimmers is the core of a good swim lesson and program," says Everson. "With safe entry into the pool and basic swim lesson rules, students will learn and internalize safety over the course of each swim lesson."
A safety skill deemed particularly important in the Bear Paddle curriculum is learning to flip onto your back and breathe, allowing the swim- mer to float and catch their breaths. This teaches children who are swimming independently on their stomachs to flip onto their backs to take a breath rather than picking their heads up. The 'Flip to Breathe' skill is a level-three skill out of the eight at Bear Paddle.
"The earlier you can teach and learn confidence and comfort in the water the better," says Everson. For the youngest of swimmers, ages 6-36 months, the biggest focus is just muscle memory and repetition in the water. "Children are still developing their cognitive processing capabilities and are reliant on the parent or guardian for proper introduction into a water environment," says Everson. "This means introducing safe entry into areas with water, consistent instruction on when it is clear to get into the water (always with a parent or guardian), instances of properly executed submersion and guided moments of independent movement."
The younger a child is learning water safety, the more they will require consistent practice in the water to gain the necessary muscle memory, comfort and confidence when it comes to being an independent swimmer.
Big rewards
At Bear Paddle, swimmers are motivated to keep learning and advancing through the eight skill levels the school has established through their skill patch reward system.
"When a student demonstrates they have mastered a skill, they are rewarded with a skill patch," says Everson. "The skill patch is a 2-inch iron-on patch that is matched by color with the level the swimmer is in and states the skill they have mastered. When a swimmer has mastered all the skills within a specific level and is awarded with all their skill patch rewards, they can graduate to the next level."
Bear Paddle is unique in that they are constantly monitoring their swimmers' progress and do not wait for certain test periods to evaluate them. When a swimmer has mastered certain skills and earned the necessary patches, they can graduate to the next level. There is no waiting for a test day or conducting an evaluation later.
Take the plunge this May with Bear Paddle Swim School and learn how to make your children safe and confident swimmers this summer.
Bear Paddle Swim School
515 Route 73 S.
Unit 170 B, Marlton
(856) 267-3131
BearPaddle.com
Published (and copyrighted) in Suburban Family Magazine, Volume 8, Issue 1 (March, 2017).
For more info on Suburban Family Magazine, click here.
For information about advertising in Suburban Family Magazine, click here.
To find out where to pick up your copy of Suburban Family Magazine, click here.