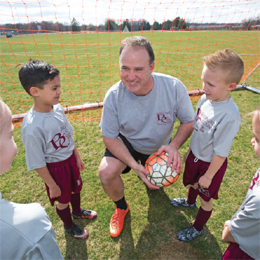 Just For Kicks
Soccer legend Pele is often credited with first calling the sport "The Beautiful Game," but Chris Updike likes to borrow the phrase when describing the philosophy behind Burlington County Soccer Academy (BCSA).
The burgeoning organization is dedicated to teaching boys and girls from the age of 2 and up the necessary skills to play soccer at the highest level. Creating a winning culture for their club and travel teams may be important, but the priority at BCSA is playing the sport the right way.
"What we strive to do, and what we do differently than a lot of other clubs, is give players focused instruction and have a clear curriculum of certain skills that should be attained at certain milestones," says Updike, who founded BCSA in 2009. "We have a philosophy of play that is very possession-oriented and skill-oriented. We like to teach players all the fundamentals of playing the beautiful game of soccer as it should be played."
BCSA is a 12-month soccer club that includes traditional teams in the fall and spring, tournaments in the summer, a high school 7-on-7 league, camps and individual training throughout the year. Most of the training is done on the campus of Holy Cross Academy in Delran—where Updike is the JV boys soccer coach—and BCSA is open to anyone in South Jersey and beyond, with some players coming from as far as Pennsylvania.
Whether kids get started with the mommy-and-me program or join BCSA at a later age, parents soon learn the training methods are con- sistent at every level.
"We start grooming kids from the age of 2, so when they get to the age when they can play competitively, they've acquired the skill set necessary to do that," Updike says. "There are very specific skill sets that we want our players to achieve. We have a YouTube channel that we use for homework, so kids can watch videos and practice their moves at home. We also have classroom space at Holy Cross so we can review film and go over tactical topics in a classroom setting."
Steve Deacon of Moorestown enrolled his 6-year-old son Coleman at BCSA more than a year ago, and has been impressed with the focus on individual improvement throughout the program and the presence of expert instructors.
"While parent coaches and volunteers are very important in recreational soccer, here you always have a professionally trained coach working with your son or daughter, whether it's practice, training or a game," Deacon says. "With the continuity in coaching between training and games, the philosophy is carried over. The positive things that come out can be leveraged in the following sessions, which I think you lose in other organizations."
Deacon's son has been attending training sessions twice a week for the past 14 months, and his progress is substantial.
"What I see in my son is a higher soccer IQ as well as much further skill development than his peers in other programs," Deacon says.
The girls teams at BCSA compete in the South Jersey Girls Soccer League and the boys compete in EDP, and travel times are kept to a minimum, especially for the younger age groups. BCSA also caters to busy families through its unique relationship with Holy Cross, which Updike praises for its top-notch soccer facilities as well as the class- room and library space it provides.
"Say a family comes and they have three kids, but their training times are staggered," Updike says. "The other two kids don't have to sit and do nothing in the car. They can make better use of their time, go inside to Holy Cross and do their homework, and we'll even provide a tutor if needed. It's a positive for the whole family, and I don't think anybody else does that."
Updike adds that plans are being made to open several satellite facilities in the near future, so children who don't live close to Holy Cross don't have to make a long drive for every training session. BCSA also plans to add a futsal academy program this summer to be run out of their Holy Cross center.
His goals also include bringing the soccer community in South Jersey closer together so the players can benefit from a unified approach to player development.
"Unfortunately, everybody is very possessive of their players," Updike says. "We want to be a uniting force so all players and clubs in the area can look to Burlington County Soccer Academy as a leader in terms of development. All the various soccer organizations serve the players and ultimately exist for their benefit. We want to help every player in the area reach their goal, whether that means playing Division 1 or even professionally; we feel that a unified approach to development is a key component to reaching that end."
Deacon, for one, couldn't be hap- pier that he chose BCSA for his son's development, and his 15-month-old daughter will likely be following someday soon.
"It's a fantastic program and Chris is a fantastic guy," he says. "My son absolutely loves it, which I think is the most important thing."
BCSA Tryout and Registration Information
Fall 2017/Spring 2018 Competitive Teams Birth Years 2010 and Older for Boys and Girls
Registration open through April 7 Tryouts begin April 10
2-8-Year-Old Instructional League
Registration ongoing Offering skill-based instruction with in-house league play throughout the year
Individual Training
Registration ongoing Offering training in six- week blocks throughout the year
Burlington County Soccer Academy
P.O. Box 2442, Cinnaminson
(856) 905-1039
BurlcoSoccer.com
Published (and copyrighted) in Suburban Family Magazine, Volume 8, Issue 1 (March, 2017).
For more info on Suburban Family Magazine, click here.
For information about advertising in Suburban Family Magazine, click here.
To find out where to pick up your copy of Suburban Family Magazine, click here.