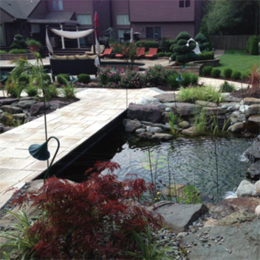 Landscaping Made Eaise
When it comes to landscaping, there are countless ways to make your house the envy of the neighborhood. Whether it's a full-service maintenance or fertilization program, poolscaping, the installation of a deck, patio, outdoor kitchen, fire pit or irrigation, no project is too large or too small. Creativity and personal touch is key.
Eaise Design & Landscaping, which has been in business since 1989, is a family-owned, full- service company that caters to any homeowner's needs when it comes to their property. While South Jersey is replete with landscape professionals, Eaise stays true to their roots and makes every project a personal one.
"We're a family-owned company and we like to think that our service and our people are very personable and friendly," explains Kevin A. Eaise, president of Eaise Design & Landscaping. "Within the company itself, what sets us apart from the other guys is you're going to get an owner on site many times. ... One of our principals, Michael Eaise, oversees all large scale projects, personally. Not only do you get the expertise of our crews, you also get the pride of an owner putting his fingerprint right on a job."
That personal touch extends to the design arm of the company. Homeowners get to work in tandem with a seasoned designer, who boasts at least 15-20 years expertise, to curate their dream yard. "They'll meet with a designer first and the designer will listen to the customer's needs and what they're trying to accomplish," explains Eaise.
"At that point, they'll talk budget so that we work within the parameters of the given budget and then we'll work up a design. ... If the customer is happy with it, then the installation will happen and that way, they'll get exactly what they're wanting. ... Our basic goal is to give the customer what they're looking for within the budget that they provide for us."
So when it comes time to start consulting a landscaping company about a project, Eaise advises homeowners not to wait. "Anytime is right for a project to get started. It's best to get some proposals in hand and work through the project and details with the company that you're most comfortable with."
As for design trends, Eaise Design & Landscaping remains at the forefront of popular outdoor additions to a backyard. "[Homeowners have] been consistently excited about outdoor kitchen areas probably for the past five to seven years. Things that never go out of popularity are water features and patios, which are always very hot," says Eaise. "We're getting more creative with our outdoor lighting. ... For patios, [there's] a lot of great products out there right now that allow us to be creative."
Landscaping is getting tech savvy nowadays and Eaise Design & Landscaping is on the cusp of innovative systems hitting the landscaping market, which include eco-friendly irrigation systems with smartphone capability.
"If there's an issue with a sprinkler system [or] if there's too much water coming out, we'll actually get notifications on an app," Eaise explains. "The customer can also access the app as well, so they can also see actual gallons used. It can become very detailed on how we water and how we don't water so we don't waste. ... We remotely control customer's sprinklers from any- where so we don't have to be at their property.
"Our software will allow us to be notified if there's an issue and that will also allow us to cut back if there is too much water or if it's raining. The controls that were in the clock before can now be accessed on your phone. It's a smart irrigation system. ... The customers are really excited."
With all the new advances, Eaise remains true to their standards and end goal: bringing a homeowner's vision to reality using the best professional practice. "We are a family-oriented company, our owners are very involved and we can handle any project," adds Eaise. "As far as scheduling, we like to get all of our jobs from start to finish within a month, so we like to move quickly for people because it's a busy world."
Eaise Design & Landscaping
Serving South Jersey
Eaise.com
Published (and copyrighted) in Suburban Family Magazine, Volume 8, Issue 1 (March, 2017).
For more info on Suburban Family Magazine, click here.
For information about advertising in Suburban Family Magazine, click here.
To find out where to pick up your copy of Suburban Family Magazine, click here.