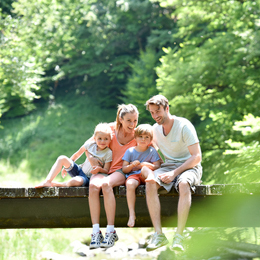 Family Bulletin
SCHOOL BELLS
Edited By Kaytlyn Mroz
STARS
Star Student
ALLISON KANG
Cherry Hill
Korean School of Southern New Jersey third grade student Kang was chosen by Google as their New Jersey state winner for creating a 'doodle' for their search engine. Kang's doodle portrays her idea of the future, when humans have wings and shows the Google letters as clouds and one 'O' as her head. She will advance to the national finals where the winner will receive a $30,000 college scholarship.
Star Students
BROOKEFIELD SCHOOLS STUDENTS
Camden County
Special needs students from area Brookfield schools are reading to the rescue dogs at the Camden County Animal Shelter as a part of their new "Reading to the Rescued" program. The program pairs students ages 10 to 17 with timid dogs who are getting acclimated to their new homes while the students get to improve their reading skills.
Star Citizen
CLARIMAR RODRIGUEZ
Camden County
Officer Rodriguez is being recognized for showing kindness and compassion to a homeless Camden man. While on foot patrol, she saw the man who she had met several times before when he told her he hadn't had a haircut in a long time and was trying to get one. Rodriguez took the man to a nearby barbershop and treated him to a haircut.
Star Citizen
ANDREW JOHNSON
Bellmawr
Marine Corp Veteran Johnson was recently honored by Camden County for his service to our nation. Johnson has been a member of the Bellmawr Fire Department for 14 years and served as a sergeant in Afghanistan in 2012 and 2013. Camden County wanted to thank Johnson for his service.
Star Citizen
CHARLOTTE OLSON
West Berlin
Inspired by the Reach Out and Read program, 12-year-old Olson wanted to do a service project to give back to others. She collected 1,303 books and $220 in donations to give to the Voorhees outpatient office of the Children's Regional Hospital at Cooper University Health Care.
Star Citizen
TIMOTHY MCBRIDE
Williamstown
McBride was presented with a proclamation at the end of February for achieving the Eagle Scout rank with the Boy Scouts of America, Troop 161. Gloucester County Freeholder Jim Jefferson presented the proclamation for McBride's construction and placement of birdhouses in a 55-and-older community.
COMMUNITY CONNECTION
News from around Camden County
A historic Revolutionary War home was demolished less than 24 hours after the Camden County Historic Society had filed a court order to save it. The Hugg Harrison Glover house found itself in the middle of the I-295 interchange realignment project and was demolished instead of the garage next to it for which the New Jersey Department of Transportation had a permit to knock down.
The American Apparel store in the Cherry Hill Mall is set to close after being sold to Canada's Gilden Activewear. The Cherry Hill location—and all locations across the country—will be closed by the end of April.
The Camden County Municipal Utilities Authority (CCMUA) was honored by the National Association of Clean Water Agencies (NACWA) with the 2017 National Environmental Achievement Award for excellence. They were recognized as a Water Resources Utility of the Future.
Next Haddonfield Planning Board Meeting:
April 4, 7:30 p.m. at the Borough Hall Auditorium
Next Voorhees Township Committee Meeting:
April 24, 8 p.m. at the Voorhees Township Courtroom
Next Cherry Hill Planning Board Meeting:
April 3, 7:30 p.m. at the N. John Amato Council Chambers, Room 208
SCHOOL DATES
April 10-14 Cherry Hill & Haddonfield Schools Closed for Spring Break
April 10-14 Washington Township Schools Closed for Spring Break
April 13-21 Moorestown & Mount Laurel Public Schools Good Friday/Spring Break,
Schools Closed
April 17-21 Lenape Regional District Closed for Spring Break
BULLETIN BOARD
Updates and announcements about your local schools
The Cherry Hill School District was recognized as the 2017 District of Character by Character.org. The award was given for Cherry Hill's district-wide commitment to character education. It is one of only two districts to be recognized across the state.
Cherry Hill Public Schools recently announced that they will be moving their elementary schools' vocal and instrumental concerts from evenings to during the school day. The schools' hope is to expand participation from the students who may be unable to attend nighttime concerts. A petition on Change.org is gaining signatures to reinstate the evening concerts.
POLICE BLOTTER
The Cherry Hill police responded to the Katz JCC on Feb. 27 due to a phoned-in bomb threat at about 10:40 a.m. The center was self-evacuated and after an explosives sweep, the building was cleared by 12:30 p.m. The investigation into the incident is ongoing.
Police are investigating human remains that were found at Pyne Point Park in Camden. The remains included a skeletonized leg, top of a skull and several other small bones that have since been sent to the state police and a New Jersey anthropologist to be analyzed.
According to authorities, a 20-person fight broke out at a youth basketball game at Cold Springs School in Gloucester City after a player punched a referee. Police charged the 14-year-old player with simple assault and two counts of aggravated assault on law enforcement.
THE LOCKER ROOM
Edited By Matt Cosentino
STARS
Star Athlete
QUINN KINNER
Woolwich Township
Kinner, a junior on the Kingsway wrestling team, became the second state champion in program history and the first since 2002 with a 5-0 victory over New Milford's John Burger in the 132-pound final. Kinner, who placed fifth in the state as a freshman and third as a sophomore, also helped lead the Dragons to the South Jersey Group IV title with a thrilling 34-28 win over Hammonton.
Star Athlete
KAMI JOI HICKSON
Washington Township
It didn't take long for Hickson to make an impact on the Washington Township girls track team, as the freshman raced to a state title in the 800 meters during the indoor state championships with a time of 2:14.99. Hickson went on to place fourth at the Meet of Champions in 2:16.91.
ROSTER BEAT
Team, player and coach news
Gloucester County had three wrestlers earn state championships in Atlantic City, as Delsea junior Bill Janzer and Gateway junior Antonio Mininno joined Kingsway's Quinn Kinner. Janzer escaped with two seconds left in the ultimate tiebreaker to edge Don Bosco's Dominick Mandarino, 3-2, in the 170-pound final. Mininno knocked off Bergen Catholic's Robert Howard, 4-3, in a tiebreaker to claim the 113-pound crown.
Washington Township swimmers Perry Chiu, Alex Chiu, Scott Emerson and Matt Mills teamed up to break a pair of school records at the Meet of Champions. Their time of 1:27.45 was good for 10th place in the 200 free relay, and they also took 10th in the 400 free relay with a time of 3:13.84.
Clearview senior swimmer Dylan Regan reached the podium at the Meet of Champions with a sixth-place finish in the 50 free with a time of 21.36 seconds. He also teamed with BJ Fuller, Owen McNamara and Pierce Burgin to place sixth in the 200 free relay.
The Woodbury boys basketball team captured its first sectional championship since 2010 when it defeated rival Paulsboro, 66-49, in the South Jersey Group I final.
Published (and copyrighted) in Suburban Family Magazine, Volume 8, Issue 1 (March, 2017).
For more info on Suburban Family Magazine, click here.
For information about advertising in Suburban Family Magazine, click here.
To find out where to pick up your copy of Suburban Family Magazine, click here.