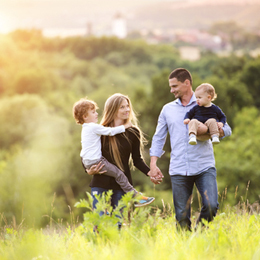 Gloucester County Bulletin
SCHOOL BELLS
STARS
Star Teacher
DOMENICK RENZI
Washington Township
Wedgwood Elementary fifth grade teacher Renzi (pictured, right) was named the Washington Township Teacher of the Year. The basic skills math teacher has been teaching with the district for 21 years and will now be nominated as the Gloucester County Teacher of the Year. He was honored for his commitment to his students and teaching.
Star Students
WASHINGTON TOWNSHIP FUTURE BUSINESS LEADERS OF AMERICA
Washington Township
Four students from the Washington Township High School Future Business Leaders of America club competed and took first place in the Gloucester County Division of Consumer Affairs Consumer Bowl held in mid-February. Seniors Raj Patel and Brian Proferes and juniors Stephen Cozzone and Payton Rauh beat out three other local schools to take the top prize in a series of consumer affairs tests.
Star Citizen
TANYA DARGUSCH
Washington Township
Dargusch, the head athletic trainer at Washington Township High School, was named to the National Athletic Trainers' Association Hall of Fame. Dargusch was one of only seven inducted into the 2017 class, selected out of New Jersey, Delaware, New York and Pennsylvania, and was awarded for her professionalism and dedication to health care.
Star Citizen
CODY MROZ
Mantua
Mantua patrolman Mroz and K9 partner Zuke were celebrated by the department for their graudation from the John "Sonny" Burke K9 Academy. Mroz and Zuke went through a 20-week training program, learning everything from proper criminal apprehension and narcotic detection to obedience and socialization, to earn their honor. The pair will continue their work with the Mantua Township K9 team.
Star Citizen
LIZZY PINTO AND MARISSA MULLIN
Washington Township
Athletes Pinto and Mullin earned gold medals in a recent Special Olympics Bowling Tournament in Bellmawr. The girls—who are both students at Washington Township High School—competed in separate divisions, but their two gold medals mean that they will go on to compete in regionals in mid-March.
COMMUNITY CONNECTION
News from around Gloucester County
The Gloucester County Animal Shelter is celebrating World Spay/Neuter Day on Feb. 28 by waiving all adoption fees at the shelter on that day only. The measure was announced by the Freeholder's office as a way to help local animals in need.
Scotland Run Park in Clayton has announced plans for $100,000 in park renovations in the immediate future. Gloucester County is hoping to earn funds through a grant from the Green Acres Program, a state conservation effort, which should provide half of the money needed for an improved fishing area, modern kayak launch and general maintenance.
Next Washington Township Planning Board meeting: March 7, 7 p.m. at the Washington Township Admin. Building
Next Washington Township Council meeting: March 8, 7 p.m. at the Washington Township Admin. Building
SCHOOL DATES
March 4 Washington Township High School PTO Craft Fair,
9 a.m. at Washington Township High School
March 13-18 Rowan University and Rowan College at Gloucester County Spring Break
March 28-April 1 Washington Township High School Senior Trip
March 29 Washington Township Board of Education meeting,
7:30 p.m. at the Eileen Abbott Central Admin. Building
BULLETIN BOARD
Updates and announcements from your local school board
Washington Township Mayor Joanne Gattinelli announced that Washington Township High School will welcome another school resource officer to its halls. Officer Tony Leone has become the second police officer to join the school, in an agreement formed between the township and police.
Rowan University's new business school opened to students on the first day of class this semester. The $63 million Rohrer College of Business is the newest installation into the rapidly growing campus, featuring 98,300 square feet of education space.
POLICE BLOTTER
Two teenage boys attempted to break into a house on the 200 block of Lakeview in Blackwood. They were charged with burglary, resisting arrest and criminal mischief on a juvenile petition.
A Winslow Township man has been arrested for the possession of child pornography, following a search of his home. He was charged with one count of third-degree endangering the welfare of a child and one count second-degree endangering the welfare of a child.
Rowan University police need help identifying the car and suspects of an armed robbery that took place on the college campus and left one student injured. The incident happened outside of Winans Hall on Route 322.
THE LOCKER ROOM
STARS
Star Team
KINGSWAY GIRLS BASKETBALL
The Dragons clinched the Tri-County Conference Royal Division championship with a 52-34 victory over Williamstown. This marks the fourth year in a row Kingsway has either won or shared the division title. The Dragons are paced by senior guard Maddie Hahn, who averages about 13 points per game.
Star Athlete
PAUL WIEDMAN
EVAN FISLER
Washington Township
Fisler, a senior, became the 17th wrestler in Washington Township history and the first since 2015 to join the 100-win club. The 145-pounder hit the career milestone with a pin against Eastern. Fisler is a two-time district champion and three-time region qualifier and serves as a captain for the Minutemen.
ROSTER BEAT
Team, player and coach news
Washington Township boys soccer coach Shane Snyder was recently named a national finalist for the Positive Coaching Alliance's Double Goal Coach of the Year Award. The award recognizes coaches who strive to win but also aim to teach life lessons through sports at the same time.
The Clearview girls swimming team took first place at the Tri-County Conference Showcase, beating second-place Kingsway by 21 points. The Pioneers received individual wins from Kelsey McNamara (100 freestyle), Julia Rothstein (200 free) and Emily Kopchick (100 breaststroke). They also prevailed in the 200 free relay and the 400 free relay, setting a meet record in the latter.
Two Gloucester County boys basketball players joined the 1,000-point club for their careers earlier this month. Pitman junior guard Luke Castagna hit the milestone with a corner 3-pointer in a win over Freedom Prep Charter. Clayton junior guard Mahir Yilmaz also knocked down a 3-pointer to achieve the feat, helping the Clippers defeat Audubon.
Kingsway senior distance runner Rachel Vick took second place in two races—the 1,600 and 3,200—during the South Jersey Group IV indoor track championships. She qualified for states in both events.
Published (and copyrighted) in Suburban Family Magazine, Volume 7, Issue 12 (February, 2017).
For more info on Suburban Family Magazine, click here.
For information about advertising in Suburban Family Magazine, click here.
To find out where to pick up your copy of Suburban Family Magazine, click here.