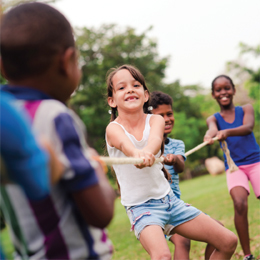 A Summer to Remember
If you're like us, then some of your fondest childhood memories come from precious moments spent at summer camp. From arts and crafts that are still stuck around your family home to friendships that ended up lasting a lifetime, the summer camp experience is so much more than a way for parents to keep their children occupied outside of school.
That's why we comb the area in search of the most unique and diverse summer camp programs offered for your children. This year, we took a look at traditional, all- encompassing day programs and also dove further into specialty camps—from sports to the arts—offered throughout the summer. Take a look at our top summer camps for 2017: We guarantee these exciting options will have you joining your kids in their end-of-school countdowns.
THE BEECHWOOD SCHOOL
441 Beechwood Ave.
Haddonfield
(856) 429-0303
TheBeechwoodSchool.com
Younger children can enjoy summer camp on their terms with Beechwood's Monday to Thursday camp program. Parents can select full- or half-day options running from June to August, all of which include water games, arts and crafts and field days led by certified educators.
BRIGHT BEGINNINGS ACADEMY
1600 Chapel Ave.
Cherry Hill | (856) 438-5321
315 Fries Mill Road
Sewell | (856) 582-1144
BBANJ.net
Even the littlest campers can have an unforgettable summer with a camp designed to keep kindergartners and under engaged in a safe and fun environment. Ten sessions run from the end of June until September, and each child is given a camp t-shirt—just like the big kids—to wear while they learn just how fun camp can be.
CHARTWELL'S HAPPY DAY CAMP
136 Paragon Ave.
Marlton
(856) 983-8827
ChartwellHappyDayCamp.com
Chartwell's massive family fun space transforms into a day camp every summer, complete with plenty of time for swim lessons, snacks and lunch, arts and crafts, sports and games and much more. The schedules change for every age group, ranging from 4 to 13, and are designed to keep kids active and happy.
EARLY CHILDHOOD CAMPS AT THE KATZ JCC
1301 Springdale Road
Cherry Hill
(856) 424-4444
KatzJCC.org/ECCCamps
The day classes for kids aged 2 1/2 to 5 years old are educational and fun. Two individual programs pay special attention to different age groups, both of which feature plenty of activities in their state- of-the-art air conditioned facilities as well as swim classes in the Katz JCC's wading pools and Kosher meals for all.
HOLDING HANDS SUMMER CAMP
138 Tomlin Station Road
Mullica Hill
(856) 467-6811
HoldingHandsPreschool.com
Holding Hands' educational program extends well into the summer with a series of informative activities running throughout the entire season, including cooking lessons, magic acts and group games. Families can even bring their older siblings along once a week for off- site field trips, so the whole family can enjoy their summers.
ISC AND DSC SUMMER DAY CAMP
650 Kresson Road
Cherry Hill
(856) 428-8588
ISCCherryHill.com
This camp is designed to keep kids on their toes every day, featuring tons of physical activities including roller skating, basketball, GaGa, dancing and more. There are special lessons designed for pre-K and kindergarteners and snacks and lunches for all to keep kids energized.
JCC CAMPS AT MEDFORD
400 Tuckerton Road
Medford
(856) 751-1666
JCCCampsAtMedford.org
The campground at JCC in Medford is designed with kids in mind: A sprawling outdoor space with plenty of pools and splash areas—including a massive lake—sports courts, a ropes course and climbing area, covered spaces and air-conditioned rooms for cooking, arts and crafts and science lessons, and a giant dining hall serving Kosher lunches every day.
LIBERTY LAKE DAY CAMP
1195 Florence-Columbus Road
Bordentown
(609) 499-7820
LibertyLakeDayCamp.com
Liberty Lake sits on 60 acres of vast and spacious campground. In that space kids can customize their summer camp experience, picking out classes at home with their parents. With that program, campers can fill their schedule with unique electives that change week-by-week, like snorkeling, farming, martial arts and rocket building.
LIGHTBRIDGE ACADEMY
4518 Church Road
Mount Laurel
(856) 552-2808
LightBridgeAcademy.com
This summer camp is available to kids of all ages, featuring a summer fun schedule for younger children enrolled in Lightbridge and a themed camp for school-aged kids. The younger kids will spend the summer enjoying water games to cool off, day trips and camp-themed games, while older children focus on a variety of themes, like Mad Scientist week, where kids learn about STEM in a creative environment.
MARKEIM ARTS CENTER SUMMER ART AND CERAMICS CAMP
104 Walnut St.
Haddonfield
(856) 429-8585
MarkeimArtsCenter.org
Markeim's summer-long program goes well beyond arts and crafts, featuring a new theme each month that dives into history, science and nature through hands-on lessons and activities. Parents can sign on for week-to-week sessions and can even opt for early and late night ceramic camps for different age groups.
ST. JOSEPH'S PREPARATORY SCHOOL SUMMER CAMP
1733 W. Girard Ave.
Philadelphia
(215) 978-1950
SJPrep.org
Boys and girls preparing to enter seventh and eighth grade can get the St. Joe's experience with a series of camps that teach students about STEM and also give them a fun look at sports and extracurricular activities. The school hosts an extra camp aimed just at sports, focusing on crew, soccer, basketball, football and lacrosse.
TALL PINES DAY CAMP
1349 Sykesville Road
Williamstown
(856) 262-3900
TallPinesDayCamp.com
With sports courts, a woodshop and ceramics studio, horseback riding, a zipline course and more, the only problem kids at Tall Pines will come across is finding more time in the day. Tall Pines comes complete with transportation and nutritional options for every kid—including vegetarians, and kids with a gluten-free allergy or other allergies.
YMCA CAMPS
1303 Stokes Road
Medford
(609) 654-8225
YCamp.com
This iconic South Jersey Camp—featuring Camp Ockanickon, Camp Matollionequay and Lake Stockwell for first-time campers up to the age of 15—has become a spot that creates true, lasting memories. So much so, in fact, that parents all over the area are YMCA alumni, and have gone on to send their own kids to the same campgrounds to create memories of their own.
Published (and copyrighted) in Suburban Family Magazine, Volume 7, Issue 12 (February, 2017).
For more info on Suburban Family Magazine, click here.
For information about advertising in Suburban Family Magazine, click here.
To find out where to pick up your copy of Suburban Family Magazine, click here.