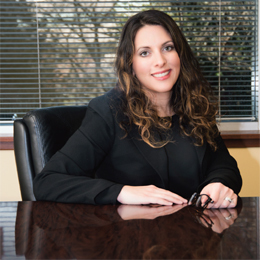 A New Start for a New Year
Lord Tennyson said of the New Year, "Hope smiles from the threshold of the year to come, whispering 'It will be happier,'…" Perhaps that best describes the motivation of someone in an unhappy marriage filing for divorce at the start of a new year.
Often after the holiday celebrations are over, many married couples decide their marriages are over and file for divorce. Needless to say, most attorneys who practice family law are usually very busy during this wonderful time of year. The attorneys in Obermayer Rebmann Maxwell & Hippel LLP's Family Law Practice Group are no exception.
"As the calendar flips into the new year, people likewise turn a new page on their lives," says Shari Veisblatt, a partner in Obermayer's family law group. "People want to get their holiday bonuses or year-end distributions, and then often feel more comfortable moving forward with the divorce process.
"Family law is different from any other area of the law. First and foremost we're focusing on resolving problems in people's personal lives. So consequently, there are a high number of inquiries and consultations before and during the holidays," explains Veisblatt. "A lot of people know what they want to do before the holiday season but want to wait to pro protect their children—they don't want their children to have bad memories associated with the holidays."
Veisblatt practices out of Obermayer's Cherry Hill office where she is joined by family law associates Amanda W. Figland, Michelle Ringel, Thomas A. Roberto and Amy L. Rokuson.
Veisblatt has seen it all when it comes to dealing with the influx of cases the new year has ushered in. A new twist in cases, however, has been the use of social media. "Most people don't realize that what they post is admissible in court. I advise clients all the time to stop posting on social media," says Veisblatt. "For instance, one party may claim to have no money while simultaneously posting photos of his/her lavish ski trip over the holidays. It can really hurt your case, as the court may find you to be less than credible."
Veisblatt attributes the increase of break-ups to the additional stress that builds up over the holidays that finally makes one decide to file for divorce. In some marriages, things like visiting relatives, getting large credit card bills and feeling that once again your spouse has been insensitive to your needs all contribute to the overall stress of the holidays.
She offers additional insight and advice on how couples should handle ending their relationship after the holidays. "If there is an issue about incurring debt, a 'freeze' should be placed on credit cards, lines of credit and other debt instruments if in both spouses' names as this could negatively impact credit ratings." She also advises clients who are considering separating to gather all financial information and documentation, especially if they are the dependent spouses so that they have information to provide their attorneys at the initial consultation.
Issues with respect to custody may also increase before, during and after the holidays that family law attorneys have to deal with. For example, one parent refuses to follow the holiday schedule and does not return the child according to the agreed-upon time. According to Veisblatt both parents should stick to the agreed upon arrangements. If a parent is unhappy and wants a change, she can call her attorney to modify custody, parenting time or the holiday schedule. If it is an extreme situation, however, one can file an emergency application to request parenting time.
Veisblatt's adept legal acumen and masterful abilities in the courtroom have contributed greatly to Obermayer's success in family law. At first glance, you probably would not realize that the diminutive Veisblatt was a formidable force in the courtroom where she has fought for her clients for over 12 years. In 2010, Veisblatt came to Obermayer because of the firm's stellar reputation in family law. The fact that Obermayer has a strong practice in Pennsylvania was also important to her as clients who have issues that cross state lines do not have to retain other law firms to handle them.
When she was in kindergarten, Veisblatt was asked what she wanted to be when she grew up, her response, "I want to be a lawyer so I can help people." That stuck. "One of the reasons I got into family law was because I felt it was more personal than having a corporation for a client. I like helping people put their lives back together." Today, Veisblatt has an active family law practice in which her clients include high profile individuals , professional athletes and celebrities. She was listed as one of the Best Adoption Attorneys in 2010 by South Jersey Magazine and has been listed as a New Jersey Rising Star® since 2008.
Obermayer's Family Law Group is one of the largest family law departments in Pennsylvania. The group consists of attorneys: David L. Ladov, Robert I Whitelaw, Michael E. Bertin, Cara A. Boyanowski, Samantha J. Evian, Amanda W. Figland, W. Frank Johnson Jr., Michelle Ringel, Thomas A. Roberto, Amy L. Rokuson, Shari B. Veisblatt, Maris J. Weiner and Stephanie H. Winegrad. Their clients primarily reside throughout New Jersey and Eastern Pennsylvania including Montgomery County, Chester County, Berks County, Bucks County and Delaware County, as well as New Jersey and Delaware.
All members of the group devote 100 percent of their practice to family law. More importantly, though, is the group's tradition of being advocates for resolutions rather than courtroom battles. Veisblatt explains, "Our philosophy is to bring cases to realistic resolutions. We want our clients' families to remain as cordial as possible as they go through the emotionally taxing divorce process so they can move forward with their lives and continue to enjoy their holiday and family traditions as amicably as possible."
Obermayer Rebmann Maxwell & Hippel LLP
200 Lake Drive E., Suite 110
Cherry Hill
(856) 795-3300
Obermayer.com
Published (and copyrighted) in Suburban Family Magazine, Volume 7, Issue 10 (December, 2016).
For more info on Suburban Family Magazine, click here.
For information about advertising in Suburban Family Magazine, click here.
To find out where to pick up your copy of Suburban Family Magazine, click here.