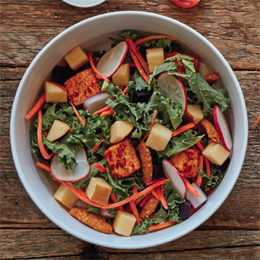 Health-Conscious Eating
With extra busy schedules this time of year, we all have moments where it might seem impossible to fit in the time to maintain our wellness plan for the new year, but it can be easier than you think. Whether it's snacking after a workout or catching up with friends over dinner and drinks, these health-conscious options make it easy to help you stay on track with your lifestyle goals.
Aloha Salad
Healthy Garden Café, Moorestown/
Keep it light without sacrificing flavor with this tropical salad. Sliced avocado, red bell pepper and mixed greens are tossed with pineapple and mango for a sweet and fresh finish. Sunflower seeds sprinkled on top will give you a crunchy contrast along with a kick of vitamin E.
Fennel-Crusted Tuna
Harvest Seasonal Grill and Wine Bar, Moorestown
Harvest's fennel-crusted tuna is part of a menu full of dishes that utilizes local and seasonal ingredients throughout the year. Sliced tuna—a lean protein packed with omega-3 fatty acid—is served over a bed of organic cranberry brown rice and complemented with a cranberry-pear sauce and toasted pepitas. A side of roasted Brussels sprouts finishes off this guilt-free dish.
Almond Butter Sandwich
Heart Beet Kitchen, Westmont
Brunch isn't just for whopping portions of stuffed french toast. On the weekends, this gluten-free, vegan BYOB serves natural almond butter spread on whole grain bread with sliced bananas and pure cacao nibs for an indulgent, chocolatey flavor without all the extra sugar that is typically synonymous with brunch. Pure maple syrup is drizzled on top for a sweet finish on a dish that's sure to satisfy any carb craving.
Salmon Kebabs
Zoe's Kitchen, Cherry Hill and Marlton
Spice up your lunch date with these special skewers from Zoe's. Two kabobs are strung with a hearty portion of salmon and zucchini and charbroiled for a light roasted flavor. Served over a Greek salad with a side of hummus and pita, this nutrient-rich dish will keep you full until dinnertime.
Roasted Tomato Miso Kale Salad
Honeygrow, Cherry Hill
Red onion, spicy tofu, roasted beets and carrots are mixed with apples over a bed of kale with roasted tomato miso dressing for a solid serving of nutrients and minerals like vitamin D and potassium. A mix of textures keeps this salad exciting thanks to a finishing touch of sesame sticks for added crunch.
Chill Palmer Specialty Blend Beverage
Animo Juice, Haddonfield
This juice and burrito bar focuses on providing natural foods to help energize you throughout the day, and this specialty blend beverage is one of our favorites. The Chilly Palmer mixes acai berry, blueberry and apple with chia seeds and organic low-fat yogurt for a naturally sweet drink that'll give you a protein boost on-the-go.
Nutty Super Grain Smoothie
Smoothie King, Voorhees
Smoothie King is known for blending real fruit and juices with nutritional supplements for smoothies that taste too good to be true. Made with almond milk, raw plantbased protein and super grains, the Nutty Super Grain smoothie isn't a figment of our imagination. The peanut butter and chocolate combination from the 100 percent pure cocoa is decadence without the guilt: bananas and apple juice bring the sweetness to this vegan smoothie.
Carrot Cupcakes
Sweet Freedom Bakery, Collingswood
Vegan and gluten-free options make this bakery a great choice for more nutrientpacked sweets. These carrot cupcakes are made with ingredients including coconut milk, agave nectar and garbanzo bean flour so you don't have to worry about heavy starches. Ground cinnamon and nutmeg finish off these unique cupcakes for a sweet treat you can feel good about.
Published (and copyrighted) in Suburban Family Magazine, Volume 7, Issue 10 (December, 2016).
For more info on Suburban Family Magazine, click here.
For information about advertising in Suburban Family Magazine, click here.
To find out where to pick up your copy of Suburban Family Magazine, click here.