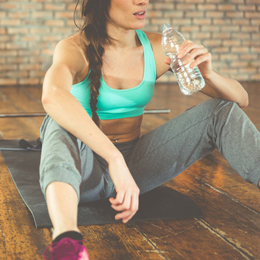 Work Your Workout
Getting back into the gym can seem daunting if you don't know where to start, but it's a lot easier than you think. Check out our easy-to-follow fitness guide with tips, tools and tech from leading experts.
GETTING STARTED
Chad Hallett, owner of Adrenaline Sports Performance, knows that the beginning can be the most difficult part of a new lifestyle. Here, he explains his keys to success for all newcomers.
Responsibility Set realistic goals. Most times people come in looking for a fast, overnight result. It takes a while to return back to where you want it to be.
Research Do your homework on finding a professional. You're coming into a gym, it's an emotional experience and maybe you aren't feeling your best. Don't let people take advantage of that. Make sure you check out their work, check out what they do with their current clients and make sure it's the right fit for you and your goals.
Re-fueling Under-eating is a big problem with weight loss. People think they can starve themselves, but your body will go into survival mode and you will hurt your progress. Learning about your correct caloric intake is very important.
HELP FROM YOUR HEART RATE
"The best place for you to be to make the most of your workout while staying healthy. The target heart rate is very important because if you're not exercising within your target heart rate zone you won't be burning calories as well as you have the opportunity to."
Tina Ermert-Bortner, community health educator and worksite wellness coordinator for Lourdes Health System
Calculate your heart rate with this simple formula:
(220-Your Age) x 60%

"If you're exceeding 80 percent then you're actually putting your heart at risk, working your heart too hard." –Ermert-Bortner
3 WAYS TO MAKE THE MOST OF YOUR IN-HOME WORKOUT
Ermert-Bortner shares three great ways to stay fit when snow days or the season has you stuck at home.
1. Pass the "TalkTest" "When you're exercising cardiovascularly you should be breathing a little heavier than you are at a normal resting state, but you never want to be gasping for air. You want to be having a conversation, but not as effortlessly as normal."
2. Plug In "There are all kinds of great DVDs out there, and even OnDemand on your TV. You can find fitness channels on your television or enroll in one online and you'll have access to safe and effective sites and classes right in your home."
3. Keep Your Goals Close By "When you're at home, keep a list of whatever your goals may be and tackle each one separately, not all at once. Once you start seeing your goal really become achieved try and set up another goal to move forward."
HIGH-TECH SWEAT
Not sure what to do with the new fitness technology you got for Christmas? Local experts explain how to make the most of your new, digital exercise gear
Apple Watch
"The Apple Watch monitors your activity. If you've been sitting too long it will tell you to get up and move around. It's great for if you're at the office. It will keep you in the loop and keep you informed. If you're sitting behind a desk all day it's so easy to lose sight of your health. And this is an incredibly easy—and modern—way to keep track of that." --Glenn Trommer, owner, ExperiMac
Fitbit Charge 2
"It can really help you stay on track with your aerobic goals, you can really motivate yourself and see your progress right there on your wrist. And when you see yourself slacking you can step it up, step up your goal." --Chad Hallett
Garmin Vivosmart HR+
"This will sync right to your iOS or other devices and make it just as easy to track your progress. Now you can even track your sleep to help you when you aren't even aware of it." --Glenn Trommer
WEIGHT TRAIN WITHOUT WASTING TIME
Sam Balducci, owner of Giant Fitness, knows that time is a valuable thing to waste. That's why he suggests weight training as one of the best ways to burn fat, increase muscle and maintain that target heart rate. Here, he shares his guide to weight training in the most effective way possible.
3 TO 5 sets of 8-10 repetitions with 30 seconds-2 minutes rest between sets
"Start with the most amount of weight you can do in good form between eight to 10 times. If you're on your 10th and feel like you can push out 10 more, increase the weight and try it again. Use your amount of reps as a metric of where to go next."
"Don't jump from exercise to exercise, machine to machine. Work on the same exercises from week to week, because that's the best way to monitor your progress. Consistency works. The hardest part of working out is consistency."
Published (and copyrighted) in Suburban Family Magazine, Volume 7, Issue 10 (December, 2016).
For more info on Suburban Family Magazine, click here.
For information about advertising in Suburban Family Magazine, click here.
To find out where to pick up your copy of Suburban Family Magazine, click here.