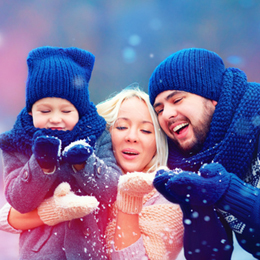 Burlington County Bulletin: Marlton/Medford
SCHOOL BELLS
STARS
Star Teacher
VICTORIA GORMAN
Medford
Gorman, a seventh grade earth and physical science teacher at Medford Memorial Middle School, was selected as a winner of the prestigious Presidential Awards for Excellence in Mathematics and Science Teaching (PAEMST). She was acknowledged by the White House Office of Science and Technology for her dedication to enhancing the teaching experience, particularly with her work as the founder of the school's Citizen Science Education Program.
Star Student
MICHAEL MCSHANE
Marlton
Cherokee senior McShane was one of only five students in the U.S. selected to represent the country in Moscow at the 14th International Olympiada of Spoken Russian. McShane traveled to Russia in November to compete against 200 international students in competitions that will show their proficiency in the Russian language. McShane studied abroad in Russia over the summer and is competing for a full scholarship to Russian University.
Star Citizen
AARON HARTY
Medford Lakes
Harty, an officer with the Mount Laurel Police Department and Medford Lakes resident, completed the 41st Marine Corps Marathon in Washington, D.C. at the end of October Harty, a Marine veteran, has completed the marathon three times, which is organized entirely by the United State Marine Corps to promote fitness while also educating participants about all that the Marine Corps does for the country.
Star Citizen
BRIAN LIBETTI
Evesham
The Evesham Township Police Department honored Officer Patrolman Libetti with the title of officer of the month for his dedication to his neighbors. Libetti has been serving the students at Rice Elementary School this year, and after noticing one student having a tough time, he made it a point to escort the girl to class every morning. His kindness has translated over 16 years of service for the township.
Star Citizen
LUCAS COSTA-CARLOS
Marlton
Van Zant Elementary fifth grader Costa-Carlos was honored by Evesham Fire-Rescue with a Citizens Lifesaving Award at a ceremony in front of his school. Costa-Carlos recently jumped into action when he saw his fellow classmate choking during lunch, and performed the Heimlich maneuver on the student to help clear his airway and effectively save his life. Costa-Carlos learned this skill during a summer camp, and was given a plaque to commemorate his quick thinking.
SCHOOL DATES
Dec. 15 Evesham Township Board of Education meeting,
7 p.m. at DeMasi Middle School
Dec. 19 Medford Township Board of Education meeting,
7:30 p.m. at Medford Memorial Middle School
Dec. 21 Lenape Regional High School District Board of Education Meeting,
7:30 p.m. at the Lenape District Administration Building, Shamong
Dec. 23-Jan. 2 LRHSD, Evesham, Medford schools closed
BULLETIN BOARD
Updates and announcements from your local school board
Election Results:
• Bonnie Olt of Evesham, William J. Bisignano Jr. of Medford, Robert H. Bende Jr. of Tabernacle and Margaret Estlow of Woodland were the uncontested winners of the Lenape Regional election, all for three-year terms.
• Evesham residents elected Kenneth Mills, Dennis Mehigan and Trish Everhart to three-year terms on the board of education and William McGoey to a two-year term
• David Bermingham, Michael W. Etter and Katherine Busca were uncontested in their race for a three-year term for the Medford board of education.
COMMUNITY CONNECTION
News from around Burlington County
Evesham Mayor Randy Brown states that the township's drunk driving arrests have decreased by 50 percent since the installment of their free ride program for residents who have been drinking in town. The program has given over 2,000 rides since its inception.
Republicans Kenneth D'Andrea and Robert DiEnna were elected to four-year terms on the Evesham Township council.
Next Evesham Township Council meeting:
Dec. 13, 6:30 p.m. at the Evesham Municipal Building, 984 Tuckerton Road, Marlton
Next Medford Township Council meeting:
Dec. 6, 7 p.m. at the Public Safety Building, 91 Union St.
POLICE BLOTTER
A 21-year-old was arrested by Medford Police during a call on which they were investigating a fight at a party. The owner of the apartment was arrested for marijuana under 50 grams and possession of glass smoking pipes.
Evesham police arrested a Sicklerville brother and sister for burglary. The siblings are accused of stealing $7,000 in jewelry from homes on Holmes Lane.
Police sentenced a Medford man who had stolen more than $2 million from homes in Moorestown, Medford, Mount Laurel, Haddonfield and Marlton over the course of a year to 17 years in prison. He was arrested in Moorestown in 2012 and sentenced this November.
THE LOCKER ROOM

STARS
Star Team
SHAWNEE FOOTBALL
The Renegades opened the South Jersey Group IV playoffs with a thrilling 35-34 win over Clearview in overtime. Junior quarterback Colin Wetterau scored three touchdowns, including one that tied the game in overtime and set up the winning extra point by junior kicker Rich Demko. Senior running back Dan Wigley helped force OT with a touchdown run in the final minute. Shawnee moved on to face rival Timber Creek in the sectional semifinals.
Star Athlete
JACK SHEA
Malrton
Shea, a senior on the Cherokee boys cross country team, won the South Jersey Group IV championship as he covered the 3.1-mile course at Delsea in 15:37.75. He was joined in the top five by teammates Nick Falk and Justin Kelly as the Chiefs also captured the team title. Shea went on to place 13th at states to help Cherokee finish second in the team standings.
ROSTER BEAT
Team, player and coach news
The Shawnee girls cross country team placed fourth at the Group IV state championships, the highest among all South Jersey squads. Junior Georgia Larzelere led the way with a 38th-place finish, as she covered the course at Holmdel Park in 20:15. Senior Kara Bonner was just two spots behind her in 40th place, followed by freshman Isabella Turner in 41st and junior Claire Rankin in 42nd.
Paige Rhoads, a junior on the Cherokee gymnastics team, won the South Jersey championship on the beam and took third in the all-around competition. She was also crowned the all-around champion in the Olympic Conference for the third year in a row, as she finished first in vault and floor, second on beam and third on bars.
The Shawnee girls soccer team battled rival Eastern to a 1-1 tie in the South Jersey group IV semifinals and saw the Vikings move on to the final with a 4-1 win in penalty kicks. The Renegades finished the season with a 17-4-1 record and earned a share of the Olympic American title.
Published (and copyrighted) in Suburban Family Magazine, Volume 7, Issue 9 (November, 2016).
For more info on Suburban Family Magazine, click here.
For information about advertising in Suburban Family Magazine, click here.
To find out where to pick up your copy of Suburban Family Magazine, click here.