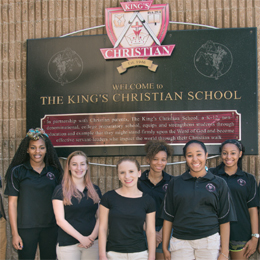 How One School is Paying it Forward
"In partnership with Christian parents, The King's Christian School is a K-12, non-denominational, college preparatory school that equips and strengthens students, through education and example, that they might stand firmly upon the Word of God and become effective servant-leaders who impact the world through their Christian walk."
This is the mission statement of The King's Christian School (TKCS), but it is not merely a philosophy; it is put into practice on a regular basis. Students participate in class charity projects, volunteer with local organizations and go out on missions trips to other countries. Those in grades 7-12 are also required to complete a certain number of service hours as part of the curriculum.
Each month, one day is dedicated to local missions. Teams of students and teachers go out and give back to the local community. Twelve different organizations open their doors to these teams, giving students the opportunity to help in a variety of capacities. Some students sort donations at a food bank or serve lunch at a homeless shelter; others assist teachers of children with special needs or lead craft time at a retirement home. Regardless of the task, the result is the same: Students walk away from the experience with a greater awareness of the needs of others and the satisfaction of knowing that they are doing their part to make a difference.
The school also has one designated dress-down day each month. Students (who are usually required to follow a standardized dress code) can pay two dollars for the privilege of wearing casual clothes for the day. Each month, the money raised is donated to a different charity. Over the years, this fundraiser has yielded thousands of dollars for local charities, including the LARC School, Seeds of Hope and Wounded Warriors.
During spring break, TKCS students are not taking it easy, playing video games and sleeping in; they are on long-term missions trips across the country and across the globe. For the past decade, TKCS has been planning these annual trips to give students a wider perspective on the needs of people around the world. Middle school students typically stay closer to home for these trips, working with organizations in New York, Philadelphia or Washington, D.C. High school students travel a greater distance, often overseas. Past locations have included Arizona, Romania, South Africa, Ireland and Poland. Whether they are running a youth sports camp in Enderby, England or constructing houses in Jamaica, these students are putting their faith into practice, building cross-cultural relationships and learning what it means to be a servant-leader.
Even the younger students are encouraged to serve. Each preschool and elementary class chooses a yearly service project which usually involves collecting donations for a specific charity, like a winter coat drive or canned goods for a food pantry. Jane Fort, preschool/elementary principal says, "Our hope is that this lays the groundwork," so that as students get older, they will have a desire, "for more hands-on mission opportunities."
Students are not the only ones giving back to the community. The administration, faculty, and staff teach servant-leadership by example and the school regularly sponsors events that benefit others. Guidance counselor Eve Waite runs a Christian college fair each October where over 30 colleges send representatives to the event. Wendy Hunt, director of admissions and events, plans an annual parenting seminar as well as a moms' night out each spring. These events are free and open to the public. There is also a yearly pastors' luncheon and seminar where local church pastors are invited to come and be encouraged in their ministry.
While many students across the nation look at volunteer work as another activity to list on college applications, there are far greater benefits that result from community service. George Stouff, interim middle/high school principal, planned the first TKCS international missions trip to England in 2004. He has chaperoned many missions trips with students and has witnessed "incredible growth in spiritual as well as emotional maturity in students as they have learned to respond to those in need." A valuable lesson, indeed.
Upcoming Events:
Community Yard Sale and Vendor Expo: Oct. 8, 10 a.m.-2 p.m.
Christian College Fair: Oct. 18, 6:30-8:30 p.m.
Citizen Way/JJ Weeks Concert: Nov. 2, 7 p.m.
Open House: Nov. 19, 10 a.m.
Other reasons to consider TKCS:
• Award-winning music and fine arts programs
• Handbells, jazz and concert bands, concert choir, art and theater programs/productions
• State and nationally ranked in private school athletics
• Hall of Fame, nationally ranked coaches
• Varsity boys' soccer attended NCSAA Tournament and was ranked third in the country for small Christian schools
• Varsity baseball attended nationals at NACA
The King's Christian School
5 Carnegie Plaza | Cherry Hill
(856) 489-6724| TKCS.org
Published (and copyrighted) in Suburban Family Magazine, Volume 7, Issue 6 (August, 2016).
For more info on Suburban Family Magazine, click here.
For information about advertising in Suburban Family Magazine, click here.
To find out where to pick up your copy of Suburban Family Magazine, click here.