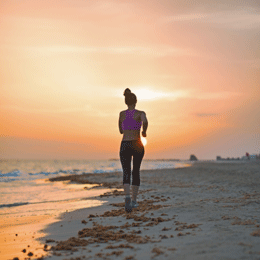 Staying Fit in the Summer
During the colder months, staying disciplined with a fitness program isn't too difficult. There are fewer vacations to interrupt the day-to-day routine, school is in session, and life is often lived off of alarm clocks and a carefully scheduled calendar. Then the weather turns warmer. Vacations get planned. The sun stays up in the sky longer and spring seems to say, "The gym can wait. Get outside!" Summer starts and suddenly the daily routine with planned workout time has disappeared.
How can a fitness-minded person keep a workout routine going during a South Jersey summer when school is out, the Shore is calling, vacations roll around and the heat and humidity make exercising a hot, sticky mess?
The trick is to accept that the regular gym time may not happen or the at-home Beach-body workout may take a backseat to bodies actually being on the beach. Once that's been accepted, it's time to switch things up. Discover ways to exercise that fit into the summer fun–don't make the summer fun fit around a tight workout schedule.
DO SOMETHING DIFFERENT
"Try a new activity," recommends Dana Heinsen of Crossfit Hideout. She suggests looking into an adult sports league like ultimate Frisbee, flag football or outdoor summer soccer. Joining a league will not only provide a fun, social workout, it will get some exercise time scheduled in the calendar. Being a member of a team means accountability to show up.
For those who want a more strenuous workout, Heinsen suggests looking into something like the Mullica Hill Women's Tri-Club or the co-ed Live4Tri based out of Moorestown.
"People get out and meet new friends while running, biking and swimming," says Heinsen. Training for a triathlon doesn't necessarily mean running in one. But, it's not a bad idea to work out with a goal in mind.
"Set short- and long-term realistic goals to stay motivated," says Heinsen. That goal could be eventually participating in a triathlon or it could mean signing up for a 5K run at the end of the summer. Heinsen also says to sign up with a friend if possible. It's easier to stay motivated when accountable to someone else. It also makes it more fun.
LET THE BEACH BE YOUR GYM
Here in South Jersey, heading to the Shore for a day or a week is common for many people. While there, let the beach be your gym, recommends Chad Hallett of Adrenaline Sports.
"Walk or jog on the beach," he says. "Sand workouts are good. They're low impact. Just make sure to check your surroundings so you don't step on glass, sharp shells or anything else that can cut your feet."
Use the boardwalk and running paths that many Shore towns provide, too. Exercise can be as simple as walking up and down the boardwalk, as long as frequent stops for boardwalk fries are avoided.
And if kids are in the mix, make exercise a family affair.
"Incorporate the kids into your exercise routine," says Hallett. "Take family walks or bike rides. Go swimming together." He also suggests looking into kids' clubs at the gym for those who still want to get their regular routine in. The kids can do fun, safe activities that are designed just for them while the adults hit a yoga class or the exercise machines.
Heinsen suggests staying fit together as a family, too. "Have fun," she says. "Get outside. Take a hike." South Jersey has many hiking trails to take advantage of, and the more relaxed schedule makes for the perfect opportunity to check them out.
Another piece of advice Heinsen has is to mix it up. "Don't do the same thing over and over," she says. "If workouts are monotonous and tedious, they won't keep your motivation going."
That's especially true for family workouts. Hike one day. Ride bikes the next. Fit in some swimming, too. Plan some activities that will get everyone moving at family picnics and barbecues like organizing a Wiffle ball tournament or breaking out the Frisbees.
When packing for vacation, grab some lightweight equipment to throw in the bags. Resistance bands, jump ropes and a good pair of sneakers should go in the suitcase. If there's not room for a yoga mat, a good size beach towel can double as a floor mat for exercises.
If you don't have any equipment on vacation, you can still exercise. "There's nothing like moving your own body weight," says Hallett. Pushups, situps, lunges, squats, leg lifts and calf raises use body weight for resistance and can be done with no equipment.
STAY SAFE AND HYDRATED
Both Hallett and Heinsen agree that staying hydrated through the intense New Jersey heat and humidity is not only the best way to stay healthy, but the best way to not burn out before the summer ends. They shared some specific tips for workouts in the summer to stay safe and hydrated.
• Work out early in the day or after the sun goes down to avoid the heat of the sun.
• Make sure you're drinking enough fluid when you're working out. Every 15 minutes, drink some water during exercise.
• Shoot for drinking a total of 64 ounces of water daily.
• If you want to incorporate sports drinks for the electrolytes, dilute them by drinking 1/4 sports drink to 3/4 water. Sports drinks contain sugars that are counterproductive to workouts and fitness goals.
• When exercising outside, wear sunscreen and reapply often if sweating.
• If working out after dark, make sure to wear reflective clothing and have lights on bicycles.
Overall, have some fun with summer exercise. Get outside and mix it up. The gym will be there in the fall.
Published (and copyrighted) in Suburban Family Magazine, Volume 7, Issue 3 (May, 2016).
For more info on Suburban Family Magazine, click here.
For information about advertising in Suburban Family Magazine, click here.
To find out where to pick up your copy of Suburban Family Magazine, click here.