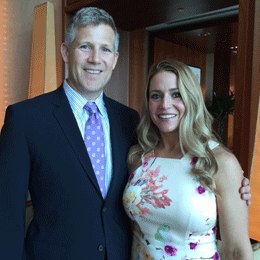 Women of the Year 2016
A woman's strength knows no boundaries. That especially rings true when it comes to things that matter most: community, family, justice. We at Suburban Family Magazine see that evidence manifest itself in all forms, from the Star Citizens, Students and Teachers who grace our pages each month to the businesspeople, community leaders and readers who cross our paths every day.
Meet our Women of the Year for 2016, seven South Jersey women who have gone above and beyond to help build and grow their community. These women have overcome unfathomable losses, fought back against adversity and worked to create a bright and positive future for girls and boys everywhere. Their strength, determination and grit serves as a sample of what women across our area are doing to help ensure that South Jersey remains such a great place to call home.
Kimberly Muse Fischel
Losing a child is an unspeakable tragedy, but Fischel has used her grief to give an everlasting voice to her little boy. Sean Fischel lost his battle with a rare and aggressive autoimmune disorder called hemophagocytic Lymphohistiocytosis at the age of 7 in 2013. Since then, Fischel and her family have worked to keep his memory alive while raising funds for children's health through their foundation, Sean Fischel Connect.
Since starting the foundation, Fischel has created a space in the newly designed Moorestown Public Library—in the family's hometown—called Sean's Book Nook, which features a mural of Sean and his dog seated under a tree reading. With bean bag chairs, additional books and more, children are encouraged to sit with Sean, read and make friends.
Fischel, her husband Brian and her other two children—13-year-old Connor and 12-year-old Sydney—have also donated to their town's recreation sports teams, parks and recreation department and more to help spread children's wellness, while also donating more than $75,000 to The Children's Hospital of Philadelphia, where Sean received his treatments, all through annual fun runs, charity events and more.
Devon Bell
Marlton native and Cherokee High School teacher Bell has always had a passion for athletics. The Sewell resident was a four-year letter-winner during her time as a Cherokee Chief and went on to play field hockey in college at D-1 Ball State University in Indiana. But her commitment to athletics didn't end after graduation, and her career in special education only further drove her passion to help students become the best they can be.
That's why Bell founded the Power Forward Foundation. Power Forward provides underprivileged and under-served student athletes with the financial assistance and training needed to be the best competitor possible, with the goal of using that training to "power forward" to a more successful future. Since starting the foundation in 2014, Bell and her team have helped more than 15 athletes across the state, working with students in all sports with a dedicated focus on baseball and field hockey.
Bell's passion comes from the belief that all students—regardless of their family or financial situation—deserve the benefits of athletic and team participation. Power Forward recently partnered with a local gym to give students access to additional training, and is hosting a golf outing on May 22 at Valleybrook Country Club in Blackwood to raise funds. Meanwhile, she continues to work full-time while the company grows so that every cent contributed to Power Forward goes to a student in need.
Lucienne "Lucy" Beard
As Executive Director of the Alice Paul Institute in Mount Laurel, Beard has spent the past 22 years overseeing the development of the museum—built in Alice Paul's home—as well as dozens of programs for young South Jersey girls to grow and learn in. The institute's Girls Advisory Council currently operates with 48 high school girls, who are taught about women's leadership through meetings and regular trips to the United Nations.
Most recently, Beard campaigned tirelessly to have Alice Paul celebrated nationally for her work with the suffrage movement and—in part because of her efforts—Alice Paul was recently honored with a Washington, D.C. national monument. The Paul-Belmont Women's Equality National Monument was announced this past April and will stand outside of the Sewall-Belmont House and Museum.
Quickly after that, it was announced that Alice Paul and her fellow Suffragettes would be featured on the back of the new $10 bill, with abolitionist Harriet Tubman gracing the front of the bill. But Beard's work isn't finished, as she is working to obtain a posthumous Congressional Gold Medal for Alice Paul.
Sue Levy Polikoff
Cherry Hill Resident Polikoff created The Jewish Federation of Southern New Jersey's Mobile ReSale Boutique to provide her neighbors in need with the tools to dress for success.
Her mobile thrift shop travels across the area, visiting places in need like Camden and Atlantic City, and to senior centers—where residents might otherwise be unable to get out and shop—to provide low-cost clothing, purses, accessories, shoes and even home accessories, with the goal of giving everyone the chance to shop and feel better about themselves.
The items for sale are donated from across the area, and donations are accepted all year long. All proceeds collected during mobile, pop-up events go back to the Jewish Federation, and provide services like food resources, job training, shelter and transportation to underprivileged families, the elderly and those with special needs across South Jersey.
"I feel that it is hard for some people to get out and shop, and I am bringing quality merchandise to them at as low as $2-$5 per item," says Polikoff. "My goal is to empower people to make them feel good about stretching their dollar."
Polikoff was recently honored with the MLK Service Award by the Camden County Freeholders for her efforts. And this year, the boutique worked with three area high schools to provide free prom dresses, make-up samples, perfume samples and dresses for eighth graders at Overbrook Middle School, to help girls celebrate their big milestones with a bit of glamour.
Maura Schwartz
Many people in South Jersey were shocked and shattered by the Sandy Hook Elementary School shooting in 2012, during which mentally ill gunman Adam Lanza senselessly killed 20 first graders and six staff members. But Depftord's Schwartz experienced the violence firsthand, as her mother Mary Sherlach—the Sandy Hook school psychologist—was one of the first victims to lose her life.
In the midst of the grief, Schwartz—along with her husband Eric, and sister and father in Connecticut—were also trying to find how to best process the overwhelming amount of financial donations sent to them from across the globe. The family decided to create Mary's Fund, which uses the donations sent in Mary's name to support her passion for providing psychological services to children in need.
The first Mary's Fund branch launched just days after the shooting, with the South Jersey division coming in 2015. Since then, Schwartz—a former Salem High School teacher and current choir director at Overbrook High School in Pine Hill—and Mary's Fund have created a scholarship for students going into the mental health field, and have donated thousands to the Mental Health Association of Southwestern New Jersey, with the goal of keeping her mother's passion alive through the support of helping hands across the planet.
Senator Diane Allen
Allen, a Moorestown native and South Jersey senator, began her career as a TV news anchor in the '70s, but found her calling for social justice after successfully suing her CBS station for discriminatory practices in 1994. Since then, Allen has been fighting for the rights of New Jersey residents, and women specifically.
She joined the Senate in 1998, and is currently tied as the longest serving female senator in the state. Almost 20 years later, Allen has led causes for women and families everywhere, recently introducing a resolution into the Senate that would help further Lucy Beard and the Alice Paul Institute's goal of awarding Alice Paul with the Congressional Gold Medal.
In the past year she also introduced legislation that would extend death benefits to children of New Jersey State Troopers, which came after the death of active duty trooper and South Jersey resident Sean Cullen, who left behind an infant son.
Allen also has worked tirelessly in recent years to keep Joint Base McGuire-Dix-Lakehurst open and operational, providing military families in South Jersey with career opportunities and a place to call home.
Erica Hunter
South Jersey and Flyers Hockey go hand-in-hand. Voorhees has served as the practice site for the Philadelphia Flyers for decades, and now one new team is making sure that all hockey lovers get a chance on the ice.
Hunter created the Flyers Youth Special Hockey team last summer, to help kids with developmental disabilities get on the ice while learning to skate, compete and make friends. The team welcomes children living with Down syndrome, autism and other disabilities on the ice at the Flyers Skate Zone in Voorhees to don their own orange jerseys and learn the ins and outs of hockey, while also getting a hands-on lesson in sportsmanship and competition.
Since their start, the team of 22 athletes and more than 20 volunteers has learned under the tutelage of head coach Mark VonBerg. Hunter obtains sponsors and organizes volunteers with the goal of keeping costs at a minimum for the families. The team even got to attend a Flyers game and play on the Wells Fargo ice in front of a crowd in March. The team dynamic gives kids and their families the opportunity to bond over a South Jersey tradition, while also celebrating what makes each child unique and special.
Published (and copyrighted) in Suburban Family Magazine, Volume 7, Issue 3 (May, 2016).
For more info on Suburban Family Magazine, click here.
For information about advertising in Suburban Family Magazine, click here.
To find out where to pick up your copy of Suburban Family Magazine, click here.