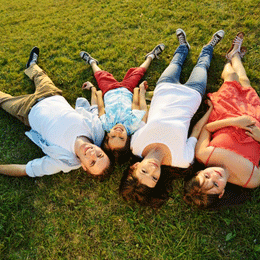 Burlington County Bulletin: Moorestown/Mount Laurel
SCHOOL BELLS
STARS
Star Student
Jahdiel Brown
Moorestown
Moorestown Friends School senior Brown won a combined $7,000 in scholarships to the University of the Sciences in Philadelphia for the Healthy Lifestyles Business Competition. Brown won with her social media marketing campaign "Chop To It!" which highlights the fun of cooking—aiming to motivate more healthy home cooked meals in every household.
Star Teacher
Alison Ciavaglia
Mount Laurel
Lenape High School art teacher Ciavaglia took art outside the classroom with the help of her students. Ciavaglia's art classes created their own "Avenue of the Arts," designing original murals based on the slogan "Imagine, Dream, Create, Inspire" to brighten up the school's hallways, using everything from paint to mosaics.
Star Citizen
Karen Chigounis
Moorestown
Chigounis has taken over as the new chief administrator of the Perkins Center for the Arts. Having previously served as the director of arts education and curator of the Collingswood Perkins gallery, Chigounis replaces Alan Willoughby, who served his post for 25 years before announcing his retirement at the start of 2016.
Star Citizen
Eugene Richardson, Jr.
Mount Laurel
World War II veteran and Tuskegee Airman Richardson was honored during a presentation at Harrington Middle School during the 75th anniversary of the creation of the African American fighter pilot group. Richardson discussed his memories from his time with the Tuskegee Airman and talked about segregation during the war.
SCHOOL DATES
March 24-April 1 Moorestown Spring Break
March 25-April 1 Moorestown Friends Spring Break
March 28-April 4 LRHSD Spring Break
April 19 Moorestown Board of Education Meeting,
7:30 p.m. at the WAMS Media Center
April 26 Mount Laurel Board of Education Meeting,
7:30 p.m. at the Hattie Britt Administration Building
April 27 LRHSD Board Meeting,
7:30 p.m. at the Lenape District Administration Building
BULLETIN BOARD
Updates and announcements from your local school board
The Countryside Elementary School PTO contributed $1,350 to support the Perkins Artist in Resident Program for the school, running this year from May 16-26.
The Moorestown BOE recently approved the 2016-17 school calendar and also began working on the new budget for the 2016-17 year. A public hearing on the budget will be held sometime between April 25 and May 9.
Moorestown Friends School will hold their ESF Summer Camp Open House on April 9 from 1-4 p.m. at the Stokes Auditorium.
COMMUNITY CONNECTION
News from around Burlington County
Mount Laurel Police have moved forward with the purchase of 40 new body cameras to be used on officers at all times. The purchase came through a grant from the New Jersey Attorney General's Office.
Moorestown is encouraging businesses to begin registering for their annual Moorestown Day on June 4. Interested vendors can register on MoorestownBusiness.com.
Recovery Centers of America has withdrawn their proposal for a 328 bed drug inpatient and outpatient treatment center from the Mount Laurel Zoning Board.
Moorestown Mayor Phil Garwood and Deputy Mayor Victoria Napolitano have announced their campaign for re-election for 2016. The pair—alongside Michael Locatell, who will be running for Town Council—have received backing from the Moorestown Republican Municipal Committee.
POLICE BLOTTER
Mount Laurel Police charged two women with prostitution-related offenses upon executing a search warrant at the Therapy U Plus massage parlor on Church Road. The same parlor was investigated for similar offenses six months ago.
Police arrested four men from New York on Main St. in Moorestown after they attempted to flee the Wegman's on Centerton Road where they attempted to purchase gift cards with fraudulent credit cards.
Mount Laurel Police are attempting to identify a person responsible for stealing a woman's wallet from her purse hanging on the back of her chair while eating lunch at a Panera. A credit card from the stolen wallet was then used to make several purchases.
THE LOCKER ROOM
STARS
Star Athlete
Alex Martin
Moorestown
Martin's final race with the Moorestown boys swimming team ended like so many others in his stellar career: with a victory. The senior won his third straight state championship in the 100-yard backstroke, clocking a time of 49.74 seconds. Martin, who also helped the Quakers to their fifth straight sectional title this season, will continue his career at the University of Michigan.
Star Team
Lenape Girls Basketball
Mount Laurel
The Indians claimed the first state championship in program history when they ran past Paterson-Kennedy, 50-35, for the Group 4 title. Senior forward Maddie Sims scored a team-high 14 points and senior guard Amanda McGrogan added 10. Earlier in the postseason, Lenape held off rival Cherokee for its first sectional title since 1983. The two teams split a pair of regular-season matchups and shared the Olympic Conference American Division crown.
ROSTER BEAT
Team, player and coach news
Tyler Steffa, a junior heavyweight on the Lenape wrestling team, advanced to the state championships in Atlantic City for the first time in his career to highlight a 31-3 season. Steffa qualified for states with a third-place showing at Region 7, as he bounced back from his first loss of the year in the semifinals to win the third-place bout, 2-1, over Trenton's Trevon Haywood. Earlier in the postseason, he picked up his first District 27 championship with a 10-2 major decision over Cherry Hill West's Lorenzo Hernandez in the final.
Jake Topolski led four [players in double figures with 13 points to spark the Lenape boys basketball team to a playoff victory over Southern. The Indians went on to drop a tough 43-42 loss to rival Cherokee in the sectional quarterfinals, ending their season with a 14-14 record.
The Lenape boys swimming season defeated East Brunswick in the Central Jersey Public A semifinals, 101-69, to advance to the sectional final for the third consecutive year. The Indians lost to Hillsborough in the final to finish an 8-3 season.
Published (and copyrighted) in Suburban Family Magazine, Volume 7, Issue 2 (March, 2016).
For more info on Suburban Family Magazine, click here.
For information about advertising in Suburban Family Magazine, click here.
To find out where to pick up your copy of Suburban Family Magazine, click here.