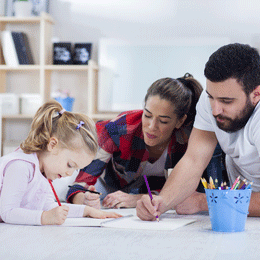 SCHOOL BELLS
STARS
Star Student
Madeline Bowne
Cherry Hill High School East senior Bowne won second place in the 2016 C-SPAN StudentCam Documentary Competition for her film "When the House Becomes a Home"—focusing on congressional term limits. Open to students grade 6-12, this year's competition theme was "What is the issue you most want candidates to discuss during the 2016 Presidential campaign?" This is Bowne's third time winning the contest since eighth grade.
Star Students
Frightening Lightning Robotics
Cherry Hill East robotics team Frightening Lightning captured first place in the design category at the VEX Robotics State Championship competition held at the school. They beat out 46 other schools in the category to capture the win, and will go on to compete in the VEX Worlds competition.
Star Citizen
Laura Vitale
Swedesboro resident Vitale has launched the second season of her Cooking Channel show, Simply Laura. Vitale—a self-taught chef who worked out of her father's Camden kitchen before going off on her own—started her show as a Web series before launching her Italian-based cooking show.
Star Citizen
Jacob M. Bagley
Bagley—a family and cosmetic dentist out of Cherry Hill—recently returned from his 10th trip to Israel, volunteering with Dental Volunteers for Israel. Bagley traveled to Jerusalem to provide free dental care and dental education to children in the area who could not otherwise afford it.
SCHOOL DATES
March 21-25 Haddonfield, Cherry Hill Spring Break
March 24-April 1 Bishop Eustace,Voorhees Township Spring Break
March 29 Cherry Hill Board of Education Action Meeting,
7 p.m. at 45 Ranoldo Terrace, Cherry Hill
April 28 Haddonfield Public School Board of Education Meeting,
6:30 p.m. at Haddonfield Memorial High School Library, Haddonfield
May 4 Voorhees Township Board of Education Meeting,
7:30 p.m. at the Administration Building, Voorhees
BULLETIN BOARD
Updates and announcements from your local school board
Police and school officials evacuated Ann A. Mullen Middle School in Sicklerville after discovering a handwritten threat in a bathroom on March 15. No hazardous materials were found at the school.
The Cherry Hill BOE approved a second reading of their new transgender inclusion initiation. It also accepted more than $25,000 from various organizations and businesses to be spread across the schools.
The Voorhees BOE accepted the retirement notice of three county staffers: custodian Eiko Steel, teacher Kristen Abel and guidance counselor Judy Hawking, effective at the end of June.
Haddonfield voters approved $35.5 million in proposals to repair Haddonfield High School, Elizabeth Haddon School, Tatem School, Central Elementary and Haddonfield Middle School.
COMMUNITY CONNECTION
News from around Camden County
Haddonfield has hired new full-time probationary police officer Jacob Sorg.
Haddonfield also announced the upcoming Pet-A-Palooza event in conjunction with the Camden County Animal Shelter. The event—running noon to 4 p.m. on April 9—will have adoptable pets, live music, a pet talent show and fashion show and more.
The Voorhees Township Committee submitted a resolution in support of the Voorhees Township Green Business Program on March 14. The resolution hopes to promote sustainability amongst businesses.
Next Cherry Hill Council Meeting: April 11, 7:30 p.m. at N. John Amato Council Chambers, 820 Mercer St.
Next Haddonfield Planning Board Meeting: April 5,7:30 p.m. at the Haddonfield High School Auditorium
Next Voorhees Economic Development Meeting: April 7, 7:30 p.m. at the Voorhees Municipal Building
POLICE BLOTTER
Police are looking for two women seen on surveillance footage removing a misplaced wallet from the Haddonfield Ave. Wawa in Cherry Hill on February 29. The suspects were seen driving away in a four-door Mercedes-Benz with NJ tags.
A 41-year-old man crashed his car onto the front lawn of a Pettit Ave., Cherry Hill home after following an argument with his passenger who pulled a gun on him. One shot was fired before the passenger fled on foot. Nobody was injured.
Police are trying to identify a man who allegedly stole $739 in electronics from a Rite Aid located at 242 Route 70 West on December 22.
THE LOCKER ROOM
STARS
Star Athlete
Taylor Sehdev
Haddonfield senior Sehdev was chosen to play in the Al Carino Girls Basketball Club of South Jersey Senior All-Star Game, and her coach, Jackie Mulligan, was part of the South team's coaching staff. Camden Catholic teammates Julia Braungart, Taiah Thornton and Sierra Taylor were part of the North squad along with Yamalis Villegas of Cherry Hill East.
Star Athlete
Sophie Fontaine
Fontaine finished her memorable swimming career at Haddonfield by claiming her first state championship. Fontaine took first in the 100 backstroke with a time of 54.61 seconds, a year after placing second in the event. She also placed third in the 200 freestyle. A Yale recruit, Fontaine led the Bulldawgs to a sectional championship this season, their second straight.
ROSTER BEAT
Team, player and coach news
Maliq Sanders, a forward on the Eastern boys basketball team, was named to the South roaster for the annual North-South Senior All-Star Game, which was scheduled for March 20 at Rider University.
Mark McCormick, a senior, put an exclamation point on his outstanding wrestling career at Camden Catholic by placing third in the state at 138 pounds at Atlantic City's Boardwalk Hall.
The Cherry Hill East boys swimming team won its eighth straight sectional championship when it defeated Egg Harbor Township for the South A title.
Local basketball players Timmy Peny of Cherry hill East and Danny Buckwalter of Cherry Hill West were chosen for the Al Carino Basketball Club Senior All-Star Game. The two rivals will be teammates on the West squad in the game, which was scheduled for March 26 at Rutgers-Camden.
Published (and copyrighted) in Suburban Family Magazine, Volume 7, Issue 2 (March, 2016).
For more info on Suburban Family Magazine, click here.
For information about advertising in Suburban Family Magazine, click here.
To find out where to pick up your copy of Suburban Family Magazine, click here.