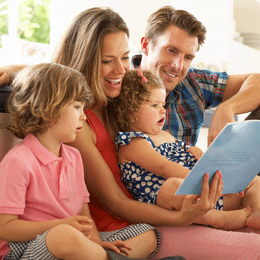 Moorestown Family Bulletin
SCHOOL BELLS
STARS
Star Students
MFS Consumer Bowl Team
The Moorestown Friends School Consumer Bowl team captured their fourth Burlington County Consumer Bowl championship in five years. The team won a quiz show competition that quizzed students Alex Horn, John Barton, Josh Murdy and Alex Barrett on consumer knowledge, and they defeated eight other schools. They will go on to compete in the Southern Regional competition in April.
Star Student
Bela DelVadia
Moorestown High School senior Delvadia was named the Moorestown Service Clubs Student Citizen of the Year. Delvadia was honored for her commitment to her schoolwork and her work on campus, as well as for her work in the community, as she volunteers with many local organizations.
Star Citizens
Moorestown P.D.
Five Moorestown police officers have announced that they will ride in the annual Police Unity Tour. The three-day bicycle ride takes participants from North Jersey to Washington, D.C. during May's Law Enforcement Week to honor police officers who were killed in the line of duty. The officers each raised $1,500 to support the Policeman's Memorial scholarship and were given $500 in support by the Moorestown Breakfast Rotary Club.
SCHOOL DATES
Feb. 25-March 5-Moorestown High School Presents Hello, Dolly!,
times vary at Moorestown High School
Feb. 27-Moorestown Friends School Admissions Testing,
9 a.m. at Moorestown Friends School
March 12-Moorestown Friends School Summer Programs Open House,
11:30 a.m.-2:30 p.m. at MFS's Greenleaf Hall
March 12-17-Moorestown High School Senior Trip
BULLETIN BOARD
Updates and announcements from your Moorestown school board
Moorestown Friends School recently hosted their 15th Mock Primary Election, a 56-yearold tradition in which students prepare political speeches, debates and campaigns every four years to coincide with the presidential election.
Moorestown Middle School has opened up registration for their annual Science Fair, hosted by PACE. They are also looking for volunteers with a science or teaching background to share their experiences with students.
New to Moorestown Friends is Roberta Fenska, who joined the school as administrative assistant to the director of development Steve Zakroff.
Next Moorestown School Board Meeting:
March 15, 7:30 p.m. at the William Allen Middle School Media Center, 1 N. Stanwick Road
TOWN CRIER
Submit your news and announcements here for consideration in future issues! We're looking for your birth announcements, engagements, career announcements, weddings, anniversaries and death announcements to include. Simply email Erica@SouthJersey.com with your news and possible photo.
POLICE BLOTTER
Moorestown Police are advising residents to lock their car doors and remove valuables from sight after several reports of car burglaries.
A woman was charged with shoplifting on January 20 after allegedly stealing hundreds of dollars in merchandise from Boscov's department store at the Moorestown Mall. A loss prevention officer attempting to apprehend the woman was attacked by an accomplice. Both are being held at Burlington County Jail.
Police arrested a man attempting to exchange a stolen iPad for cigarettes at a WaWa on West Main Street. Upon the clerk's refusal the man stole some food before leaving.
COMMUNITY CONNECTION
News from around Moorestown
Gov. Chris Christie announced that he would be seeking a disaster declaration from Pres. Barack Obama for last month's snowstorm in 17 counties, including Burlington County.
The Moorestown Breakfast Rotary Club donated $1,000 to Community Treatment Solutions, which works with abandoned and abused children.
Moorestown officials are working to provide residents with peace of mind after concerns over contaminated water surfaced this month. The township is currently planning upgrades at its three treatment plants and is monitoring contaminant levels.
THE LOCKER ROOM
STARS
Star Coach
Joe McAleer
Former Moorestown Friends School basketball coach McAleer has been inducted into the Albert J. Carino South Jersey Basketball Hall of Fame. McAleer was one of eight coaches to be inducted in February, and was acknowledged for a number of accomplishments, including his four consecutive Friends School League championship titles from 1992-1995.
Star Team
Moorestown Boys Swimming
The boys swim team captured its fifth consecutive Public B sectional title at a recent meet in Neptune. The second-seeded Quakers defeated top-seeded West Windsor-Plainsboro South, 93-77, thanks to two individual wins each from senior Alex Martin and sophomores Thomas Schurer and Reid Greer.
ROSTER BEAT
Team, player and coach news
Moorestown sophomore swimmer Thomas Schurer took first place in the 100 backstroke with a time of 53.95 seconds at the SJISA Coaches Invitational. As a team, the Quakers finished second in the B Division behind winner Mainland.
Kyle Loveland, a senior on the Moorestown track team, claimed the South Jersey Group III title in the pole vault at the indoor sectional championships. Loveland cleared 12-6 to secure the crown.
Moorestown senior football players Greg Gamble and Ryan Loftus will both be continuing their careers at the next level. Gamble, a wide receiver, has committed to Lehigh University, while Loftus will be kicking next fall for Gettysburg College.
Published (and copyrighted) in Suburban Family Magazine, Volume 6, Issue 12 (February, 2016).
For more info on Suburban Family Magazine, click here.
For information about advertising in Suburban Family Magazine, click here.
To find out where to pick up your copy of Suburban Family Magazine, click here.