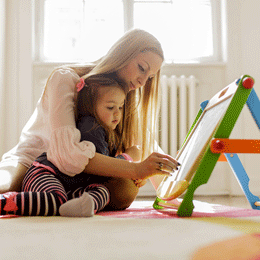 Marlton/Mount Laurel Family Bulletin
SCHOOL BELLS
STARS
Star Teacher
Debbie Hodulik
Business and technology teacher Hodulik has been named Lenape High School's Teacher of the Year. Hodulik was acknowledged for her mentorship of both students and teachers, as well as her work to earn grants for the school that has earned them iPads and a Business Education online budgeting course for students.
Star Students
Katie Stabler and Jake Mesey
The Lenape Regional High School District named Katie Stabler as the Cherokee winner for their annual job fair poster contest and Jake Mesey as the winner of the district competition. The students were tasked with developing signage for the annual job fair, and both students created designs as a way to advertise the event.
Star Citizen
Gregory Pardlo
Pulitzer Prize-winning poet and Burlington County native, Gregory Pardlo, returned home to speak at Rowan College at Burlington County. Pardlo, a past student of the former Burlington County College, spoke with students about his work and his inspiration, and told students how they can achieve their own version of success.
SCHOOL DATES
Feb. 19-27-Paul VI Presents Footloose,
times vary at Paul VI High School
Feb. 27- Moorestown Friends School Admissions Testing,
9 a.m. at Moorestown Friends School
March 1- Bishop Eustace Class of 2020 Registration,
5:30-7 p.m. at Bishop Eustace's Lulli Library
March 4-12-Lenape High School Presents: Mary Poppins,
times vary at the Lenape Auditorium
BULLETIN BOARD
Updates and announcements from your local school board
The Lenape Regional High School District (LRHSD) Board of Education accepted a $500 donation to Cherokee's Renaissance Program from Evesham Celebrations Foundation and a $300 donation from Lincoln Investment to Cherokee's Wood Club.
The BOE also accepted the retirement of Lenape Assistant Principal Rudolph Sciore, effective Aug. 1, 2016 and the resignation of district bus driver Gail Caruso, effective immediately.
The school board recognized January as School Board Recognition Month for the 14th year in a row.
Next School Board Meeting:
March 16, 7:30 p.m. at the Lenape District Administration Building, 93 Willow Grove Road, Shamong
TOWN CRIER
Submit your news and announcements here for consideration in future issues! We're looking for your birth announcements, engagements, career announcements, weddings, anniversaries and death announcements to include. Simply email Erica@SouthJersey.com with your news and possible photo.
POLICE BLOTTER
Mount Laurel Police tracked down and arrested a 19-year-old man in a wooded area near the first block of Pheasant Drive after he was allegedly caught breaking into vehicles.
A 25-year-old Marlton resident was arrested after a witness reported him attempting to break into parked vehicles. Multiple bags of heroin were found in his possession.
A 30-year-old woman was arrested for shoplifting and possession after being apprehended for stealing $95 in perfume from Ulta on Nixon Drive in Mount Laurel.
Evesham police arrested a construction truck driver for eluding and multiple driving violations. After being observed recklessly driving on Route 73 at 10 a.m., the driver refused to stop for police after a continuous pursuit.
Mount Laurel officials apprehended a man at the Nixon Drive ShopRite who attempted to steal $111 worth of merchandise. When he was approached he swung at employees with a hypodermic needle. He was arrested, and attempted to flee while receiving medical treatment, but was taken into custody.
COMMUNITY CONNECTION
News from around Marlton and Mount Laurel
Demolition started at two sites in Evesham so far this year that will give way to about $100 million in new developments. The former Kmart is slated to become a mixed-use development with apartments and restaurants, while a high-end retail shopping center and LA Fitness are on their way to a former office park on Route 73 near Lincoln Drive West.
Gov. Chris Christie announced that he would be seeking a disaster declaration from Pres. Barack Obama for last month's snowstorm in 17 counties, including Burlington County. He is looking for federal funds to help cover the estimated $82.6 million in damages.
Next Evesham Council Meeting:
Feb. 23, 4 p.m. at the Evesham Municipal Building, 984 Tuckerton Road, Marlton
THE LOCKER ROOM
STARS
Star Athletes
Cassie Hoxit and Shannon Storms
Lenape's Hoxit and Storms set a new school record in the pole vault relay in January at the indoor track State Relay Championships. The girls notched a combined vault of 19-0, which earned them the school record as well as a second place finish for the day.
Star Athlete
Isabella Therien
Cherokee junior Therien helped lead the Chiefs to a win in the South Jersey Invitational semifinals thanks to an impressive 19 point second half against Sterling High School. Therien notched more than half of the 37 total points scored by Cherokee, scoring 10 points in the first five minutes of the second half alone.
ROSTER BEAT
Team, player and coach news
Former Lenape basketball star and current NBA player Jason Thompson will be inducted into the Rider University Athletics Hall of Fame in June. Thompson, a forward for the Golden State Warriors, is third on Rider's all-time scoring list and first in rebounds. He helped lead Lenape to its first state championship in basketball in 2004.
Jamie Bowne, a junior on the Cherokee girls swimming team, was the lone double winner in Division A at the SJISA Coaches Invitational. Bowne clocked a time of 1:55.85 to take first in the 200 freestyle, and added a victory in the 100 butterfly with a time of 58.34.
The Lenape boys swimming team advanced to the sectional final for the third year in a row. This time around, the Indians made it to the Central Jersey Public A final thanks to a 101-69 victory over East Brunswick in the semifinals. Although they fell short of the title, they finished the season with an impressive 8-3 record.
Cherokee girls basketball players Shaye McGoey and Isabella Therien each made the all-tournament team at the South Jersey Invitational Basketball Tournament. McGoey, a senior, and Therien, a junior, helped the Chiefs reach the tournament final.
Published (and copyrighted) in Suburban Family Magazine, Volume 6, Issue 12 (February, 2016).
For more info on Suburban Family Magazine, click here.
For information about advertising in Suburban Family Magazine, click here.
To find out where to pick up your copy of Suburban Family Magazine, click here.