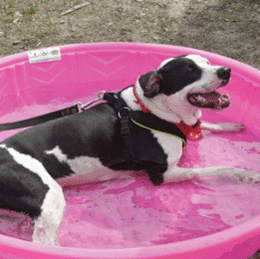 Pet Guide: Beating the Summer Heat
Keep your furry friends healthy and happy this summer by watching for the season's biggest pet dangers.
It's summertime and the living's easy; the sun is shining, school is out and the pool is open. But as the summer gets into full-swing the days are only going to get hotter, and for your pet or furry family members that could mean danger.
"The basic way that people cool is by sweating, which dogs and cats can't do," explains Dr. Amy Sclarsky, co-owner of the Garden State Animal Hospital in Cherry Hill. "They really only have very limited means to cool their bodies, so they're really susceptible to overheating. They're also out and about more, so we tend to see an uptick in activity-related injuries in the summer."
So how can you enjoy the summer with your pets in tow without risking injury or overheating? Don't worry; there are more than enough options.
Staying cool
If you've got a particularly excitable dog then you know it doesn't take much to get their tails going and tongues wagging, but when it comes to the summer heat, that panting can also indicate signs of trouble. "If you're uncomfortably hot during activity outdoors, chances are that your dog is three times as uncomfortable," says Sclarsky.
Now is a good time to speak with your vet to find out just how much outdoor activity your particular breed of dog can endure. "Dogs with short noses and long, soft pallets like the bulldog already have difficulty breathing, so they can really only go out and do their business during the summer. But a dog like a greyhound can stay out for a lot longer," says Sclarsky. "It's an important conversation to have with your vet, but on a really hot day most dogs should really only go outside, do their business then get back in the cool air and play indoors."
Sclarsky says to watch your dog's panting habits; if it doesn't stop for several minutes after exercise then you may be dealing with the onset of overheating. "[If that happens] cool the dog with cold water, give them ice cubes to lick, and keep them in a cool environment."
At the Animal Welfare Association of New Jersey in Voorhees, dogs have access to plenty of shady spots and baby wading pools. "If you don't have a baby pool, a sprinkler is always a good option," says AWANJ executive director Maya Richmond. "Do as much as you can to keep them off the concrete or asphalt, because that radiates the most heat."
And while water can keep your pet cool, pushing your swim habits onto your pet can lead to fears or phobias. "Don't start with the deep end, and don't push them. It may look like fun to you but if you have a small, little dog it might not be fun to them," says Richmond. "Take them somewhere like a lake, let them get acclimated and figure out what works for them."
Protecting against pests
As pets are out and about more in the summer, they become more susceptible to the outdoor elements. That includes cuts and small injuries like missing nails, as well as ticks, mosquitoes and other pests. But just a few steps can help prevent extra trips to the vet in the summer.
"If you're out in the woods with your pet or in the park, comb them down and check them out when your walk is done," says Sclarsky. "Or before the day is over and you head to bed, give them a quick check for ticks."
"And pay attention to spider bites in the summer," says Richmond. "We do have Black Widows [in New Jersey] and other spiders that could be potentially hazardous. If you see swelling without a tick nearby then you'll want to go and talk with your veterinarian. To help at home you can keep woodpiles, lawn trimmings and areas like that clean and clear."
Getting on the road
What's a road trip without the whole family? When packing and planning your summer vacation, adding some pet perks to the itinerary can lead to a happier ride for everyone.
"You want to plan out your route—some road stops aren't pet-friendly, and some don't have shade so it doesn't help pets, so you want to find places like that in advance," says Richmond, who also suggests seat belting your dog to prevent distractions. "And see if you can find some pet-friendly restaurants where the family could sit outside and eat."
Make sure to pay attention to your pet's heat and comfort as well. "Make sure you bring lots of water, and pay attention to the air flow and circulation in the car. You may be comfortable in the front seat but they may not be comfortable way in the back," says Richmond. "Pack cool packs and wet towels in advance so they can stay cool as you drive. Or you can freeze your metal water bottles and place them near the dog."
The Dish on Doggy Daycare
If you're heading out for a trip that may not be fit for your pet, doggy daycares or boarding programs could be right for you. Here are five quick facts on daycare options for your pet.
1. Some doggy daycare facilities are "as close to a home environment as you can get," according to the Halo House Animal Resort website, with amenities that include lamb's wool blankets, themed rooms, and even soothing music played throughout the day.
2. Hectic vacation schedules often don't align with typical dog boarding facilities, so look for one that is available to pick up and drop off dogs during any hours. "We offer standard check in times, extended check-in and check-out, but we are never closed," explains Scott Winsten, owner of the Atlantic City Pet Hotel.
3. Safety is a top priority for all doggy daycares, as most facilities require dogs to undergo a temperament testing. Dogs must have had certain vaccines, including rabies, distemper and bordetella as well, helping to ensure that each dog is healthy and friendly.
4. If your dog doesn't play well with others, try a pet sitting service. Pet sitters visit your house so your dog feels safe and comfortable. "We go in 3-4 times throughout the day, and do things like feeding, potty breaks, playing, and socialization," says Le Ann Frost, of All Dogs Poop.
5. Be on the lookout for perks, too. Many doggy daycare facilities offer discounts on other services, such as grooming and training, when dog owners make use of the daycare services.
Published (and copyrighted) in Suburban Family Magazine, Volume 6, Issue 4 (June, 2015).
For more info on Suburban Family Magazine, click here.
For information about advertising in Suburban Family Magazine, click here.
To find out where to pick up your copy of Suburban Family Magazine, click here.