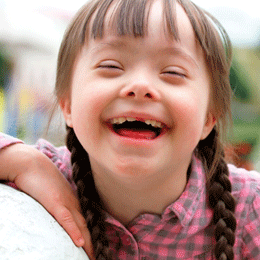 Finding Support for Special Needs
Families and medical experts offer tips on facing a special needs diagnosis at any age.
Having a child is a monumental experience. But when your child is not developing appropriately or is diagnosed with a disability, whether it's shortly after birth or later in life, that elation can quickly change to devastation. Visions of watching your child begin to babble, roll over, sit up, crawl, walk or go to school turn to new questions you might not be prepared to answer.
"Parents are the first line of defense in advocating for their children," says Dr. Persephone Jones, chief of the Division of Developmental Medicine at Nemours Children's Health System, which includes Nemours duPont Pediatrics, Voorhees and Nemours/Alfred I. duPont Hospital for Children. "Voicing [their] concerns is the starting point to getting further evaluations and assessments that can point to appropriate therapies and treatments that your child may require."
Kristen Buff of Haddon Township learned firsthand about the benefits of early intervention when her son, Desmond, was diagnosed with Down syndrome at birth.
In her early 30s, Buff had a risk-free pregnancy and was surprised by her son's diagnosis. "A nurse practitioner in the delivery room picked up on some symptoms of Down syndrome and the doctors immediately ordered a blood test to confirm the diagnosis," she says. "The biggest adjustment … was not understanding what all of the test results meant and being unsure of what we could do to help our son.
"One of the NICU nurses at the hospital has a young son with Down syndrome, and she reached out to us about the support groups available, the early intervention process and how to access some of the benefits that Desmond would need when it came to therapy and other medically related services. It was nice to have that initial contact with someone else who had been through what we were experiencing, and she helped make the process a little less terrifying."
From birth to age 3, infants and toddlers with developmental delays or disabilities are eligible for state-funded early intervention services under the New Jersey Early Intervention System (NJEIS), a division of the Department of Health's Division of Family Health Services. Early intervention services focus on teaching physical, cognitive, social/emotional, self-help and communication skills that babies and toddlers need to develop and can include speech and language therapy, occupational therapy, physical therapy, nutrition services and/or feeding therapy, assistive technology, psychological services and counseling and support for the family. Under the Individuals with Disabilities Education Act (IDEA), evaluations and assessments for early intervention are provided at no cost to parents.
"In addition to providing services, the goal of early intervention and rehabilitation is to educate parents and families on how to understand the disability and how to function within that disability," says Jackie Grimenstein, director of outpatient services at Weisman's Children's Rehabilitation Hospital in Marlton. "When you're faced with a special needs diagnosis, you're often dealing with a sudden change in expectations, and that can be difficult to process and understand. More than anything, these children and their families need a support system to help them navigate through this new reality."
When it comes to a special needs diagnosis, "Knowledge is essential to parents," says Dr. Gregory Alberts, director of neuropsychology at the Center for Neurological & Neurodevelopmental Health (CNNH) in Voorhees. "Most kids diagnosed with developmental disabilities—whether it's an autism spectrum disorder, ADHD, cerebral palsy, Down syndrome, or any other developmental or intellectual disability—don't have just one issue. You're typically dealing with multiple issues, and it's important to provide parents with an accurate diagnosis and explanation of how the problem likely developed."
Organizations like CNNH can help parents obtain a thorough evaluation using a variety of diagnostic tests to help determine the cause of the disorder and develop a comprehensive treatment plan, which can include a variety of therapies, social skills groups, counseling and support groups.
"We provide parents with the information they need to navigate through the process of finding appropriate treatments and support for their children," says Alberts. "With so many behavioral-based interventions and therapies available today, it's hard to know if what you're doing is the right thing at the right time for your child. We aim to help parents determine what is clinically and educationally necessary and appropriate to move a child forward and promote their ongoing progress."
Once kids reach the age of 3, they are transitioned out of early intervention and into the special education system, overseen by the state Department of Education and implemented by a child's individual school system. Preschool services and therapies, including speech and language, occupational therapy and physical therapy, behavioral therapy and other necessary services are provided via a child's Individualized Education Program (IEP) or 504 plan, which is drafted with input from parents, the school psychologist, therapists and other members of the child's treatment team. The IEP provides for curriculum modifications and specially designed instruction for students with cognitive, emotional, intellectual or developmental disabilities, while the 504 plan is mostly geared toward students with physical disabilities that do not directly interfere with their ability to learn.
In order to facilitate either of these plans, parents must request an evaluation by the school district to determine what services need to be put into place to address their child's needs.
"It's important to communicate with your school district early and often," says Matthew Sharp, principal at Bancroft, based in Haddonfield, which provides educational programs and supports for children and adults with autism, intellectual or developmental disabilities and individuals in need of neurological rehabilitation.
"When you have a child with special needs, advocacy will be necessary throughout that child's lifespan, often into adulthood. An IEP provides a roadmap to the services your child requires to be successful. It's important to work together as a multi-disciplinary team, including teachers, therapists, administrators, and parents to determine your child's specific needs and understand that the IEP will continue to grow and change along with your child."
Benjamin Kurtz, 13, who has low-functioning autism and is non-verbal, has been in and out of the Bancroft program since the age of 3. "When Ben wasn't babbling or making eye contact and doing things other kids his age were doing, I sought a diagnosis," says his mother, Pam Kurtz, who was also a special education teacher and knew some of the characteristics of autism. "Ben was officially diagnosed with autism at 15 months by a developmental pediatrician and began early intervention services, including Applied Behavior Analysis (ABA), speech therapy and occupational therapy. When he became eligible for special education services through the school district, we observed the public school program and didn't think it would be an appropriate setting for him."
Ben eventually attended public preschool with a Bancroft aide and later returned to the school for his elementary education programs. When he turned 12, Ben's mom began looking for a residential program to help with the consistency of his goals.
"We're getting to the stage where we need to begin looking down the road for Ben as an adult and wanted to find a place that could address his needs through adulthood," says Kurtz. "At Bancroft, Ben is able to continue his ABA therapy, focus on communication and self-help skills and be part of a community where he feels comfortable and accepted."
As kids get older, "It's important to focus on the transition between school life, college life and work life," says Karen Huber, director of admissions and clinical services at the Y.A.L.E. school, based in Cherry Hill, with facilities throughout New Jersey and Pennsylvania. "It's important to have a comprehensive transition plan for kids ages 14 and older. Parents need to begin thinking about college preparation, school-to-work opportunities, and vocational programs to help young adults transition into the world outside of school."
In some cases, a special needs diagnosis may not be made until much later in childhood or even into the teen and adult years. In these cases, it's particularly important to provide the individual with a support system of people with similar challenges to help them process the diagnosis and let them know they're not alone.
"We're seeing an increasing incidence of adolescents and young adults, as well as older adults, being diagnosed with autism and other intellectual disabilities," says Lisa Goring, executive vice president of programs and services for Autism Speaks. "Many of these individuals say they feel a tremendous sense of relief after being given a formal diagnosis and [it] helps them explain the symptoms they've been experiencing for years."
Autism Speaks recently developed a tool kit designed to help adults who suspect they may have autism, as well as those recently diagnosed with the disorder, entitled "Is It Autism and If So, What Next?" In addition, the group provides a toll-free hotline for individuals and their families looking for information, resources and support when dealing with an autism diagnosis.
No matter what the disability, having access to the appropriate therapies, supports and services to help an individual and their family members deal with a special needs diagnosis is the key to making life easier and more manageable for everyone involved.
Published (and copyrighted) in Suburban Family Magazine, Volume 6, Issue 4 (June, 2015).
For more info on Suburban Family Magazine, click here.
For information about advertising in Suburban Family Magazine, click here.
To find out where to pick up your copy of Suburban Family Magazine, click here.