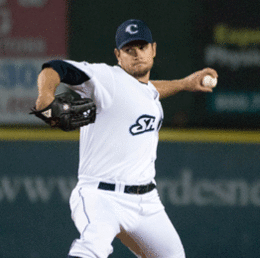 Back in the Game
If these top athletes can overcome the odds, then so can you.
Sports injuries can be hard, not just physically but also mentally. Just ask some of the athletes in our area, competitors whose dreams were dashed in one quick second. Not only are they put out of commission, but a serious injury could also mean losing the competitive edge that is so important to them.
But with the right tools and resources, a sports injury doesn't have to keep you on the sidelines for long. We spoke with two of our area's top athletes and their team of trainers, physicians and therapists to hear their stories of recovery, and find out what it takes to get back in the game.
ATHLETE: Ryan Kulik
Camden Riversharks pitcher Ryan Kulik (pictured)knows that playing sports at a high level means accepting some of the ups and downs that may come with it. A former Rowan University star, Kulik reached Triple-A with the St. Louis Cardinals in 2011 until a UCL tear required him to have Tommy John surgery, or a UCL reconstruction. Since then he's been signed and released several times—including with the Colorado Rockies—and has ultimately come back to South Jersey.
"The road has been full of a lot of ups and downs," says Kulik, who is currently coaching at Rowan while continuing to play for the Riversharks. "But it's been a great journey so far."
That's not to say it's been easy. Recovery from a UCL injury is quite difficult in itself and Kulik says it took almost a full two years to get back. That road to recovery included a lot of therapy and a lot of workouts.
Phillip Donley, a physical therapist at Optimum Physical Therapy Associates, who has served as a consultant to the Philadelphia Phillies, and worked with many baseball players in his impressive 57 years in the field, says that it doesn't matter what the sport is—if the athlete isn't willing, rehab isn't going to be successful. But Kulik showed up to recover.
"Some athletes just want to get better, but Ryan wanted to return to his sport," Donley says. "There has to be that drive if you truly want to get ready to play. Ryan had that."
Christian Lee, owner and founder of Escape Fitness Center, the gym where Kulik trains, agrees that goals are incredibly important for anyone looking to get in—and stay in—shape.
"Every athlete and client is different but the first thing we talk about is their goals," Lee says. "We then customize our program to that goal."
Lee spent a lot of time with Kulik doing a full movement assessment and looking to get to the root cause of that tear. Through an assessment period and muscle testing, Lee is able to figure out what's working well—and what's not. Then they proceed from there.
"We do that with everyone—not just athletes," Lee says. "There is no one-size-fits-all approach to fitness. We customize it to the client."
For Kulik, having the right team in his road to recovery has made a huge difference. "I've learned a lot," Kulik adds. "I feel like I was able to come back stronger not only physically, but mentally too."
ATHLETE: Deandra Turchi
Having played soccer since she was a toddler, 23-year-old Deandra Turchi, a former Rowan University star, has certainly been through the wringer in terms of injuries. In the span of two and a half years, she injured both ACLs. But she certainly hasn't let it get her down.
Turchi's first ACL tear was in 2010. Because of her injury, she medically "redshirted," and was able to stay on Rowan's team for a fifth year, while attending graduate school. She finished out her final season strong and went on to try out for a professional team. But on that very first day of tryouts, Turchi tore her other ACL.
"I couldn't believe it," she admits. "I felt stronger and better than ever and then this happened. It was two and a half years later and a different knee. I had to start the whole process over."
Turchi had her second ACL surgery with the same Rothman Institute surgeon and got back into physical therapy and training.
"The kind of therapy involved with a knee injury is primarily focused on range of motion," says Steve Sonsini, Turchi's physical therapist with Cross Keys Physical Therapy. "The knee is a simple hinge joint that essentially just flexes and extends. So we work on getting that back with gentle strengthening exercises."
After her first ACL recovery, Turchi also began training with Endeavor Sports Performance in Pitman. Kevin Neeld, director of performance, says that Turchi rehabbed fully and worked "exceptionally hard."
Knee injuries are a fairly common sports injury—not only in high level athletes, but everyday athletes as well. Neeld adds that despite the knee being the site of the injury, the knee itself is rarely the problem.
"In the overwhelming majority of cases, knee injuries occur because of a restriction or limitation at the ankle or the hip," Neeld explains. "A lot of non-contact ACL injuries result from the knee collapsing inward under load. If an athlete lacks ankle mobility and/or hip control, they're going to default to this knee collapse pattern, which puts them at a greater risk for injury."
Neeld says that's why an assessment is such an important part of training all athletes. Just because they're not injured doesn't mean they're moving optimally. And while Neeld says there are ways to decrease injury risk, nothing is absolute. "You can't necessarily prevent these types of injuries," adds Sonsini. "But the good news is that in most cases, you can get back into it—whatever it may be. If the highest level athletes can get back into their sports, you can get back too."
For Turchi, getting back to "it" means getting back to her best self—even if she doesn't go on to play professionally.
"My future is likely going to be more about taking off with my career and looking for opportunities to coach," Turchi says. "But I'm still going to train like I plan to play again. I want to be the best I can be."
And Turchi has some words of advice for others who are overcoming injury. "When you get discouraged, you lose sight of the bigger picture," she says. "I'm a big believer in the idea that everything happens for a reason. It's possible my injury could have saved me from something worse happening. Stay positive and know that something better will come along."
Resources
Cross Keys Physical Therapy
151 Fries Mill Road
Turnersville
(856) 374-3707
CrossKeysTherapy.com
Endeavor Sports Performance
614 Lambs Road
Pitman
(856) 269-4148
EndeavorFit.com
Escape Fitness Center
135 Route 70
Medford
(609) 654-8900
EscapeMedford.com
Optimum Physical Therapy Associates, PC
133 Turner Lane
West Chester, Pa.
(610) 344-9725
OptimumPT.com
Published (and copyrighted) in the Art of Living Well pull-out section of Suburban Family Magazine, Volume 6, Issue 3 (May, 2015).
For more info on Suburban Family Magazine, click here.
For information about advertising in Suburban Family Magazine, click here.
To find out where to pick up your copy of Suburban Family Magazine, click here.