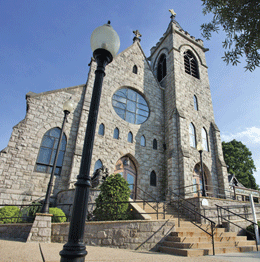 Community Connection: Moorestown
This family-friendly town blends historic charm with modern amenities.
It's been 10 years since Money magazine named Moores­town the best place to live in the country, but the town's pride can still be seen on every face walking down Main Street and felt on the stunning Victorian homes that line the township's streets. Just ask Moorestown mayor Victoria Napolitano: The 26-year-old is the youngest mayor in the town's history, and says that it's not hard to see just why residents love Moores­town so much.
"Moorestown is perfect for families," Napolitano says. "Moores­town is not just a town; it's a community—one where neighbors really care about one another and about the town. People look out for one another. Add to that wonderful recreational, arts and athletic programs offered both through our thriving Department of Recreation and a multitude of private clubs and you see why so many families move to Moorestown. That's not even to mention our schools, which are some of the best in the region."
Between the public schools—which have become known as varsity powerhouses nationwide in sports like lacrosse, swimming and soccer—and Moorestown Friends School, a pre-K through 12 campus with one of the state's highest average SAT scores, the township has become known for their educational foundation.
New to Moorestown is the town hall and library complex, which underwent a complete, $16.2 million rebuild over the course of several years before opening to the public last July. The new library features an interactive children's wing, heated floors, new Web capabilities and special windows and lighting to protect and preserve books. "This beautiful new facility has quickly become a focal point of our community, and it has really enhanced the character of our downtown area," says Napolitano.
And Napolitano says that you can expect some fresh changes to shake up Moorestown in 2015 as well, which will make shopping and sightseeing even easier.
"Over the next year we will be improving our parking facilities around Main Street, which is going to improve the shopping experience for our residents and visitors, and support our local businesses," she says. "We will be upgrading our parking meters, and completely redesigning our municipal parking lot (which will remain free to park in.) Not only will the new lot be more visually appealing, it will also increase our total spaces by 25 percent, while remaining in the same footprint."
Still, while the new and improved is continuing to bring Moorestown into the 21st century, the old school touches of the historic homes, churches and landmarks will help keep that hometown feeling alive for years to come.
Fab Five
Mayor Napolitano shares her five favorite spots in Moorestown
Waterworks Woods: "Everyone is familiar with Moorestown's beautiful Strawbridge Lake Park, but many people don't know about the gorgeous wooded trails on the other side of the lake."
Moorestown Mall's Restaurant Row: "I'm a bit of a foodie. … It is incredibly exciting to have restaurants from renowned chefs and restaurateurs right here in town."
Thomas' Ristorante: "My husband and I had our rehearsal dinner at Thomas' Ristorante, so it will always be a special place for me."
Boundary Creek Park: "The design of this park is award-winning, and it's easy to see why. … I love to bring my camera here."
The White House Diner: "It's exactly what you want a small-town diner to be."
Mark Your Calendar
Check out these events happening around Moorestown in 2015
June 6: Moorestown Day
July 16-25: Moorestown Theater Company Presents: Mary Poppins
Oct. 10: Autumn in Moorestown Festival
Oct. 18: Halloween Parade
Nov. 6: Candlelight Night
Published (and copyrighted) in Suburban Family Magazine, Volume 6, Issue 3 (May, 2015).
For more info on Suburban Family Magazine, click here.
For information about advertising in Suburban Family Magazine, click here.
To find out where to pick up your copy of Suburban Family Magazine, click here.