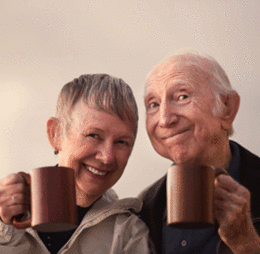 A Home of Their Own
Finding the senior option that's best for everyone's needs
Growing old isn't easy, for anyone. For Mike Lando, executive director at Spring Hills Cherry Hill, the concerns that children face as their parents age are all too common, and he says it's a conversation he's quite used to having. "[They'll say] she doesn't seem to be eating well, the house is not as tidy as it used to be. [Or] she struggles to read and open her prescription medication bottle and opts not to bother taking anything, or worse—she takes the wrong medication in the wrong dose," he says.
And while your parent or elder loved one may be doing "OK," having the difficult-but-honest conversation about elderly parent care can be the most successful outcome for everyone.
Where to begin
There are so many options out there for senior housing, but where do you begin?
"Know what it is that you or your loved one needs help with," says Melissa Repkoe, community operations manager at Brandywine Senior Living at Voorhees. She warns that adult children often see their parents as more independent than is true.
"Seniors and their family members need to discuss what the potential needs might be in the future," agrees Debbie Callahan, director of marketing for Friends Village at Woodstown. If a person has no chronic conditions and is in general good health, maybe an active adult community is a good choice. "If aging-in-place is preferred, how do you remove some of the stress of homeownership that may be burdensome?
If seniors are experiencing or have experienced changes in their health, then the conversation with family may lean toward researching and considering communities that provide health services to residents," she says.
There are many choices, from staying at home with loved ones or home health aides and going to adult day centers, to residing in a community specifically created for seniors and their changing needs such as independent or assisted living. There are also secure memory-care environments for those dealing with Alzheimer's and dementia-related care as well as long-term care facilities.
Families can contact their local state department for health and senior services, says Christina M. O'Leary, director of branding and media at Spring Hills Cherry Hill. Gather information and get referrals from friends and family who've already been through it. She also suggests websites and social media. "Baby boomers 65-plus make up the largest demographic on Facebook and YouTube is used by 85 percent of boomers," she says, also suggesting reviewing sites like Google Plus and Yelp. "Research shows that 72 percent of customers trust the reviews they read online to help in their next step of the decision-making process."
The options
Adult Retirement Communities (or Active Adult Communities) are designed for active, independent people 55 years and older, says Sherry Outten, vice president and executive director of Lutheran Crossings Enhanced Living at Moorestown.
Generally for purchase, some rental units may be available and may be single houses, duplexes, condominiums or garden apartments. They offer social and recreational activities but generally no medical or nursing services, although some communities now arrange for such services, she says. A manager oversees general outdoor maintenance and upkeep, a monthly fee is charged, and the resident pays property taxes.
Continuing Care Retirement Communities (CCRC) provide housing, services and health care, including nursing home care, explains Outten. The community's continuum of care meets the needs of individual residents, beginning with independent living through skilled nursing care. The CCRC contract defines the housing and services to be provided, including meals, housekeeping, linens, 24-hour security and recreational services.
The entrance fee "guarantees shelter and access to various health care services, whether these services are pre-funded or provided on a fee-for-service basis," she says.
Assisted Living Residences (ALR), licensed by the Department of Health, "are community-based facilities offering a special mix of housing, personalized support services, and health care designed to promote maximum independence and dignity for each resident," says Outten. These facilities promote "aging in place" with apartment-style housing or rooms and congregate dining with assisted living services when needed. Apartment units typically include a room, private bathroom and kitchenette, and provide three daily meals, activities, medication supervision and limited health services, she says.
Financial aid options exist
Most senior apartment facilities offer rent adjustments based on income, says Callahan. "Assisted living facilities and other communities with health service options are primarily private pay, but every facility is different." Also, veterans may qualify for federal financial support. Ask about financial aid when visiting various communities.
Affordable/subsidized housing might be a solution. These are priced for households making 80 percent or less of the county median income, says Outten. "Both the Council on Affordable Housing (COAH) and The Department of Community Affairs can be contacted to obtain information about affordable housing in New Jersey communities," she says. There are income limitations for eligibility for this type of housing.
At many communities, if a resident spends all of his or her assets, he or she will receive help from the State Medicaid program. Medicaid may cover the cost of a resident's stay, and maintain the level, says Repkoe.
There's more
For seniors opting to remain at home, consider enrolling in an adult day program, explains Callahan. "Day programs offer support for medication management, appointments, nutrition and socialization." Transportation is offered. Also, in-home aide services can help with light housekeeping, laundry, meal preparation, shopping and personal care like bathing, dressing, walking, etc. "These types of services are billed at an hourly rate," says Callahan.
Nursing homes—residential facilities that provide 24-hour supervision by licensed and certified staff—emphasize medical care as prescribed by a physician along with personal care services such as bathing, dressing, grooming and three meals a day as well as physical, occupation and other therapies as prescribed by a physician, says Outten. Services can address an individual's social-emotional needs.
Every county in New Jersey has an Office on Aging, says Callahan. This is a good place to start for information about local resources and programs.
"The key for anyone considering senior living options is to visit facilities and communities before making a decision. And to do it while they can rather than after a serious health care event has placed limitations on their abilities," says Callahan.
Whatever the decision, when seniors are part of deciding on the solution of their own free will before someone else has to make it for them, they are still managing their own future, says Lando. "This sense of being in control is extremely important and makes for a better situation for everyone involved."
Resources
Brandywine Senior Living at Voorhees
311 Route 73 | Voorhees
(856) 424-0004
BrandyCare.com
Friends Village
1 Friends Drive | Woodstown
(856) 769-1500
FriendsVillage.org
Lutheran Crossings Enhanced Living at Moorestown
3 Manhattan Drive | Burlington
(609) 386-7171
LSMNJ.org
Spring Hills Cherry Hill
1450 Route 70 E. | Cherry Hill
(856) 298-1407
Spring-Hills.com
Published (and copyrighted) in the Art of Living Well pull-out section of Suburban Family Magazine, Volume 6, Issue 3 (May, 2015).
For more info on Suburban Family Magazine, click here.
For information about advertising in Suburban Family Magazine, click here.
To find out where to pick up your copy of Suburban Family Magazine, click here.