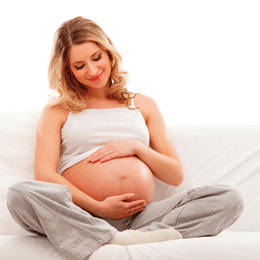 The New Birth Plan
Medical experts and obstetrics professionals share the advancements and changes in the world of childbirth.
Who are some of the first people you go to when you find out you're pregnant? For most women, it's their close family and friends, and mothers and sisters always find their way to the top of the list. And as your pregnancy progresses, it's those maternal presences that tend to be the No. 1 helping hand, with plenty of tips and advice in tow. But while mother knows best, you may be missing out on helpful new advancements in obstetrics that could put some of your worries at ease and even save you time and money.
Dispelling common myths
We've all heard myths and rumors about what to avoid and what not to do during your pregnancy, but according to Dr. Emily Ricci of Garden State OBGYN, it's best to ask a professional source before depriving yourself of anything.
"There are these rumors out there on the Internet, but Dr. Google can be very dangerous," says Ricci. "People go on blogs with no real medical information, with only antidotal information and it can be very stressful for them."
Ricci says that food in particular is always a hot topic in her office. "There are a lot of misconceptions about what they can and can't eat. Those are things pregnant women are always looking up on the internet or asking their moms about. Fish is a big thing that people ask about. Shrimp, shellfish, those are all fine, but you do want to avoid high mercury fish like tuna and swordfish."
Medications are another hot topic. "A lot of people are under the impression that they can't take any medications during pregnancy, and abruptly stopping medications can be problematic," says Ricci. "Especially medications for blood pressure or depression, since both of those can be taken during pregnancy."
Ricci notes that pregnant women can even dye their hair, as long as they have no skin infections on the scalp. But when in doubt it's best to ask a professional before taking a risk. "I always suggest calling your physician if you're unsure," she says. "We have triage nurses who answer these questions all day long."
What to expect
The obstetric experience has changed over the years as well, with more technology available now than ever to help women understand their pregnancy. Ricci explains that she typically begins seeing patients around six to eight weeks into their pregnancy, but even that has changed as pregnancy tests have become more advanced.
The method of fertilization, age and genetic history can all be taken into consideration during pregnancy.
Along with the standard fetal ultrasounds, one of the most popular testing options for pregnant women is for chromosomal abnormalities, which can be done with a sequential screen, additional sonograms and blood testing that can screen for fetal Down syndrome. There are also genetic counselors available to help understand the process for patients.
Ricci says that while the options are out there, they may not be the right fit for everyone.
"Before taking too many tests I tell a patient to ask what they would do with their information," she explains. "Some people like to plan and prepare, but some might not actually want to know about genetic testing or other results because it wouldn't make any difference in their pregnancy. We suggest talking with your spouse or partner and figuring out what is best for your plan."
And since the Affordable Care Act went into effect, women can now receive free breast pumps at 36 weeks of pregnancy, instead of having to pay for one out of pocket. This added perk is giving expectant mothers more of an opportunity to understand breast feeding. "There used to be a lack of education, a baby would instantly be put on formula and a mother might not even know that they could do this," says Nicole French, of Accelleron Medical Products, a company that provides personal, double electric breast pumps to women for free through their insurance plans.
French says Accelleron—which also provides infant nebulizers to patients in need—has partnered with obstetrics practices and prenatal classes across the state to help spread knowledge about breast feeding, and teach the emerging trend of prenatal and postpartum wellness.
"We try make sure that moms have the right information they need," says French. "The worst thing a mom could do is call the number on the back of their insurance card, because they often don't have the answers you're looking for."
The big moment
Medical experts are also focusing on wellness when it comes time for delivery, while many hospitals and delivery rooms are working to become certified "Baby-Friendly" through the World Health Organization and United Nations Children's Fun, as well as national group Baby-Friendly USA Inc. To do that, hospitals must implement breast feeding education options and programs on breast milk substitutes, and must also support skin-to-skin contact for new mothers and babies immediately after delivery.
"There's such a focus on wellness, and there is so much new scientific evidence for infant weight gain and natural viability for those who are breast-fed versus those who are formula-fed," says French.
French is also a certified lactation specialist, and says that mothers in need can find help from professionals in almost all hospitals. "I tell women to have a feeding plan prior to delivery, and when a lactation specialist comes into the hospital don't be afraid to ask any questions," she says.
Ricci says that while nothing can really prepare a new mother for delivery, she urges her patients to take delivery and birthing classes, and to talk about delivery in their prenatal visits.
"Patients need to keep an open mind for delivery," she says. "You can plan and decide how you'd like to go, but it is unpredictable at times. Keep an open mind and consider that you've never experienced labor or that type of pain, and don't let that discourage or upset you."
Resources
Acelleron Medical Products
(877) 932-6327
Acelleron.com
Garden State OBGYN
2401 Evesham Road, Voorhees
(856) 424-3323
GardenStateOBGYN.com
Published (and copyrighted) in the Art of Living Well pull-out section of Suburban Family Magazine, Volume 6, Issue 2 (April, 2015).
For more info on Suburban Family Magazine, click here.
For information about advertising in Suburban Family Magazine, click here.
To find out where to pick up your copy of Suburban Family Magazine, click here.