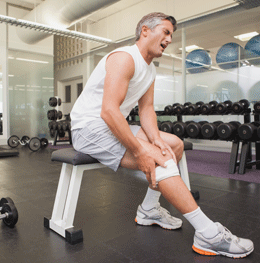 The Top: Workout-related injuries
How to get back into an exercise routine and stay on the right path.
As temperatures start to creep higher and higher, more and more people are starting to leave the house to begin a new workout regimen. Whether they're getting ready for the beach or finally getting to that pesky New Year's resolution, South Jersey's weekend warriors and newcomers are ready to hit the pavement or the gym and get to work.
But you need to be careful and make sure you aren't pushing yourself too hard, or your workout aches and pains could curb you for the summer. We talked to a few area doctors and fitness professionals to learn about the most common workout-related injuries and how people can avoid them.
ROTATOR CUFF TENDONITIS
If you're hitting the gym and starting to lift weights, Brent Michener of M&M Physical Therapy says it's important to have someone watching your form. Any kind of lifting above the shoulder can put a lot of pressure on the rotator cuff.
"The rotator cuff is supposed to centrally locate the ball of your shoulder like it's on top of a tee," he says. "When you're asking them to get into positions where the ball can move more than usual, you can develop that tendonitis very quickly."
Dr. John B. Catalano of Premier Orthopaedic Associates says they get a lot of patients with shoulder injuries because they try to push too much weight and use poor form. He says it's important to find the weight lifting regimen that's right for you. "Do weight lifting activities where you can complete every set," he says. "On the last set, if you can only move the weights twice, you're doing it wrong."
HAMSTRING PULL
Frank Centrone, general manager of personal training at Retro Fitness Moorestown, says hamstring injuries are very common, and can be one of the most difficult to heal. "[People will] stretch their quads or their upper body but lack stretching the hamstring," he says. "The pressure is on the muscle that wasn't stretched in the beginning and it could curl up into a ball, or it can be overstretched and start tearing."
Kirill Vaks of Training Aspects says hamstring injuries are common for beginners, especially at this time of the year. "In the winter, most people are inactive," he says. "The muscles in the front are more active than the ones in the back."
Centrone says a hamstring injury can really linger if not cared for properly. He also says that proper care and effort can make all the difference for the future. "Depending on the degree of the injury, it could be two to eight weeks," he says. "The hamstring is a muscle that you can't not use. It's in motion while you're walking around, so it's generally slower to heal."
IT BAND FRICTION SYNDROME
This tendonous muscle stretches from the outside of the hip, across the thigh and inserts into the inside of the knee. It can rub across the bone when running, causing irritation to something called the bursa sac. Like many other injuries, it comes down to an issue with imbalance.
Catalano says people can take steps to avoid this injury by taking notice of the surface they run on. "One thing runners don't realize is that roads are not flat and have a crown to them to allow water to run off," he says. "It's the down leg that hits the lower slope that will cause problems, and that's where you'll find the inflammation."
Catalano suggests alternating the direction of your run or switching up the routine of your workout by trying softer surfaces like grass fields.
KNEE TENDONITIS
Tendonitis is one of the most common injuries for people who are just getting back into the swing of working out after a long break. Michener says they can occur at really any joint, but knee tendonitis is very common for runners.
"It's an overuse type of injury," he says. "Your muscles are tight and not conditioned for running." When you aren't used to the correct form of an exercise, it can put stress on the tendon rather than where you want it on the muscle. Michener says tendonitis can lead to a four to five week recovery time so it's good to do whatever you can to avoid it.
He says dynamic stretching that mimics the movement of the activity you're going to do is the best way to make sure your muscles are prepared.
SHIN SPLINTS
This nasty injury can be brutal for beginner runners, and Michener says they are your body's way of saying your legs aren't getting enough rest. "When you work out, your body is going through a phase of breakdown," he says. "On your rest time it goes through a rebuilding phase. Shin splints are your body not being able to keep up."
Dr. Anthony Lafferty of Lafferty Family Chiropractic says he can use a method known as the active release technique to treat shin splints. "The process uses soft tissue contact to lengthen the muscle and take stress off the bone," he says. "It can cure shin splints, and it could work as a preventable measure."
Michener says he is often tasked with giving runners with shin splints the bad news that they have to stop running until their body can catch up and recover. However, they can still remain active. "You can increase reps with your upper body even if you're just standing," he says. "Then you can progress into a bike."
ANKLE INJURIES
Vaks says one of the best ways to avoid injury is to make sure your body is balanced. When you take a couple of months off from working out, some muscles stay dormant or underused. Vaks says if you don't take the time to get those muscles back in the game, you're asking for trouble.
A sprained ankle might seem like it can come out of nowhere, but it may actually be an indicator of some kind of imbalance. "People usually say, 'I don't know. I stepped wrong and twisted my ankle,'" Vaks says. "But it's never that you just stepped wrong. It's a consistent reinforcement of a dysfuntion that forces that to happen."
Catalano says it's always best to rest a sprained ankle, because rushing back could turn a relatively short recovery into something much more serious. "If people have repeated sprains and keep turning their ankle, multiple sprains could cause loose ligaments and damage to the ankle," he says. "It's best to rest and wrap it and elevate it for a good five to seven days."
RESOURCES
Lafferty Family Chiropractic
403 Commerce Lane
West Berlin
(856) 768-7737
LFSportsChiro.com
M&M Physical Therapy
23659 Columbus Road| Columbus
(609) 324-1200
431 Larchmont Blvd. | Mount Laurel
(856) 234-4600
773 Route 70 E. | Marlton
(856) 988-7999
MMPTNJ.com
Premier Orthopaedic Associates
201 Tomlin Station Road
Suite C | Mullica Hill
(856) 223-0007
101 Lexington Road | Woolwich
(856) 832-0364
330 Front St. | Elmer
(856) 358-2559
298 S. Delsea Drive | Vineland
(856) 690-1616
POASNJ.com
Retro Fitness of Moorestown
200 W. Camden Ave.
Moorestown
(856) 642-1600
MoorestownNJ.RetroFitness.net
Training Aspects
910 Berlin Road
Voorhees
(856) 448-4196
TrainingAspects.com
Published (and copyrighted) in the Art of Living Well pull-out section of Suburban Family Magazine, Volume 6, Issue 2 (April, 2015).
For more info on Suburban Family Magazine, click here.
For information about advertising in Suburban Family Magazine, click here.
To find out where to pick up your copy of Suburban Family Magazine, click here.