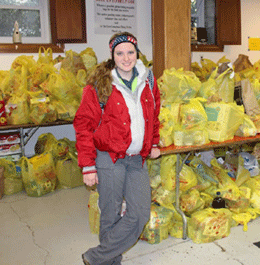 2015 Suburban Family's Citizens of the Year
The generosity and kindness that come out of South Jersey never cease to amaze us. From the star citizens, students, teachers and more that appear in our magazine each month to reader submissions from family, friends and coworkers, our area is full of exceptional people doing good. So why not celebrate that?
Meet our annual Citizens of the Year for 2015—men, women, boys and girls who are going well beyond what's expected just to help their neighbors. This year our wonderful citizens' good deeds are spanning the globe, from a local nurse who risked life and limb to help others in need to a local musician who is empowering other girls through her remarkable talent and more.
Victoria Ieradi
Mount Laurel

The holiday season is often known as the season of giving, but for 17-year-old Ieradi (pictured) that phrase took on a whole new meaning this year. Ieradi organized and ran the food drive for her Palmyra-based club, Boy Scout Venture Crew 9, an all-inclusive organization that encourages youth development through citizenship and community participation. Ieradi organized a bag drop-off fundraiser, leaving empty bags at each door in Palmyra, Riverton and Cinnaminson and then picking them up once they were filled with non-perishable donations. In all, Ieradi collected 12,000 items by Thanksgiving 2014, all of which were donated to The Bread of Life Food Pantry at the Epworth Methodist Church in Palmyra and given out to families in need during the holiday season.
Andrew Wegoye
Collingswood
When the Ebola epidemic broke out across the world, the fear of contagion managed to creep into our own backyards. But while most local residents were worrying, Collingswood's Wegoye was on a plane to Liberia, diving headfirst into what was the most heavily contaminated country in the world to help others. Wegoye, a Uganda native and nurse with Inspira Medical Center in Woodbury, spent about six months working alongside the United States Public Health Service in Liberia treating those hit hardest with Ebola, sacrificing the comforts of home, the holiday season and risking his own health to help others. It wasn't until the last patient was released from treatment in Liberia that Wegoye planned his trip back to the United States, where he will follow standard quarantine procedures before returning home.
Margaux Vellucci
Moorestown
Moorestown Friends junior Vellucci was one of a handful of girls selected to perform at the United Nations International Day of the Girl in New York City last October. Vellucci, a pianist and member of the Alice Paul Institute's Girls Advisory Council in Mount Laurel, was picked based on a video submission of her performance of Tchaikovsky's Nocturne in D Minor. She played the piece in front of an international audience at the 2nd Annual Speak Out Event at the United Nations, as part of a full day of events that encourages girls from all over the world to embrace their ability to overcome obstacles and to share their resilience and strength through their craft.
Richie Suarez
Voorhees
Eastern grad and Rowan University baseball pitcher Richie Suarez wasn't sure if we would ever get to play the game again after he was diagnosed with acute lymphoblastic leukemia followed by avascular necrosis in his hips, knees and legs—a disease which kills bone tissue. Following a double hip replacement, Suarez was determined to get back on the mound, and worked alongside Rowan's baseball team during his recovery, playing whenever he could. It was this strength and determination that helped Suarez pitch in nine games with his team, with a 3-0 record. Suarez was recently honored with the Most Courageous Athlete Award at the Philadelphia Sports Writers banquet in January, an award given each year to the most dedicated and committed athlete in the area.
Virginia Matias
Camden
Matias, a 28-year-old lifelong Camden resident and Camden County police officer, was recently selected to meet and speak with President Barack Obama. The young officer was one of only five officers in the country picked to meet with the president and Vice President Joe Biden for an hour-long discussion about national policing and its involvement with the communities that the national forces serve. During her meeting, Matias—who serves on North Camden's Neighborhood Response Team—was able to take a seat in the White House's Oval Office, discussing the new and improved police force in Camden County and her involvement in community relations.
Joanie Balderstone and Rebecca McIntire
Cherry Hill
Balderstone and McIntire have been working with the disadvantaged in South Jersey for years, but their light bulb moment came when they realized that South Jersey women in need were still lacking some very basic necessities, like bras and underwear and basic feminine hygiene products. The women created Distributing Dignity—which aims to provide struggling women with feminine products through community and corporate donations—out of their home, and have seen a surge of growth in the last year, thanks largely to events they have organized like their recent St. Patrick's Day event, where they were honored with a proclamation from the Camden County Freeholders which celebrated their work in the county. Balderstone and McIntire have also created drop sites across the area for people to donate, and hold rotating events like dance classes, concerts and even roller derby games.
D.J. Alexis
Sicklerville
The pain that comes with losing a family member is one of the most difficult things to face, but 12-year-old Alexis is using his grief for good. Alexis, a seventh grader at Mullica Hill Friends School, lost his infant brother Emanuel in 2006, shortly after the baby's Dec. 21 birthday at Kennedy University Hospital in Washington Township. But Alexis never forgot the physicians and doctors that were there to help him during his family's time of need. Alexis has worked with Kennedy to organize a toy drive around Emanuel's birthday every year for the last three years, working through the month of December to gather toys and gifts for local families in need. And this year, Alexis added a new element of giving through "Carol's Closet," a charity he created to celebrate his grandmother Carol who passed away recently. Alexis collected coats, hats and gloves to help keep the needy warm during what was a very cold winter.
Joe Ade
Haddonfield
It can be hard to ever pay a veteran back in full for their service, but Ade is making sure two veterans' work is not going unnoticed. Ade—a Korean War veteran—raised $20,000 so that he could send two WWII Marines back to Iwo Jima, where they had served during the war. The cost covered airfare, hotels and travelling for both men—including 91-year-old Haddon Township resident John Lauriello—during their 10-day trip to Japan in mid-March. Ade was originally hoping to raise $12,000 but donations from across the area far exceeded that, and gave him the opportunity to make the veterans' trip even more unforgettable.
Susan Rose
Washington Township
Rose was awarded the Jefferson Award for Volunteer Leadership by the New Jersey State Governor's office in July, for her dedication to her self-started charity, the Lauren Rose Albert Foundation. The foundation aims to provide solutions to struggling women, providing emergency grants, free business clothes and bags of everyday items to women in need. The program was founded by Rose in 1999 in honor of her daughter Lauren, who was killed in a car accident, and is particularly busy during the Mother's Day season, when Rose organizes an annual fundraiser and distributes Mother's Day baskets to mothers at daycares and shelters across South Jersey. Rose was given an award and medal at a special ceremony presided over by Lieutenant Governor Kim Guadagno in July at the Newark Museum.
Published (and copyrighted) in Suburban Family Magazine, Volume 6, Issue 1 (March, 2015).
For more info on Suburban Family Magazine, click here.
For information about advertising in Suburban Family Magazine, click here.
To find out where to pick up your copy of Suburban Family Magazine, click here.