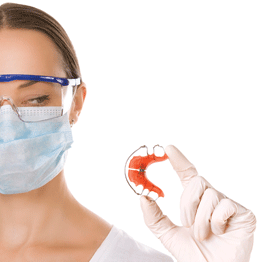 Not Your Parents' Braces
We take a look at modern day braces, in light of National Children's Dental Health Month
If your memories of orthodontic care include clunky braces, obtrusive head gear, and lots of wires, you will be intrigued to know that today's braces and orthodontic appliances have come a long way.
Positive changes
There are tremendous benefits to the changes seen in the field. Appointments are less frequent, the wearing experience is more comfortable, and kids maintain their self-confidence. The braces of yesteryear required monthly "tightening," but today braces are now attached to the teeth with bonding material instead of being brackets that wrap the entire tooth.
With less maintenance required, appointments have gone from monthly to every six to eight weeks, says Dr. Richard Kaye, of Morrone & Kaye Orthodontics in Moorestown and Mt. Holly. "There has also recently been a larger demand for shorter orthodontic treatment time," Kaye says. "In response, researchers have been focusing on methods to accelerate tooth movement. Besides the obvious benefits, a shorter time in treatment also means a decreased risk of cavities, white markings, gum problems, and root problems. Most attention in this area has been in 'low friction' braces, moving teeth faster as braces slide more easily on the wire."
But Kaye says the most exciting trend on the radar continues to be Invisalign, which uses clear plastic aligners to move teeth in the same manner as braces. "Among the many advantages of this technique are the aesthetics—they are virtually impossible to see in the mouth," Kaye says. "They are also very functional since the appliances are removed for eating, and hygienic since they are removed for cleaning."
Dr. Dale Claudia Kushner, of Voorhees Orthodontic Associates, agrees that Invisalign is one of the biggest and most exciting changes when comparing braces to those of the past. And she adds that continued improvement to the company's product has opened up more possibilities.
"When their technology first started out it wasn't available for complex cases," Kushner says. "But today the technology has improved so much that we use Invisalign on complex patients as well as younger patients."
Dr. Monisha Iyer of Segal and Iyer Orthodontics in Marlton has seen a serious increase in Invaslign usage across the board with her patients, thanks largely to Invisalign Teen, which can correct cases for kids as young as 7. "The company has put in a lot of effort, with research and development, to help us move teeth. We've been seeing great successes with bigger problems," says Iyer. "There's definitely a limit and we need to use our clinical judgment to decide what those limits are. But the good news is that certain tooth movements that we never thought were possible with invisible liners are possible now. And we always have braces in our back pocket."
Going digital
Not only have the braces themselves changed, but so has the entire treatment process. These days orthodontics has gone digital, says Dr. Thomas Kadar, of Kadar Orthodontics in Sewell. This allows for faster, more accurate treatment as well as more customized results.
Kadar reports that by using Insignia, he is able to create braces that are individualized for the patient. When beginning Insignia treatment, Kadar first scans the patient's mouth, generating a virtual 3D model of their smile structure. This 3D model creates a visual representation of each patient's anticipated results, giving them a clear vision of their new, beautiful smile transformation before treatment even begins.
"Once we create a customized treatment plan, we are able to order brackets and wires tailored to each individual patient," says Kadar. "As a result, each patient's final smile is unique to their own dental structure. By customizing treatment based on each person's specific facial features we can now minimize minor adjustments and tweaks throughout the treatment process, leading to fewer in-office visits, faster results, and improved patient comfort."
"3D imaging and 3D scanners have replaced the molds that we used to use and have made turn around so much faster". The machine takes a series of miniature images and pulls them together to create one 3D image. "It's aiding in communication with dentists and our other colleagues and labs."
Dr. Amy E. James, of Dr. Amy James & Associates Orthodontists in Haddonfield, agrees that technology has been a huge part of the changes to today's braces. She makes use of 3D imaging at her practice and offers fully customized lingual braces which are mounted on the inside of the tooth as opposed to the outside. Icognito Braces are fully hidden behind the teeth and fully customizable.
What parents should know
If you have young children, braces may not even be on your radar, but Kushner recommends parents consider early evaluations as young as 7 years old for something called "interceptive treatment." Sometimes there are issues that can be treated early—such as a protruding jaw—and dealing with that when kids are young is much easier. "Skeletal discrepancies can become a much bigger problem as they become teenagers," says Kushner. "There are certain things that are advantageous to treat when younger. It can make the whole experience easier later on."
In order to properly address tooth movement, James agrees that age 7 is the ideal time for an evaluation. "This allows the orthodontist to establish a baseline of the patient's dental foundation and growth pattern," she says. "If a patient is not evaluated early, they may miss an opportunity to effect a beneficial change that can decrease the length of comprehensive treatment later."
Iyer suggests coming prepared for your child's first visit. "Before their first visit parents should note any habits—like thumb sucking—as well as when they lost their first tooth and familial history," says Iyer. And while every orthodontist is different, the first visit usually doesn't have to include immediate treatment. "We like to schedule a second visit six months after their first, to gauge how quickly they develop," explains Iyer, who says orthodontic treatments begin—on average—at around 11 years.
And parents are sometimes pleasantly surprised when they find out the bill.
"Surprisingly, the cost of orthodontic treatment has not increased at the same rate as the technology has," says James. "This makes orthodontic treatment a better bargain than ever. Many dental insurance companies are also extending coverage to age 26 for members on their parents' plans."
Resources
Dr. Amy James & Associates
Dr. Amy James
15 E. Euclid Ave. | Haddonfield
(856) 216-8009 | AJSmiles.com
Kadar Orthodontics
Dr. Thomas Kadar
485 Hurffville Crosskeys Road
Sewell | (856) 582-1400
GoKadar.com
Morrone & Kaye Orthodontics
Dr. Richard Kaye
99 W. Main St. | Morrestown
(856) 234-4044
120 Madison Ave. | Mount Holly
(609) 267-1221
MorroneAndKaye.com
Segal and Iyer Orthodontics
Dr. Monisha Iyer
501 Route 73 S. | Marlton
(856) 810-1006 | SegalAndIyer.com
Voorhees Orthodontic Associates
Dr. Dale Claudia Kushner
2301 E. Evesham Road
Voorhees | (856) 770-9200
VoorheesOA.com
Published (and copyrighted) in the Art of Living Well pull-out section of Suburban Family Magazine, Volume 5, Issue 12 (February, 2015).
For more info on Suburban Family Magazine, click here.
For information about advertising in Suburban Family Magazine, click here.
To find out where to pick up your copy of Suburban Family Magazine, click here.