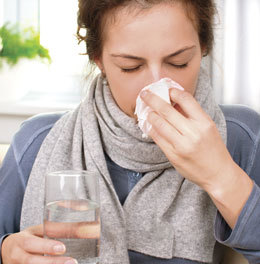 The Top: Is it the Flu?
Are you dealing with a common cold, or is it something else?
It's that time of year again. It's flu season, and people everywhere are doing their best to make sure they make it through the winter without catching that pesky bug. But sometimes it can sneak up on you, and no amount of Purell or hand washing can help. You might not even know that you have it. So how can you tell when your stuffy nose and sneezing is more serious than just a common cold? We asked the local experts, physicians who battle the flu with their patients on a yearly basis to keep this area as healthy as possible. They shared the symptoms you should watch out for this season, and the preventative measures you can take to stay in top shape.
General Malaise
The first symptom you commonly see when you've caught the cold is a general feeling of unwellness, says Dr. Mary K. Stailey-Sims of Advocare Woolwich Pediatrics. "Usually people won't feel well at first," she says. "They have a tired feeling, or they look sick." For kids, Stailey-Sims says malaise or weariness can be difficult to notice, but a parent's intuition can make all the difference: If a child starts acting a little differently, like being worn out more easily or not wanting to eat, then it's time to pay attention.
If you start to get that feeling, one of the best things you can do is stay well-rested, but that general feeling might not be enough to keep busy people at home in bed. It might not be until later, when greater symptoms start to emerge, that you start to feel the more telltale signs that you have the flu.
Fever
A high temperature or fever spike is the major symptom that most doctors say indicates the start of the flu. It can come on pretty quickly and run from 101 to 104 degrees, according to Dr. S. Jay Mirmanesh of Advocare Pediatric and Adult Medicine. He says, for the most part, the fever generally runs a little higher than a normal cold.
"It's often difficult to differentiate between flu and other viral illnesses," he says. "However, if you have sudden onset of a fever 101 degrees and higher, as well other symptoms, chances are you have the flu."
Stailey-Sims says it's best to take over-the-counter medication like Tylenol or Advil to keep a fever down, as well as continuing to rest.
"That way you're not stressing your immune system," she says. "I always encourage my patients to drink lots of fluids and to maintain healthy eating habits."
Body Aches
You've heard of the achy feeling that comes with the flu, but what does that mean? According to Dr. David E. Chasen of Advocare the Farm Pediatrics, that can include anything from a general achiness and fever-related chills to something like a headache.
He suggests that if you start feeling more aches, as well as more serious or worsening of symptoms, it could be time to see the doctor.
"You should see your doctor if you are having symptoms of increased difficulty breathing, concerns about dehydration," he says. "Or a fever that lasts more than five days or the duration of the illness is greater than one week without improving."
Coughing and Sneezing
The constant coughing and sneezing tend to be the messiest and most annoying parts of being sick. But they're also the most important ailment to control, because they can only make matters worse once the flu starts to spread through your home.
"Flu is highly contagious and can be spread by coughing, sneezing and nasal secretions," Mirmanesh says.
Stailey-Sims says it's important to practice good coughing and sneezing technique by always coughing into a tissue or sneezing into the crook of your elbow. That way, you can prevent your family members, friends or coworkers from contracting the same flu as you.
Prevention
"Prevention is key," Mirmanesh says. The flu is a serious illness that has the chance to be even more severe for the very young and the elderly. There are a few simple steps you can take to avoid the virus as best you can.
"One of the best things to do is make sure everyone is washing their hands," Stailey-Sims says. "That will prevent household contacts. Do it before you eat and repeatedly throughout the day."
Chasen agrees, but believes the absolute best way to avoid the flu is to get the flu vaccine yearly. While Chasen says the ideal time for a flu shot is August or September, it's still not too late to see its potential. Chasen says everyone 6 months and older should get the vaccine either as a nasal spray—as long you have no history of asthma or wheezing—or as a shot.
Mirmanesh says it's important to get it early because it takes up to two weeks to build your immunity. He adds it's crucial to get a vaccine that includes four different strains of the virus to make sure you're protected as much as possible.
And it's really never too late in the season to get the vaccine. In fact, Mirmanesh says you can get it right up to the end of the season. "That's usually in April," he says. "But this past year, we had documented cases of the flu as late as June."
2015 Guide to Living Well Resources
Advocare Woolwich Pediatrics
300 Lexington Road
Woolwich
(856) 241-2111
AdvocareDoctors.com/Woolwich
Advocare Pediatric and Adult Medicine
Offices in Marlton, Sicklerville and Voorhees
AdvocareDoctors.com/DocMir
Advocare the Farm Pediatrics
Locations in Voorhees and Marlton
AdvocareDoctors.com/TheFarm
Published (and copyrighted) in Suburban Family Magazine, Volume 5, Issue 10 (December, 2014).
For more info on Suburban Family Magazine, click here.
For information about advertising in Suburban Family Magazine, click here.
To find out where to pick up your copy of Suburban Family Magazine, click here.