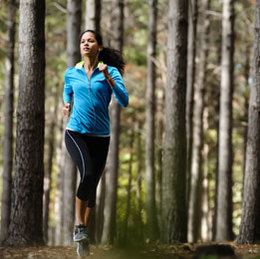 A Fresh Start In 2O15
Setting your mind to conquering the things that have been holding you back can set you up for a sense of empowerment in the new year.
Planning your New Year's resolutions? You're not alone. Now is the perfect time of year to take a look at what you want to change to take your life in a new and happier direction. Those changes don't just have to mean hitting the gym or reading more. What about skincare, general wellness or cosmetic care that could take away the small worries that you face every day? Whether the hurdles are mental, emotional or physical, there is help in our area.
Self-care and self-awareness
Minor health issues, like seasonal allergies, arthritis and the common cold, seem like normal pesky occurrences. But there are experts out there that can help eliminate those problems through spa-like wellness treatments.
"The one thing that is really at the forefront is that self-care is not a luxury. It's a necessity," says Michele Marcinko who, with her husband Robert, co-founded Halo Wellness Center in Marlton. "Otherwise you'll end up spending hundreds of dollars on disease management rather than self-care and prevention."
Losing her own mother to ovarian cancer, Marcinko's mission for wellness is close to her heart. "I vowed to help other people; I didn't want to see anyone else lose their mom if it was preventable." Halo offers a number of services that fall under the self-care umbrella, from yoga classes and holistic health coaching to FAR infrared saunas, massage therapy and Himalayan salt treatment.
"Massage therapy is going to help release toxins from the body," Marcinko says. "Fibromyalgia, arthritis and many other conditions can be helped through massage. Many of our treatments are designed to work together to help the body heal and also boost immune health."
In this season of increased sickness, Marcinko says sitting in a Himalayan salt room can alleviate respiratory symptoms and shorten the duration of colds and the flu. Invented in Europe and proven successful in hospital settings at healing the respiratory tract, a special machine generates fine dust from pure salt and blows it into the air.
"The salt gets into the lungs and breaks up mucus," Marcinko says. "It clears up allergens, is a natural nervous system relaxer and really good for itchy skin."
Clients can expect to feel a difference after one session. But Marcinko says added benefits can be reaped by doing a few sessions back-to-back.
Getting back in shape
The main thing that is going to help people conquer any areas holding them back from optimal health and wellness is reality, according to Dr. Robert Fortino, who owns weight loss practices in Turnersville and Philadelphia. "I'm hoping people just go back to what they really need to do," Fortino says. "The most important thing a person has to do to really be successful is really look at themselves."
With the variety of reasons that could cause people to gain weight—having a baby, getting married, feeling stressed, feeling happy—Fortino aims to support clients in deconstructing themselves to reach their goals. "People need to see how their hand-to-mouth behaviors contribute to where they are. From there they can begin making changes in calories and what they eat."
Fortino emphasizes appropriate eating guidelines over fad diets or other weight loss methods. At the foundation of Fortino's common-sense weight loss approach are three easy-to-understand principles. "First, eat what [was] put on this Earth. Second, maintain calorie boundaries. Third, exercise."
Fortino underscores that water is more important than food for both weight loss and wellness."If you see a commercial for fresh oven-baked cookies and feel hungry, or you are tired and you can't seem to get your motor started, you probably need water more than you need food."
And while water can quench your hunger, limiting calories helps you feel better, Fortino explains. Although we are trained to think we need 2,000 to 2,500, people will see they acclimate with a slow decrease. "If you eat the right foods, you can really sustain yourself on 800 calories per day," Fortino says. "We all have boundaries that can be calculated by your basal metabolic rate. An equation can tell you the amount of energy your body needs to be you."
Fortino notes the innovative procedures and technologies he offers can support patients on their paths to feeling their best, but are not stand-alone fixes. Body contouring ultrasound is a painless procedure that causes the destruction of fat cells.
Lipotropic oral drops are supplements that can boost energy and metabolism, and injections may be used depending on how aggressive patients would like to be, Fortino says. "The modalities work together simultaneously," he says. "It enforces what people have already accomplished, and motivates them to do even better." Skincare solutions
The demand to look and feel good well into the later years of life is a trend that continues to grow every year, according to Dr. Lyle Back, of Cosmetic Surgery Center of Cherry Hill. With this grows the demand for plastic surgery that helps people looking to optimize their appearance through minimally and non-invasive techniques in the office rather than the operating room.
"Happily, medical research, technology and physician ingenuity is keeping up with the pace," Back says. "We can give patients what they seek in simpler and easier ways that are less expensive, less risky and require less downtime."
For the past decade, office treatments have dominated the list of procedures plastic surgeons most commonly perform—with results better than the more intense surgery operations of the past. "Over 85 percent of all plastic 'surgery' procedures performed in the U.S. are non-surgical," Back says. The majority are injectables done in the office including Botox and Juvederm, which are less costly relative to other cosmetic procedures.
The modern, natural-looking, rejuvenating facelift—done in-office in two hours, with a one-week recovery time—is also gaining traction for all ages. "I see many more patients between 50 and 60 years old seeking facial rejuvenation procedures. They want to act before they feel like a facelift has been long overdue, looking tired year-after-year or down with a sagging neck or jawline.
"I've also seen a welcomed increase in older individuals aged 80 to over 90 years old asking for facelifts. They are still very much active, enjoying life and wanting to look rejuvenated and full of vitality—just like they feel."
Back suggests doing your homework before procedures: look for a surgeon certified through the American Board of Plastic Surgery (ABPS); make a list and schedule appointments with at least a few. "You want a plastic surgeon; not a doctor calling himself one, but a real one," Back says. Comparing can reveal differences in style, experience and focus and help patients trim down lists.
"A good practice provides for a good experience from beginning to end—that includes your first phone call and scheduling. During your office visit, from the moment you arrive, you should start to get an impression. Don't go to any doctor, no matter what the other positives might be, if you have any 'bad vibes.'"
2015 Guide to Living Well Resources
Cosmetic Surgery Center of Cherry Hill
Cosmetic Skin Care Specialists of Cherry Hill
1942 Route 70 E.
Cherry Hill | (856) 751-7550
ILoveLyleBack.com
Halo Wellness Center
968 Route 73 S.
Marlton | (856) 574-4433
ElevateYourHealth.com
Robert Fortino, DO
129 Johnson Road A3
Turnersville | (856) 318-4100
DrFortino.net
Published (and copyrighted) in Suburban Family Magazine, Volume 5, Issue 10 (December, 2014).
For more info on Suburban Family Magazine, click here.
For information about advertising in Suburban Family Magazine, click here.
To find out where to pick up your copy of Suburban Family Magazine, click here.