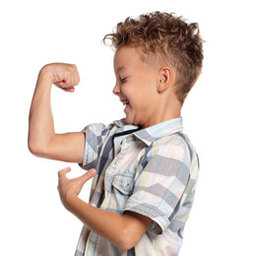 Fitness for Kids
Is it ever too early for kids to start seriously exercising?
Recreational sports have been keeping local kids busy for decades. But for many South Jersey youths, exercise is becoming a way of life at a younger and younger age. Fitness programs are popping up all over the place to provide youth-oriented training to kids and teens looking to get a leg up in sports or just stay in better shape. And if they have the right tools and training, children's fitness can lead to a lifetime of healthy competition.
On the right track
Jamie Martin, owner of and physical trainer at Strive Physical Therapy, says the thing that gets most kids excited about working out is doing so with their parents. "When they're young, that's what they really like," she says. "And it's a good way to get them started because they understand that exercise is more a way of life versus a means to an end."
Martin says parents shouldn't worry about whether they're getting their kids involved in fitness programs too early as long as they find the right one. "As long as it's run by people very educated on youth fitness, you should be OK," she says.
Charisse Epps, marketing director and children's program coordinator for Medford Fitness, says the earlier you start a child's fitness plan, the better. Kids as young as preschool-age can take part in water fitness or other courses. But again, it's about finding the right class and the right exercise for each child. "Age-appropriate exercise is what parents should consider," she says. "If they find something suitable for their child, then age isn't really a factor."
Thom Nickley, Program Director for the Parisi Speed School in Cherry Hill, says kids as young as 6 years old will participate in his courses. "However, many little ones often find their own way to get some exercise. I think it has a lot to do with the maturity of the kid," he says. "I've had experience with 8- and 9-year-olds that would rather be climbing trees than be in a class structure. I've also had a 6-year-old come in and say 'I'm ready to take on the five points of sprinting.' … It's all about the maturity and what they're able to comprehend."
Growing into it
Fitness classes for the toddlers and younger children tend to be quite different from tween and teen classes. "For the younger groups the activities tend to be more game oriented and not so much specific exercise and drills," Nickley says. "There has to be a fun component and it has to be a little shorter and sweet as far as explanations."
But those younger groups tend to transition into training regimens much easier than the kids that are a little older. "We find with older kids it's harder to break habits and make new ones. With the younger ages, we can fly through the education part, and then it's the idea of trying to keep them engaged and getting them to want to come back here. … We're doing something different every time."
Once an athlete's body starts to develop, that's when trainers start to tailor the workout to their body type, and maybe make suggestions about focusing on a specific sport. "We have a coach that makes those recommendations," Epps says.
"It's a case-by-case basis. After we see what their body is responding to, we can see what sport they would be most engineered to participate in." A short athlete might make a good swimmer, and a more muscular one might be better at field hockey.
Martin says middle school is the earliest time athletes should even start to consider focusing on one sport. Strive has training programs that are catered to developing the specific kinds of fitness required for specific sports. "They're not just weightlifting programs," Martin says. "A swimmer would work on core flexibility, not muscle bulk, because that doesn't help with swimming. With baseball, maybe work on the small muscles that keep a shoulder healthy and in good stability."
Focus on athletics
But some experts would rather see kids keep things a little more diverse. Dr. Candace Holden, a pediatric orthopedic surgeon at Nemours duPont Pediatrics, in Voorhees, says she does a lot of work on stress fractures in athletes and thinks that kids should try to play more than one sport or take part in another kind of physical activity. "I think what happens these days is kids are getting so involved year round, and in some ways it's not a good thing," she says. "They might play soccer year-round, but they don't work on other muscles. … I might suggest that add something besides sports. Get them into a speed class or have them swim."
Holden says it can also be a matter that's less about injury worry and more worrying about overexposure at too young of an age. "You're going to have kids that are really into it at 8 or 9 and at 13, they'll quit," she says. "A lot of it is based on the kid's interest. If they are asking to go to practice, it's a good sign you're not going to wear them out."
Nickley, for one, isn't worried about steering any of his students to a particular sport. "We are the template that works outside the sport," he says. "Athletes that find a repetitive movement—baseball, basketball or even soccer—they start to specialize in the skill aspect, and they forget to the do movement. … We teach the templates of movement. We build the athlete, and the athlete goes on to what they want to do in their sport. We don't say 'Hey, you would be a great baseball player.'"
For trainers, it's often about finding that balance in structuring the workout to fit the athlete, whether they focus on one sport or want to play everything. "One season they might wrestle, but they also play basketball," Epps says. "They need to work on different muscle groups. Our training is going to be contingent on what they need to ensure a successful season."
2015 Guide to Living Well resources
Medford Fitness
3 Nelson Drive
Medford
(609) 654-1440
MedfordFitness.com
Nemours du Pont Pediatrics
443 Laurel Oak Road
Voorhees
(856) 309-8508
Nemours.org
Parisi Speed School
1820 Old Cuthbert Road
Cherry Hill
(856) 429-1200
ParisiSchool.com
Strive Physical Therapy
Locations across South Jersey
StrivePhysicalTherapy.com
Published (and copyrighted) in Suburban Family Magazine, Volume 5, Issue 10 (December, 2014).
For more info on Suburban Family Magazine, click here.
For information about advertising in Suburban Family Magazine, click here.
To find out where to pick up your copy of Suburban Family Magazine, click here.